Yesterday at the Baton Rouge Press Club, there was a dog and pony show put on by something called "One Baton Rouge" to the effect that incorporating the city of St. George in the unincorporated parts of East Baton Rouge Parish would cause not just a financial drain on the current city-parish government but on the taxpayers of what would be the new city.
And the study "One Baton Rouge" commissioned to deliver this message was performed by LSU economist Jim Richardson – the man responsible for the better part of two straight decades of wildly inaccurate revenue projections for the state of Louisiana.
The preliminary findings of a study show St. George would operate at a deficit if incorporated, LSU economist Jim Richardson said Monday at the Baton Rouge Press Club.

In short, Richardson says operating St. George will be more expensive than forecast and projected revenues will be lower than supporters predict.

Richardson estimates the proposed city would have $51 million in expenditures—$17 million more than what St. George organizers estimate. Meanwhile, the economist says St. George would raise only $45.8 million in revenue—$12.6 million less than than what organizers have said. Richardson says his estimates are based on data provided by the city-parish finance department.

The expenditures include what St. George would have to pay for public works, drainage, city-parish pension buyouts and the $4 million organizers have proposed paying the East Baton Rouge Parish Sheriff Department for additional protection.

"This analysis wold have some merit if we ran St. George like Baton Rouge is run. We're not (and) that's the entire point," says Drew Murell, a St. George organizer. "Our opponents and big government types can't conceive a responsible model of government that is responsive to the needs of its residents, not the elites."

Richardson and Jared Llorens, director of the LSU Public Administration Institute, worked together on the $17,500 study commissioned by One Baton Rouge, a group against the incorporation of St. George.
Richardson has become something of a joke at the State Capitol, because his projections for the state's Revenue Estimating Conference have been substantially wrong for 16 of the last 17 years. Members of the appropriations committees in both houses of the state legislature have complained – loudly – at the inability to properly budget due to those revenue projections being consistently wrong.
And now Richardson is going to try his hand at St. George's finances? Why would anyone believe his numbers?
And who is One Baton Rouge? Well, look up One Baton Rouge at the Louisiana Secretary of State's website and you'll find that its registered agent is Michael Beychok. And Michael Beychok is a Democrat political consultant with the firm of Ourso & Beychok, who have their hand in virtually everything which goes on in statewide Democrat politics. Also, One Baton Rouge's mailing address is Ourso & Beychok's mailing address.
Not to mention having run Sharon Weston Broome's campaign for mayor of Baton Rouge in 2016, having collected some $75,000 in payment for services rendered…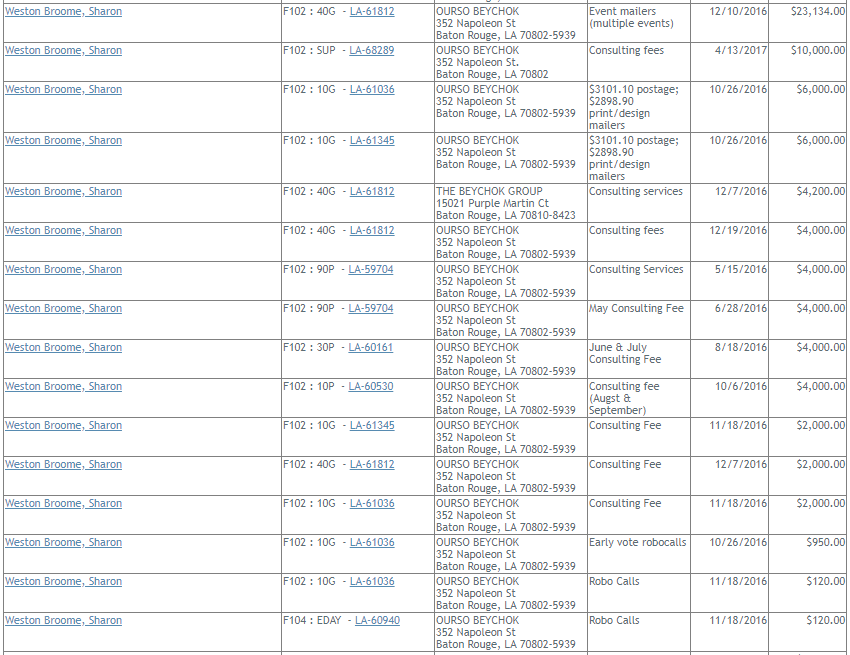 The other members of One Baton Rouge listed at the Secretary of State's office are Cordell Haymon, a vice president at SGS Petroleum Services and the chairman of the Center for Planning Excellence in Baton Rouge, and Together Baton Rouge activist and former 2000 Democrat mayoral candidate Donna Mayeaux. But it's Beychok's project.
Actually, it's Broome's project. Richardson admitted that yesterday when he said it was Broome's chief administrative officer Darryl Gissel who approached him about doing the study. She didn't get the messaging bump out of her first assault on the St. George fiscal projections, when her numbers conceded that St. George would run a surplus, so she got Beychok to hire Richardson to take things to a higher level of book-cooking and generate a deficit for the city.
Murrell's response was spot on, namely that if St. George were to be a bloated bureaucratic mess like Baton Rouge it's possible Beychok and Richardson's numbers might not be lies. The point of St. George is to run something other than a bloated bureaucratic mess.
Yesterday we had a post here at The Hayride about the WalletHub study of best- and worst-run cities. In that study Baton Rouge had the 38th highest budget per capita out of 150 cities surveyed, but only the 139th best quality of city services. It's fair to say two things – first, that Baton Rouge is outright raping its taxpayers, and second, that St. George wouldn't have to do a whole lot in order to operate more efficiently.
In other words, this entire study is nothing but propaganda aimed at trying to dissuade people from signing the St. George petition. They're a bit late, as we're hearing the organizers have closed within a couple of thousand names of hitting the number required to put the incorporation on the ballot, with several months left to go. Nothing One Baton Rouge, or Jim Richardson with his numbers on a page, will do can stop that now.
UPDATE: Here was the response to yesterday's spectacle from the St. George organizers…
The "study" released on Monday by One Baton Rouge and Dr. Richardson is pure propaganda from the Broome Administration and completely contradicts their previous study which claims we would have a massive surplus. This confirms our earlier statement that the powers-that-be in this city will do or say anything to try and stop this movement from becoming a reality.

What the major media outlets failed to tell you about this "study" is the group that commissioned it, One Baton Rouge, is run by Sharon Weston Broome's political consultant. This probably should have been pointed out. Not to mention that a board member of One Baton Rouge is a prominent figure with Together Baton Rouge… You see, the mayor and elites in Baton Rouge think you're stupid and will blindly accept anything they claim to be true, no matter how absurd. If this doesn't make you want to sign the petition, we don't know what will.
How to Sign:

We will bring it to you – Simply call 225-366-7764 or email [email protected] and include your contact information. If you have a petition that was mailed to you, send it back in.
Advertisement
Advertisement