True Pundit reports: "Insider Blows Roof Off of Kavanaugh Accuser's All-Girl High School: Orgies, Binge Drinking, & Rich Mean Girls Who Bullied Faculty."
The informer claims that at the Holton-Arms school where Chrissy Blasey attended, "faculty approved racism, binge drinking and promiscuity." So much so that the school's yearbooks suddenly disappeared from the school's website.
"On Monday Sept. 17th, Christine Blasey Ford's high school yearbooks suddenly disappeared from her school's website," the informer states. As a result, the informer posted multiple photos and references to Ford's promiscuous behavior and binge drinking.
The images from pages of the Holton-Arms yearbooks redact last names of individuals and their faces are obscured, with the exception of photos of Chrissy Blasey posted online.
Here are a few: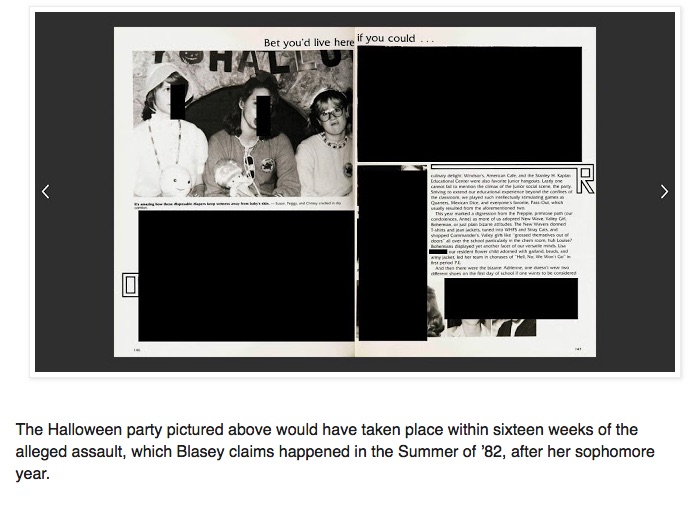 FACULTY APPROVED SEXUAL PROMISCUITY
Scribe 82, pg. 260, shows racy images, including three minors dressed provocatively as Playboy bunnies. The caption states:
"Beach week culminated the year for those of us lucky enough to go. With school and our minds in temporary recess, we were able to release all those troubling inhibitions of the past year. While dancing in the middle of coastal Highway, Ann [redacted last name] and friends picked up some men who passed out in their apartment…"
Read the whole page. It has some weird Hitler jokes as well.
 [Scribe 82, pg. 260]
From Scribe 84, Chrissy Blasey's senior year at Holton-Arms, pg. 261 gives the parting sentiment of her six-year Holton experience. There are two relevant quotes that characterize senior girls as sexual predators:
"Other seniors preferred to expand their horizons and date younger men, usually sophomores, who could bring the vitality and freshness of innocence to a relationship."