Three of Elizabeth Warren's Pow Wow Chow 'Cherokee' recipes were word for word COPIES.
Not only was Elizabeth Warren lying about being Native American with less Native blood than most Americans, but it turns out that she allegedly plagiarized two recipes in her 1984 book, "Pow Wow Chow." Two were a French chef's published by the New York Times in 1979– and one was from a Better Homes and Gardens magazine.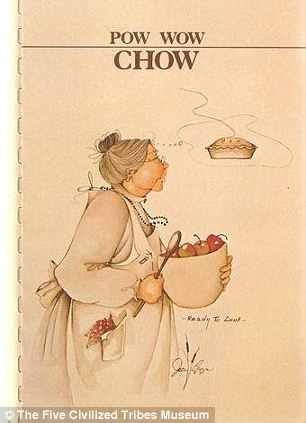 Radio talk show host Howie Carr released damning evidence that appears to confirm that Warren's recipes weren't handed down from any family member.
The recipes for Crab with Tomato Mayonnaise Dressing and Cold Omelets with Crab Meat appear to be word for word copies of a French chef's design.
Chef Pierre Franey submitted two recipes that were syndicated by the New York Times News Service on August 22, 1979. He writes,
When I was chef at Le Pavilion it enjoyed a considerable esteem in America, and the owner, Henri Soule, had one particular specialty that he would ask to have prepared for his pet customers. The dish was a great favorite of the Duke and Duchess of Windsor and Cole Porter.
Not Cherokee Indians.
Here's the original:
Here's Warren's: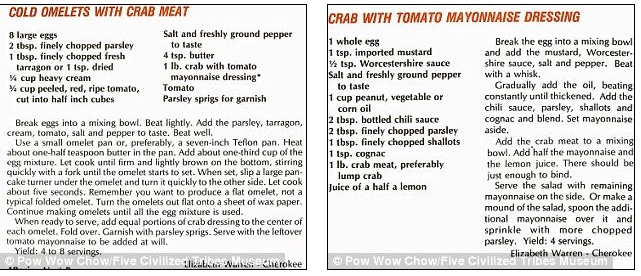 The Daily Mail writes, "Mrs Warren lists 10 ingredients for the cold omelet, while Mr Franey lists only four, but the preparation of the omelet is nearly identical, with both detailing the use of a 'seven-inch Teflon pan.'"
But if the New York Times wasn't enough– Better Homes and Gardens had to be copied word for word too.
The Mail points out:
A third recipe for Herbed Tomatoes appears to be lifted directly from a recipe in a 1959 Better Homes and Gardens magazine, down to Mrs Warren's instructions for how to enjoy the dish.
Contrary to Warren's claims, Breitbart News reported that Warren's real ancestor, Jonathan Crawford, was a member of the Tennessee Militia who rounded up Cherokees and forced them on what became known as the Trail of Tears.
The Mail writes: "Mrs Warren's camp has not responded to any of the allegations that she has been inflating her ancestry for the benefit of her career."