The country, more so than ever, is rallying behind president Trump just days before a crucial midterms election. According to the latest NBC/WSJ poll, Trump's job approval rating among registered voters just hit an all time high of 47 percent, compared to 49 percent who disapprove. This still suggests that more people are against the president than for him. However, with a margin of error of 3.3 percent, the country is reasonably split down the middle on whether or not they approve of the job Trump is doing in office.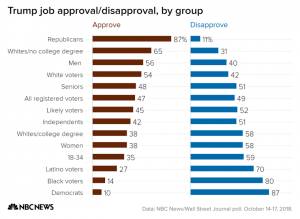 "Trump's job rating among registered voters stands at 47 percent approve, 49 percent disapprove — up from 44 percent approve, 52 percent disapprove a month ago," NBC reports. "That's his highest rating as president in the NBC/WSJ poll."

Every polling source gives a slightly different outlook on the state of the American populace. It may be difficult to gauge exactly how Americans feel through a cross analysis of different polls. The real answer is not as simple as averaging the totals for any given question. It is also difficult to place an overwhelming amount of trust in one poll, as every poll is subject to error and potential sampling bias.
However, trends may arguably be more detectable by polls. By analyzing one poll over time, and if the poll maintains similar polling methods, one can see an upward or downward trend emerge over many iterations of the poll. Thus, it is worthwhile noting that the NBC/WSJ poll records Trump's approval rating at an all time high, even if the exact number is off. Through this lens, one might believe with some confidence that Americans, as a whole, support the president more so today than their usual level of support throughout his first two years in office.

NBC leads their analysis of the poll by suggesting democrats have a 9 point lead going into the midterms, up 50-41 among likely voters. However, once again emphasizing the trend rather than the numbers, Democratic pollster Fred Yang notes "The current data shows that the Democratic advantage has ebbed." Thus, the trend is downward for Democratic support, which correlates with the upward trend in support for Trump.
"The poll also finds Republicans with a 15-point advantage on the question of which party better deals with the economy — their biggest lead on this question in the poll's history," NBC reports. "Forty-three percent of registered voters say the GOP better handles the economy, while 28 percent pick the Democrats; the GOP held a 14-point edge on this question in August."

Other notable topics where Republicans lead are trade with +17 percent support, and the Supreme Court nomination process with +3 percent support.
Also worthy of note, NBC reports, "the NBC/WSJ poll finds 80 percent of registered voters — including 85 percent of Democrats and 73 percent of Republicans — believing that the United States is divided, versus 18 percent who say it's united."