On the eve of the closing of this year's "open enrollment" period — a Texas federal judge ruled that what's left of Obamacare is unconstitutional.
Justice Reed O'Connor, Fort Worth U.S. District Court judge, said that without the individual mandate, which once forced consumers to purchase health care insurance or pay a tax, the remainder of the Affordable Care Act (ACA, or "Obamacare") and related legislation and administrative orders comes crashing down.
Here's what led up to this evening's decision
The U.S. Supreme Court in 2012 upheld the individual mandate of ACA as a tax (rather than a penalty), making it constitutional in the opinion of the Court. However, the (then-)GOP-led Congress set that tax at $0 in 2017.
In February of this year, a Texas-led coalition consisting of 20 states sued the federal government to end ACA altogether. The coalition, spearheaded by Texas Attorney General Ken Paxton and the Texas Public Policy Foundation, argued that after Congress gutted the individual mandate by zeroing-out the tax amount, the remainder of Obamacare must also be dispensed with or nullified.
The ruling seems to uphold the contention that the individual mandate is "non-severable" from the rest of Obamacare. Observers are likely correct that this will throw plenty of uncertainty into the health care market for the immediate future, and is unlikely to affect Saturday's enrollment deadline. The White House said in a statement that the law will continue to be enforced in the meantime. And it is very likely this will be overturned. But this is one step closer to dismantling ACA.
"Today's historic win striking down Obamacare is only the first step," said Robert Henneke, general counsel and director of the Center for the American Future at the Texas Public Policy Foundation, in a press release. "We need to focus on the future and look to states like Texas to lead in restoring the relationship between doctor and patient, unencumbered by government and insurance company red tape. Let's focus on solutions that will drive down costs and restore choice in doctor."
Below is a screenshot from a press release from the Texas Attorney General's office: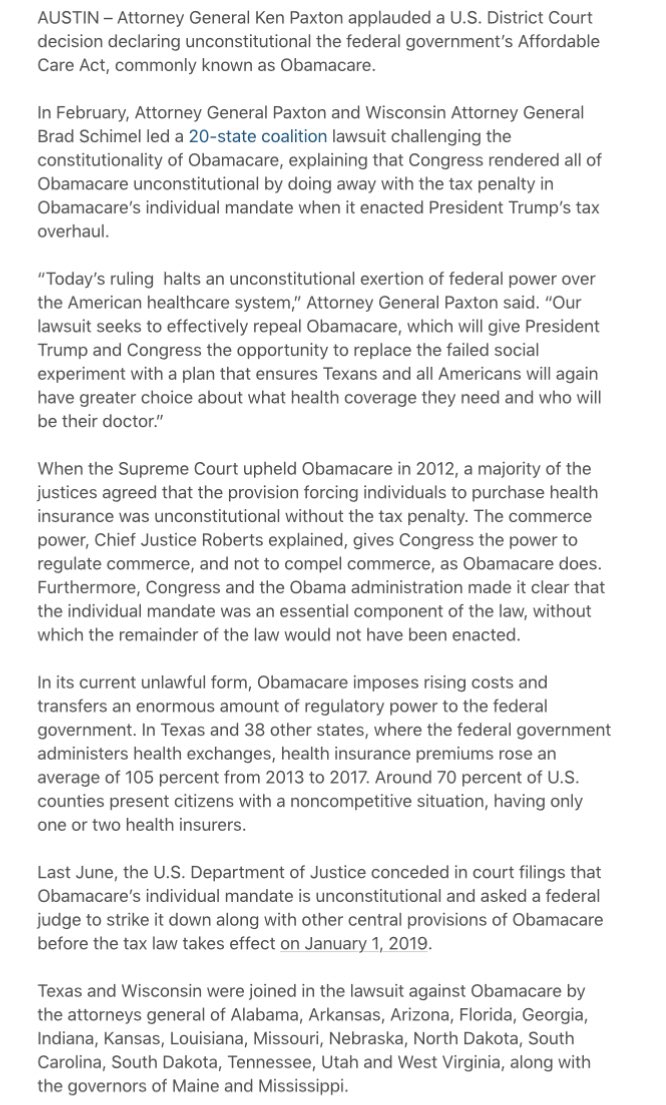 Advertisement
Advertisement