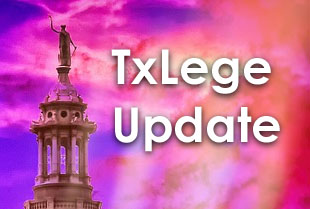 The proposal to increase the Texas sales tax by a penny is nearly a month old.
And about two weeks old now is a lead Senate tax reformer's public refusal to allow it.
Now that we're two-thirds into the Texas legislative session, hopes of tax reform are still high but the plan being bolstered by the Big 3 — local property tax election trigger mixed with a sales tax increase to lessen the impact — seems to be temporarily broken down on the side of the road. Legislative leaders are hoping by pushing the family car into the House this week as-is that state Representatives can make the requisite repairs that the Senate may be unable to perform at the moment.
"I don't really see a tremendous appetite here in the Senate for that proposal, because, you know, the first thing that economic conservatives would immediately want to know is, 'Is every dollar gonna go for tax relief?' — and I haven't heard that yet," said Sen. Paul Bettencourt on the West Texas "Chad Hasty Show" on April 16.
Though not immediately, Lt. Gov. Dan Patrick took to Twitter to disown the comment last week, raising some eyebrows during what has so far been a fairly unified session:
[email protected], @RepDennisBonnen and I have agreed to consider a sales tax swap to buy down property taxes. The Senate is looking at all revenues sources to reduce property taxes, including a sales tax swap. @TeamBettencourt's comments in opposition to a sales tax are his own.
Here's the dilemma, and one that national media is beginning to pick up on this morning, is this: The Texas Senate has a razor-thin Republican threshold to pass Republican priority bills. If one GOP Senator says no, then Patrick must find Democrats willing to jump on board.
The Wall Street Journal noted that if Texas were to boost its sales tax that would put the state at 7.25 percent, on footing with California. However, Texas has refused to institute a state income tax, which makes these biennial tax debates all the more high-stakes. WSJ also pointed out Texas property taxes have risen by around 6 percent annually from 1998-2017, making the Lone Star State No. 11 when it comes to tax burden.
The Republican plan to place a reduced "trigger" on local tax appraisal increases passed the Senate and is expected to be heard in the House this week. The sales tax increase has not cleared either chamber. Current law requires an election if local authorities propose a tax increase of 8 percent or more. The propsed trigger lowers that to 3.5 percent for most local entities and 2.5 percent for school districts.
From the hip:
The exact amounts of the local tax appraisal triggers will be the subject of much negotiation in the days ahead. Republicans are still very much united on the concept of lowering the tax trigger.
The one-cent sales tax proposal was offered to appease local governments worried that essential services could suffer under such a trigger, but a standoff over the sales tax boost will make for two publicity springboards. For conservatives it will be an opportunity to expose why the cost of local government has risen so much (a 6% per year tax levy increase is nothing to sneeze at) and why it seems that local government essential services (police, fire, EMS, 911, etc.) are always on the chopping block during these debates and not boondoggles like failed biomass plants for Austin and water parks for school districts. For liberals, they will have center-stage to make their case for an income tax (if they dare) and play the "local control" card.
Expect tons of amendments when the bill hits the House floor — the bulk of which will be to score points with voters in the 2020 election cycle.
As an aside: "Tax swap" was not the preferred term of this plan earlier on in the session, but with Patrick's inclusion of the phrase in a tweet it may indicate where things are in back-chamber negotiations. Stay tuned, there.