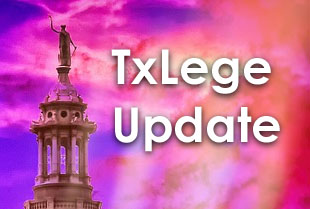 This will hurt us more than it will hurt you.
We laid out some positive developments from the 86th Legislature in a previous article. But conservative activists are left fuming over many actions and inaction over the last 140 days. So for balance, we culled some of the more scathing post-mortem reviews we came across below. It's for your own good — you'll understand one day.
Adam Cahn:
Cahn, the pen behind the Austin-based political blog "Cahnman's Musings," wrote "White-hot rage is an overreaction, but a bright-orange sense of EXTREME irritation is entirely appropriate." Whether you call the 86th session "transformational" or say that it "accomplished nothing" are both hyperbole, according to Cahn.
The legislature delivered on several "reforms for which some people have fought for decades." But when it came to moving the ball forward, Cahn opined "… they didn't deliver squat on any other major issue. On medium tier issues (eg. marijuana reform), the pickings are likewise slim. Minor accomplishments (eg. the so-called 'Born Alive' act) are spun into 'major' victories. It reminds us of what a former Governor of Texas once said about the 'soft bigotry of low expectations.'"
More musings at: https://acahnman.blogspot.com/2019/05/txlege-not-worst-session-ever-but-still.html
Big Jolly:
When typically centrist Houston blogger "Big Jolly" David Jennings is upset and quoting an entire post by Michael Quinn Sullivan there may be a spending problem.
Speaker Dennis Bonnen, in his first session, "presided over a session in which the budget increased by over 16%, more than double any [former Speaker Joe] Straus budget increase," according to Jennings.
The rest of the not-so-jolly report at: https://bigjolly.com/disaster-of-a-session-for-grassroots-texas-republicans
Terri Hall:
Hall, of Texans Uniting for Reform and Freedom, a property rights advocacy organization, said "there's very little to write home about for the 86th legislative session when it comes to relieving the toll tax burden, toll collection abuses, and protecting property rights."
She noted several bills, including one to end tolling once a toll road's debt is paid (SB 374), were given only cosmetic hearings. Meanwhile a bill to give foreign-owned toll roads carte blanche, HB 1951, was advanced but later postponed.
More on this session's roadkill at: http://www.texasturf.org/2012-06-01-03-09-30/latest-news/public-private-partnerships/2276-legislature-fails-to-deliver-for-toll-weary-drivers
Texas Legislative Watch:
"What else was an utter failure this session? Essentially EVERYTHING that were conservative priorities," wrote Mike Openshaw, a longtime citizen-observer of the Legislature.
He noted the "kumbaya" spirit of a new Speaker and a commitment to accomplishing more led to a certain laxity — even by the Texas Freedom Caucus — when it came to spending. Few legislators, Openshaw noted, stood up early against proposals to raise the state sales tax to buy-down school property taxes, which would have amounted to an overall tax increase by his estimation.
Read more of the reality check at: https://txlegewatch.org/2019/05/28/86th-texas-legislative-session-assessment-news
Grassroots America
Calling the 86th Legislature "the purple session," longtime Tea Party leader JoAnn Fleming didn't hold back any criticisms.
"Our Republican majority legislature's spending spree resulted in a budget that well exceeds the Texas Conservative Budget limit … but only one House member – Jonathan Stickland voted against it. Every Republican Senator voted for it."
More swats behind the wood shed at: https://mailchi.mp/gawtp/86th-session-fails-texas?e=97602eb9b1
Advertisement
Advertisement