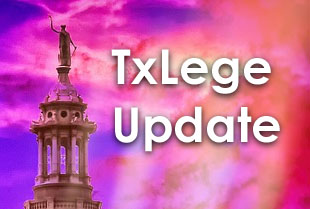 It can be easily said that there's not much for small-government-minded conservatives to say grace over this Texas legislative session.
State government growth continues, even if at a slower pace. Schools now have a back door to prescribing mind-altering drugs to students. Multiple efforts at voter roll cleanup and ballot integrity failed.
As for some noteworthy victims in the waning days of the 86th Texas Legislature we have covered several examples here and here.
For now, as we celebrate the end of another session, here is a bullet-point list of some things that went right under the Pink Dome this year:
Texas property owners will get to vote on whether their school property taxes go up over 2.5 percent and other entities 3.5 percent. This may result in a spreading out of mini-tax hikes over the course of several years, but now voters have a realistic remedy to keep the cost of local government down.
Local governments may no longer use taxpayer funds, resources, or ridiculously cheap rental agreements to subsidize abortion providers.
Local governments may no longer discriminate against a business or contractor due to their religious affiliations.
Unincorporated land residents may now vote on whether their property may be annexed by a nearby city, regardless of the size of their county.
Second Amendment rights will no longer be infringed as strictly — you can now carry openly during times of declared disasters, and you can defend yourself with brass knuckles anywhere in Texas.
Millions of Texas drivers will get their licenses back as the "points system" was eliminated.
College students now have greater freedom to engage in discussions over important political and social issues.
An estimated million Texans will not get a red light camera ticket in the mail.
Municipal power has been greatly reined in, from an overturning of draconian building materials regulations to allowing restaurants to choose their own outdoor dining area pet policies.
Feral hog herds may be thinned down without a license to do so — just the property owner's permission.
Interior designers no longer need a license to beautify a home (or ugg it up for that matter).
Hemp has been delineated as a crop separate from marijuana and is allowed to be cultivated for agricultural production purposes.
Ubiquitous and wordy 30.06 and 30.07 signs indicating a business's firearms carrying policy will soon be optional.
Plumbers no longer need to wait eight months for a state license.
We'll add to this that the "Common Core Lite" bill, HB 663, apparently died on the Senate floor calendar.
From the hip: By no means a perfect session, but nonetheless transformative in places and a step in the right direction. We'll take it.
Advertisement
Advertisement