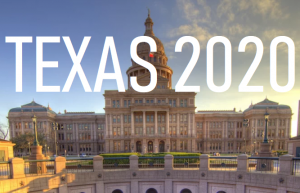 With $9 million cash on hand, a Super PAC designed to recruit a record number of conservative voters is hitting the sidewalks and most recently mailboxes.
"Immediate Action Required. Official State of Texas Forms Enclosed" urged a postcard from Engage Texas, containing a county voter registration form. "Required" for what, is a question the recipient might have. The answer could be to keep Texas's Republican majority intact.
Based on several reports, these cards are being mailed to names at addresses that are not listed as active voters. (As one example, this writer's wife received a card at her previous last name that she changed around five years ago.)
The effort is being backed by Republican mega-donors such as Dick Weekley, a Houston-based real estate developer, and Ross Perot Jr.'s Hillwood Development Co., and is headed by a former Republican National Committee field director. During the last filing period, the group reported giving out $212,000 in paychecks in addition to expenditures to companies which specialize in legal compliance.
Democratic figureheads have asserted that Engage Texas is walking a careful line in its operations, notably outside DPS offices which are technically public spaces but not often used as such. Engage Texas operatives reportedly screen passers-by to determine how conservative they are on key issues before offering to sign them up to vote. Under Texas Law, Deputy Voter Registrars (those authorized by a county to directly sign up new voters) may target specific groups, but if anyone regardless of party affiliation or ideology asks to register to vote they must be given that opportunity.
Democrats have for years targeted friendly community centers, higher ed campuses, and government office plazas for their (more general in scope) voter registration efforts.
Engage Texas dovetails off of another aggressive effort created in June by the state GOP. The Republican Party of Texas's Voter Engagement Project (VEP) "focuses on volunteer recruitment, revitalizing Republican organizations, and engaging in nuts-and-bolts party building for the 2020 election cycle, such as voter registration," according to Chairman James Dickey.
"We must work harder to grow exponentially for success in 2020 and this committee is a big part of making big things happen to win in Texas in 2020," he said in a recent communique.
VEP's working group includes a wide spectrum of folks from beloved former RPT Chairman Steve Munisteri to former Bush strategist Karl Rove.
RPT has also worked with Leadership Institute to train grassroots volunteers on how to reach new voters leveraging new mobile technology, boasting around 1,500 trainees so far.
From the hip: Starting 16-18 months ahead of the 2020 general election is sound strategy for a party looking to mitigate gains made by Democrats in recent cycles.
$10 million and an investment into legal counsel and compliance consultants shows that conservatives are eager to recruit new voters. That Engage Texas and VEP are separate efforts does not seem to indicate a schism but that multiple conservative groups have come to the same conclusion.
That conclusion is this: recruit or die.
In a previous analysis, we reported that while Republicans enjoy a lead in Texas, voter registration overall is up. Way up — 13 million in 2010 to 15.8 million in 2018. Many outside forces are pushing the interest, of course, as is Texas's steadily growing population count. But no small portion of that increase is being driven by liberal activists hoping to counter Donald Trump and possibly flip Texas. Voter recruitment and targeting played a role in the Democrats sweeping state courts in 2018, which many observers see as a harbinger of things to come.
Republicans pouring record amounts of money into voter outreach and employing somewhat unorthodox tactics does not signal desperation. It's a matter of practicality. As Dickey said, voter registration must become part of political "DNA," especially as voter engagement technology becomes more accessible to the rank-and-file.
As Texas continues to stand in the way of the Democrats' path to retaking the White House, expect to see more specifically targeted voter outreach in 2020 and in future election years, and not just by Republicans.