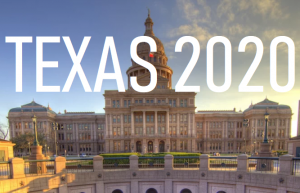 A Waco candidate in an crowded Republican primary for an open Central Texas Congressional seat just received what is arguably the biggest endorsement in the field.
Retiring U.S. Congressman Bill Flores announced Saturday he is backing Rene Swann, a Waco eye surgery center co-owner, as his preferred candidate.
The CD 17 race drew national headlines as former U.S. Congressman Pete Sessions parachuted into the race. Sessions represented Dallas previously but grew up in the Waco area. But when Sessions entered the race, Flores balked, saying he would prefer more local talent to fill his seat.
Flores had previously indicated his favor for several other candidates, including Scott Bland, a former Secret Service agent and construction company owner, and Trent Sutton, a Marine veteran. Both are running active campaigns.
George Hindman, an Austin-area "rocket scientist," has garnered the endorsements of Empower Texans, Texas Right to Life, the Texas Homeschool Coalition, and the Central Texas Republican Assembly.
Also running in the race are moderate Ahmad Adnan, former college dean Todd Kent, small-business owner Laurie McReynolds, real estate agent Kristen Alamo Rowin, construction company exec David Saucedo, and College Station City Council member Elianor Vessali.
CD 17 spans the Waco and Austin metro areas, also including Bryan-College Station. The district was dominated by liberal Democrat Congressman Chet Edwards until 2010 when a wave of mid-term conservative victories provided Flores a path to victory. Redistricting has kept the district strongly conservative.
Democratic candidates include William Foster III, David Jaramillo, and former contender Rick Kennedy who took 41% of the vote in 2018. The third parties have not yet met in their respective nominating conventions.
Early voting starts Tuesday, Feb. 18, with primary election day on Tuesday, March 3.
From the hip: With 11 passionate candidates it's hard to tell who will emerge in the practically inevitable runoff. That said, the top candidates up until now have been considered to be Bland, Hindman, Sessions, Sutton, and Vessali. Flores's choice of Swann shakes up the pecking order significantly. But in a district spread out among three distinctively different metro areas in Texas (Austin, Waco, BCS) it may ultimately boil down to name-recognition. In this case, do not count out Hindman who self-financed $400,000 of his campaign, or Sessions who maintains a $200,000 warchest. It will take large ad-buys and canvassing to win this — influence alone won't do it.