Many are familiar with the trash can sign stealing cheating ploy used by the Houston Astros in 2017.
However, what was widely dismissed has now been proven by an in-depth expose by The Wall Street Journal: "the Houston Astros' front office laid the groundwork for the team's electronic sign-stealing ploys via a program dubbed "Codebreaker" that was introduced by an intern in the organization in September 2016."
It's enough information to cause two pitchers to sue the Houston Astros this week:
Former Toronto Blue Jays pitcher is suing the Houston Astros for ruining his career after he got lit up by their hitters when they were confirmed to be cheating by stealing signs via a live video feed and relayed the next pitch by banging a dugout trash can pic.twitter.com/etVw8Afgqn

— Bush Leaguer (@BushLeague101) February 11, 2020
Former Dodgers pitcher Mike Bolsinger is suing the Astros over their cheating in 2017. He has never pitched again in the majors after a brutal outing in which the Astros' banging trash can be heard repeatedly as the hitters hammer his pitches. https://t.co/dQBH72qaze

— Kevin Roderick (@LAObserved) February 11, 2020
According to the Journal, the Excel-based application was created to decode opposing catchers' signs and was used throughout the entire 2017 season and part of the 2018 season by Astros baseball operations employees and video room staffers both at home and on the road.
Staffers logged the catcher's signs and subsequent pitches into a spreadsheet and "Codebreaker" program determined how the signs corresponded to different pitches. The information was then communicated to the hitter by a baserunner via an intermediary, ESPN explains.
Going back to the trash can ploy, an Astros fan Tony Adams analyzed 58 Astros games in 2017 on video in which trash can noises were audible and categorized the teams' hits on signstealingscandal.com. The site documents 8,274 pitches of 58 Astros games in 2017, which the Houston Chronicle says "has become a milestone of baseball scholarship — a public footprint of how the Astros did or, in some cases, did not, abuse technology for their own benefits in 2017."
Adams told the Chronicle:
"This is a difficult subject for Astros fans. I think any reasonable fan has hurt feelings about it. The fact that it happened during our one World Series championship, I can't help but think differently about that World Series.

"The Astros were so good in 2017 that I expected them to win the World Series, which you never want to do as a fan. I don't think they needed to do this, which is what makes it so tragic."
He's right, others have made the same argument:
Picking up and passing along information regarding a pitcher tipping his pitches: baseball

Using the live broadcast video and using trash can noises in the dugout to relay pitches to hitters: NOT BASEBALL

Astros have enough talent to succeed without this Bush League crap. https://t.co/kokc6IAXWZ

— Danny Vietti (@DannyVietti) November 12, 2019
From signstealingscandal.com, Adams explains:
I'm an Astros fan. They cheated during the 2017 regular season — the evidence is clear. In an attempt to understand the scope of the cheating and the players involved, I decided to listen to every pitch from the Astros' 2017 home games and log any banging noise I could detect. These are the results of my efforts. I've logged over 8,200 pitches and found banging before over 1,100 of those pitches.

Please note: in his statement, the commissioner said the Astros also used clapping, whistling, and yelling to indicate pitches. I was not able to identify those methods. I'm not saying the Astros didn't use them, I just couldn't detect them. This analysis is just the trash can banging.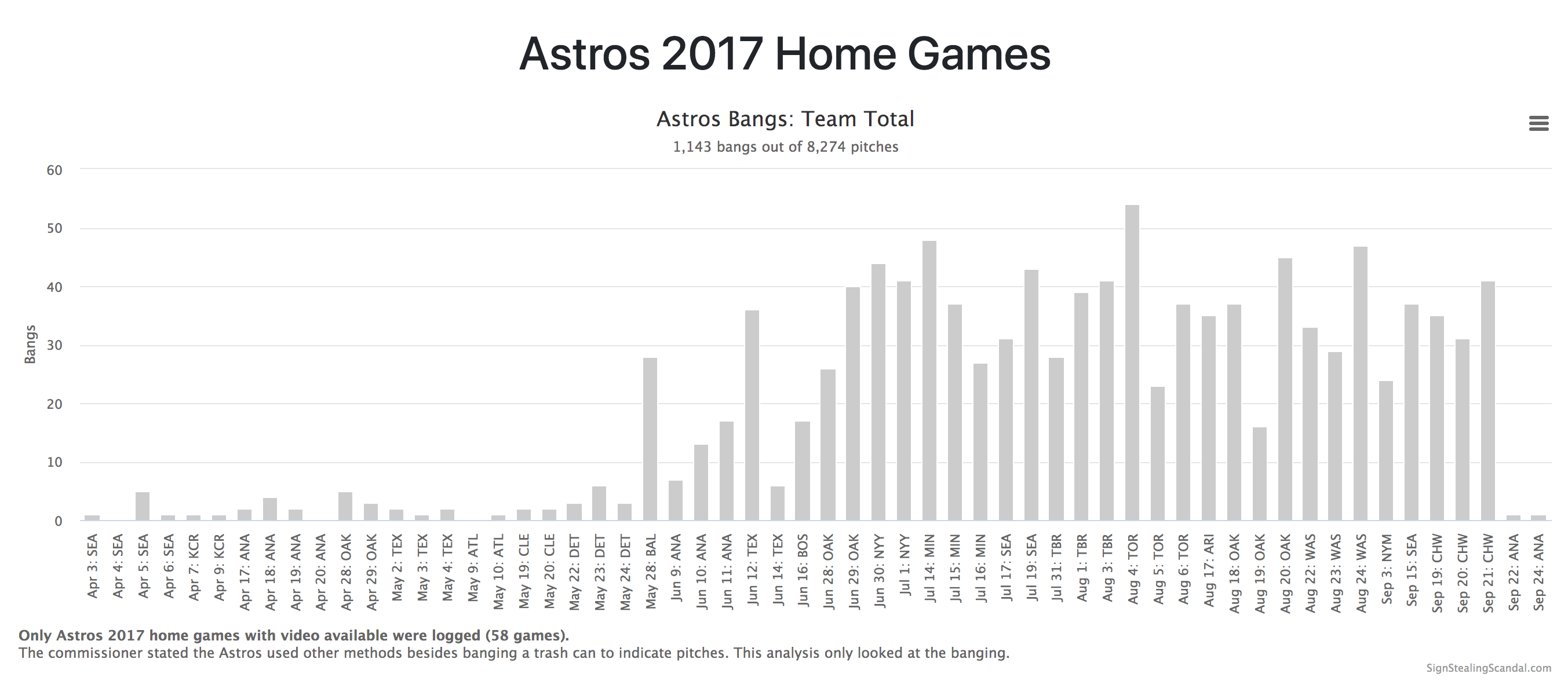 According to the analysis, the following players appear to have cheated based on the number of bangs and hits while they were at bat of the 58 games recorded on video:
J.D. Davis 28.6 percent (14 bangs out of 49 pitches)
Tyler White: 26 percent (28 bangs out of 106 pitches)
Max Stassi: 25 percent (13 bangs out of 52 pitches)
Jake Marisnek: 22.8 percent (83 bangs out of 364 pitches)
Juan Centeno: 20 percent (13 bangs out of 65 pitches)
Marwin Gonzalez: 18.9 percent (147 bangs out of 776 pitches)
Carlos Beltran: 18.1 percent (138 bangs out of 762 pitches)
Yuli Gurriel: 17.9 percent (120 bangs out of 670 pitches)
Alex Bregman: 16.6 percent (133 bangs out of 800 pitches)
Evan Gattis: 16.6 percent (71 bangs out of pitches)
Carlos Correa: 16.3 percent (97 bangs out of 592 pitches)
George Springer: 14.9 percent (139 bangs out of 933 pitches)
AJ Reed: 14.8 percent (4 bangs out of 27 pitches)
Brian McCan: 8.9 percent (45 bangs out of 509 pitches)
Derek Fisher: 7.6 percent (16 bangs out of 211 pitches)
Norichika Aoki: 6.1 percent (16 bangs out of 261 pitches)
Josh Reddick: 3.9 percent (28 bangs out of 725 pitches)
Jose Altuve: 2.8 percent (24 bangs out of 866 pitches)
Even though this is a serious matter, and cheaters should be fired and banned from baseball, the memes and jokes have flooded social media:
https://twitter.com/FAN590/status/1217189584007725056
https://twitter.com/NellyNel51573/status/1219281394540732418
Look, I'm the new professional trash can banger for the Houston Astros. #HoustonAsterisks #Asstros #Cheaters #AstrosSuck #Dodgers pic.twitter.com/7hQ7GoTTqT

— DENNIS SANTANA REVENGE TOUR SZN (he/him)(אדם) (@AdamDodgers) January 17, 2020
The best one is from Davy Andrews at Baseball Prospectus. Referring to the Astros he says: "You can call them unrepentant, as, to my knowledge, not a single current Astros player has publicly apologized." He's right.
"But while you're throwing all these labels around, don't forget the most important one," he adds. "When you talk about the Houston Astros, make sure you call them what they really are: Percussionists. That being the case, all the percussion in the following song was made from actual recordings of the bats and/or trash cans of the Houston Astros."
The lyrics are sadly HILARIOUS and the percussion sounds include bangs used during games with an overlay of the audio of the infamously stupid statement made by apparent cheater, Alex Bregman:
Advertisement
Advertisement