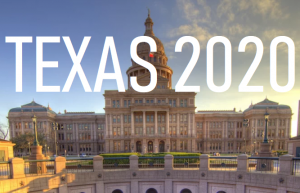 Last week, Texas GOP executives voted 40-20 to continue with an in-person state convention.
Days prior to the decision, Gov. Greg Abbott issued an executive order giving County Judges and Mayors the power to permit or deny large gatherings, including outdoor gatherings over 10 people. Protests are now specifically non-exempt.
This has put the spotlight on former Rep. Sylvester Turner, Mayor of Houston. The Bayou City is site of this year's Republican Party of Texas (RPT) Convention titled "Vision 2020," set for July 16-18 at the George R. Brown Convention Center in downtown.
The look ahead is anything but 20/20 vision, as Turner appeared to change course from a previous position that allowed RPT to make the decision whether or not to meet in person in view of COVID-19 considerations.
Delegates conferred Sunday in an emergency meeting on necessary rules changes specifics concerning going to a virtual convention as "plan B." State Democrats, who hosted a virtual convention in June, are meanwhile urging officials to cancel the GOP convention (naturally).
🚨 We are sending a letter to the executive director of the Texas GOP party to ask them to cancel this month's convention in Houston. I am asking them to have a virtual event. It is not a good idea to have an in-person event. 🚨

— Houston Mayor's Office (@houmayor) July 6, 2020
(By contrast, around 60,000 people demonstrated the George Floyd death in Houston on June 3. Turner did not suggest the protest disperse nor suggest stringent health guidelines be followed.)
Turning up the heat, the Mayor threatened to shut down the convention if safety precautions were not carefully implemented, and indicated that data will be collected from all attendees for contact tracing purposes.
James Dickey, RPT chairman, responded to Turner in a press release, indicating that plans are going forward for the convention which begins committee meetings in under a week. He had previously referred to the RPT convention as a dry-run for Donald Trump's nomination at the Republican National Convention, scheduled for August in Jacksonville. Said Dickey:
"The Republican Party of Texas has been in extensive conversations with Houston.

"First- the managers of the George R. Brown Convention Center. We have been proactive in implementing safety measures such as thermal scans upon entry each day for each attendee, limited entryways, expanded floor plans to accommodate social distancing, hand sanitizer stations throughout, and available masks for all attendees. With these precautions currently in place, the Republican Party of Texas intends to proceed with an in-person Convention next week in Houston.

"In addition to nominating the individuals who will represent the party in the electoral college, a state convention of a political party is a fundamental exercise of the freedom to peaceably assemble and petition the government for redress. That need to assemble is important, and we are taking every precaution to ensure it is done safely.

"Mayor Turner must not have had the information about the measures being voluntarily implemented.

"The Republican Party, delegates, and guests are looking forward to a safe and productive Convention next week."
Dickey is opposed by Lt. Col. Allen West for the chairmanship of RPT.
From the hip: Our prior suggestion to rebrand the convention as a "Freedom Protest" may still hold, but for a different reason. If Mayor turner shuts down the convention, delegates who shelled out hundreds (if not thousands) for travel, food, and lodging have every right to protest the double-standard between the voices of the people being heard during a Floyd protest versus a political convention. There is even a growing number of delegates planning just that, with a Facebook Group containing 600 members by last count. Stay tuned.
______________
Pictured: Texas GOP Chairman James Dickey (left) and Houston Mayor Sylvester Turner (right).