There's a simple answer to why high school football doesn't exist in Louisiana right now while it does in every state surrounding us.
Our leadership is garbage, that's why.
We could go through the ins and outs of what has happened to make Louisiana the laughingstock of Southern states on this topic, which heretofore was one of the few things the Bayou State used to be able to say we did better than almost anybody. Per capita, more Louisiana high school football players earned athletic scholarships to colleges than anyone else for a long time, but thanks to the clowns who run the Louisiana High School Athletic Association and the clowns who supervise the LHSAA clowns, none of the players are in a position to earn much of anything right now.
A great summary of the situation comes from a letter Claire Harvison, the mom of a high school football player in Baton Rouge, wrote to Gov. John Bel Edwards over the weekend…
Dear Governor John Bel Edwards,

Last night, high school football players in Texas, Arkansas, Alabama, Tennessee, Mississippi, and many others took to the fields—almost 20 states in total. Fans filled the stands. Cheerleaders lined up on the sidelines. Bands played fight songs. These states saw a light at the end of the dark COVID-19 tunnel, specifically in the form of Friday night lights, as their "Boys of Fall" gave a tiny sliver of normalcy to a year that has been abnormal almost since the beginning.

Football players in Louisiana played, too—at home, alone, on their gaming consoles. There are thousands of high school football players in Louisiana, and for every single player there are countless family members, classmates, friends, teachers, and others cheering them on across our state. Louisiana's inability to play football negatively impacts all ages, races, socioeconomic groups, geographies, and political parties. Louisiana high schools not only DESERVE to play; they NEED to play. The mental and physical impacts of this pandemic will be felt for decades, maybe even lifetimes, and we owe our children a path forward. For so many, and for my Senior Football Player, sports is that path.

You have had numerous conversations with many knowledgeable people about high school and youth athletics. You have heard from experts, you understand the statistics and information, and regardless, we are still in the same place we have been for almost three months, since June 5, which is still nowhere near letting our athletes play.

To be clear, while we are fighting for our youth to have the opportunity to engage in sports, this is not simply about football. Football is just the latest freedom that has been stripped from us, and from our children. In March, our state shut down. This impacted our jobs and our families. It impacted our children, cancelling schools, basketball championships, an entire baseball season, softball season, proms, graduations, school plays, field trips, and countless other moments and memories we will never get back. We complied because we were scared. We complied to support our healthcare workers and to "flatten the curve." We complied because you promised us it was just a few weeks. And while the pandemic is certainly not your fault, and in the beginning we truly believe you were making decisions to the best of your ability in an unprecedented situation, you have built upon that fear for more than five months, and we are done. You simply cannot stop a virus by controlling people. If that was a winning strategy, it would have been eradicated during quarantine. This virus may be here for a long time, if not forever, and we are categorically unwilling to give up our lives any longer.

We (the people who elected you) will no longer stand being controlled by our elected officials. We will not accept being told where we can and cannot go, what we can and cannot do, and what we must wear on our faces. We are a free society, and you have apparently forgotten that YOU WORK FOR US. We do not report to you.

Our state just experienced one of the strongest storms ever to hit Louisiana—a historic Category 4 hurricane with a predicted unsurvivable storm surge. Even with a "mandatory evacuation"government officials cannot legally go into people's homes and drag them out. You can inform them of the risks and you can urge that they make good decisions, but in the end, they are FREE TO CHOOSE. You have no authority to make them leave their homes, and you have no authority to lock us in ours.

To reiterate, we are done. We are not afraid. We respect individuals who choose to alter their behaviors to limit their personal risks. We respect businesses who choose to require masks, and we support those who do not. We also respect other parents who choose not to allow their children to participate in sports. The fact is that we know the risks of the virus, and we believe the rewards of living life are much greater.

You have repeatedly stated that you are adhering to White House guidance. We are not challenging that statement, and in fact, if Donald J. Trump would like to meet with these Louisiana moms, we would welcome the opportunity to provide our perspective. The fact is, we do not care where the "guidance" is coming from. At the end of the day, these are our choices, and we are free to make them.

When our elected officials believe they can make better choices for citizens than citizens can make for themselves, we are way off course. You, Governor, have a responsibility to right this ship in Louisiana. You can start by immediately moving forward to #LetThemPlay.

Respectfully but not submissively,
Parents across the state of Louisiana
Attorney General Jeff Landry wrote something similar to LHSAA President Eddie Bonine a few days ago…
Dear Mr. Bonine,

I want to thank you and the members of the Louisiana High School Athletic Association for your very thoughtful response to the COVID-19 crisis and high school sports. Certainly when this process began several months ago, there was real reason for concern. However, times have changed as has our understanding of this virus. It is time for our decision-making process to change as well.

I was surprised to hear that legal liability concerns are playing a major role in your decision. I think those concerns are unfounded. Today, football operations are ongoing at every college and university in our State. The risks inherent in playing football are constant at all levels of competition, including high school. Yet, statistics from the CDC show that the younger people are, the less likely this coronavirus will negatively affect them — should they become infected at all. If anything, this means high school players are less at risk than college players.

What's more: there is no evidence to suggest young people are more likely to get this disease on their football fields than they are at their schools or in their neighborhoods. Legally proving where people, who are largely asymptomatic, contract this disease is beyond current scientific methodologies. As our neighboring states move forward with these realities in mind, allowing our students in Louisiana the same opportunity to play the game they love is not an unreasonable act.

I also want to note that participation in high school football is voluntary. As you well know, football can be a hazardous sport with injuries. Those who choose to play it know of these dangers and accept those threats — many because they find the values of the sport far outweigh the risks involved. Every year, parents sign waivers to allow their children to participate. With medical staff and ambulances common sights at football games, these parents are well-aware of the risks; but they are also aware of the accomplishments their children achieve during a hard fought game. A simple adjustment in your waiver language to reflect any COVID- 19 risks should ensure parental consent and dispel legal concern. If you need help drafting this, contact my office and we will assist.

Finally, I ask you and all concerned to consider the impact further delay will have on these young student-athletes. My mom always said, "Idle minds and hands are the devil's workshop." For so many of our youth, sports is a way out of dire circumstances. Football puts them on a track for success off the field and in life. I can only imagine the number of Louisiana youth who have and will further fall into self-destructive behavior and habits without the outlet of high school football. Depriving these young people of the purpose, discipline, and integrity they develop between the hashes will irreparably damage their lives.

Mr. Bonine, it is time to turn on the Friday Night Lights.

Jeff Landry
Attorney General
And then there was this…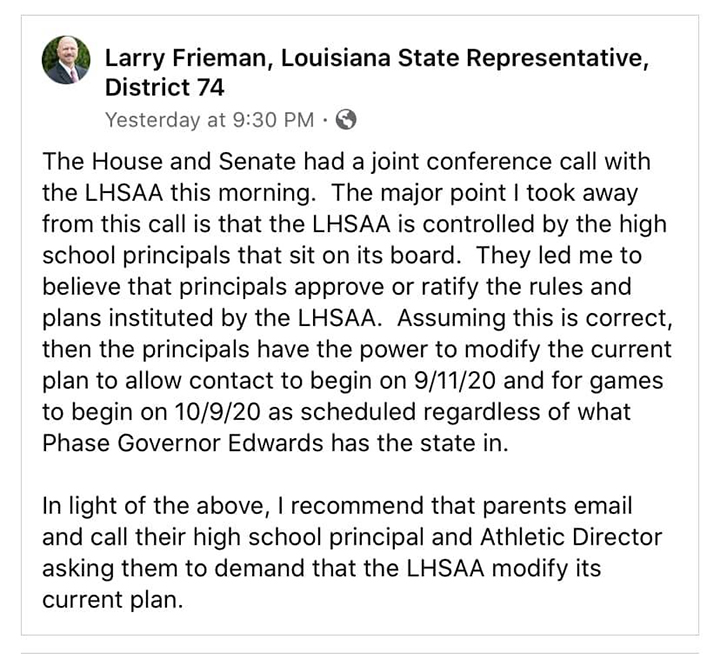 Is this sinking in? Nobody knows who's in charge, nobody has a plan to move things forward, everybody is pointing fingers at somebody else for why we're wasting our time doing nothing while our neighbors have moved on and are bringing normal life back in their states.
It's utter and abject failure. Particularly considering the data which indicate there are less than 15,000 cases of COVID-19 active in Louisiana at present and none of them are likely to result in a high school football player dying of the virus.
Edwards ought to be publicly eviscerated for this by the people of Louisiana, but so far there's no indication the public is going to get overly riled up at any of his abject leadership failures. And knowing this, Edwards is going to either ignore people like Claire Harvison or lecture them about "science" and "prudence" in his COVID-19 response the way he did when bar owners began suing for the right to do business.
But it isn't just John Bel Edwards. Other than Landry, who has no executive authority to open the state for high school football, where are the officials in charge taking up the standard for putting the state back to normal? Where is the state Department of Education? Where is BESE? Where is LHSAA's board?
Nowhere, that's where. They're all cowards, afraid of getting nasty emails from unhinged Karens taking time off from cruising WalMart parking lots in search of people without masks on.
We've been saying this for months, but you've got to fight for your right to party. It's good to see some of us are willing to do that. But until this becomes a groundswell that scares the crap out of Edwards and the rest of the clowns in charge, nothing will happen and this state will fall further and further behind such illustrious neighbors as Arkansas and Mississippi.