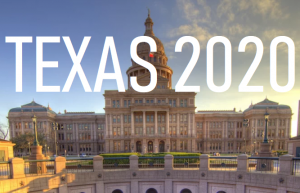 With 6,610 voters participating in one of the coldest and iciest voting periods in recent memory for Texans, Republican David Spiller became the winner of the last election of the 2000 cycle on Tuesday.
In the Texas House District 68 special election runoff, Spiller took 62.9% of the vote to opponent Craig Carter's 37.1%. Spiller, early thought to be the favorite in what is perhaps the most gerrymandered district in Texas, did not have much to say about his victory when interviewed by the Gainesville Daily Register other than he's "excited to be sworn in by the Governor.
The eventual winner already has committee assignments, lending something to the reliability of the 22-county district to turn out conservative and agriculturally-minded candidates. Spiller, an attorney who leaves numerous civic positions in his North Texas community, sacrificed arguably the least in the runoff. Carter's 3-year-old son has been hospitalized since he was in a crash Jan. 31, according to the Register — an accident that also claimed the lives of Carter's 4-year-old daughter and his 58-year-old mother-in-law. Spiller asked that voters remember the Carter family in prayer.
During the special election (not the runoff) Cooke County Judge Jason Brinkley of Gainesville had resigned his seat to run and also reported that he tested positive for COVID-19, but has since recovered.
A six-candidate race scrambled to replace now-Sen. Drew Springer of Muenster, just west of Gainesville with less than a month to put together a campaign. Springer was first elected in 2012. He won the Senate District 30 seat after a high-profile race against embattled salon owner Shelley Luther who stood up to draconian local COVID-19 restrictions.
Spiller told the local paper while he cannot go to Austin until the election results are officially certified, he will begin staffing his future office in the Texas House, which is already a month-and-a-half into the 87th Legislature.
From the hip: Politically speaking, this race is par for the course in an otherwise difficult year for many Texans, candidates not excluded.
We reported previously that the temporary vacancy in HD 68 will not have much effect on the Texas House regardless of who wins, as the Legislature will not begin to voting on key bills until well-after the election. That is still the case. We also previously suggested the HD 68 winner would be at a disadvantage once Census results are in and redistricting officially begins, but that process is now stalled until at least November.
There's not much else to see, so we'll stop here. Now back to your regularly scheduled Legislature.
Advertisement
Advertisement