…whether Carter isn't a little nervous about Claston Bernard.
At this point Carter appears to be the favorite in the race to replace Cedric Richmond as the congressman from Louisiana's 2nd District. He's picked up most of the relevant endorsements, including that of Richmond himself, and he seems to be generating the largest amount of buzz of all the candidates in the race.
But Bernard's campaign is the most robust of any a Republican has run in that district since Joseph Cao won in 2008 and was beaten by Richmond in 2010. He's a legitimate threat to at least make the runoff, if admittedly it's an uphill climb for him from there in a district where Joe Biden managed three-quarters of the vote last November.
And yet Carter put out this poll today, which we found more than a little strange.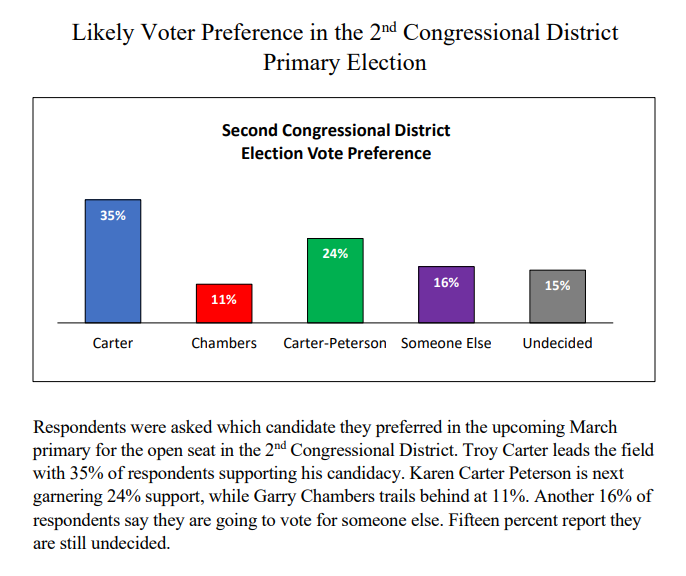 Now why would you include Gary Chambers in the poll but not Claston Bernard?
You've got someone else and undecided polling at 31 percent in a poll which doesn't include a candidate one of the state's two major parties has endorsed. Wouldn't you say that's a gross bit of malpractice where polling is concerned?
This isn't a complete fly-by-night poll, either. It was done by UNO pollster Ed Chernevak and Tony Licciardi, who has the My People Vote app. We aren't unfailing advocates of Chernevak's work, but he's occasionally spot on.
You wouldn't think Chernevak would suggest having only three candidates listed in a poll of a congressional primary where more than a dozen are running. That seems like it would be something Carter's campaign, which apparently commissioned the poll, would have insisted on.
Having said this, last month Silas Lee, a New Orleans pollster who's been around forever, put out his own survey of the race which had Bernard at only 2 percent of the vote with 38 percent undecided. Perhaps that's the justification for Carter structuring his own poll as he did. Carter was ahead of Karen Carter Peterson by a 28-19 count, the same margin as this current survey holds.
Between the two polls Bernard had certainly attracted a good bit of attention, though.
Maybe there just isn't any support for Bernard and maybe he isn't a threat to make the runoff. But if there's 31 percent of the vote out there which could well be Bernard's, since you're not even naming him in your poll, it doesn't seem like you're doing yourself much of a favor in conducting the poll.
And you certainly aren't doing the public a favor in releasing a poll like that.