…and Cassidy is at fault again.
We don't need to spend too much time on this, because it's a stupid story for lots of reasons and it's repetitive. Cassidy won't shut up about Trump and he keeps saying the same things almost nobody in the Republican Party agrees with him on.
We're long past the point where there is anything positive to be had for a Republican senator out of Trump-bashing, but Cassidy seems incapable of getting that. He proved it, again, in an interview Sunday with Mike Allen of Axios.
During an interview with Axios co-founder Mike Allen, Cassidy said he doesn't know if Trump will run in 2024, but disputed the assumption that the former president would win the GOP nomination if he did.

"President Trump is the first president ― in the Republican side at least ― to lose the House, the Senate and the presidency in four years. Elections are about winning," he said.

"If you want to win the presidency ― and hopefully that's what voters are thinking about ― I think he might [not win the nomination]," he added.

Allen observed that it was "clear you ain't voting for him."

"I'm not," Cassidy said.
Cassidy said he "slept well that night" after he was censured by the Louisiana Republican Party following that stupid impeachment vote. Let's remember that Cassidy had previously voted the impeachment down as unconstitutional, then he voted for it.
Which makes him a moron not just because of the atrocious politics of his position but because of its complete intellectual inconsistency. Most politicians would have long ago by this point seen the whole exercise as a loser to be avoided, and most of those like Cassidy who voted for the impeachment have done what they could to get away from it.
Not Bill. He's holding onto this with everything he's got. When Allen started in on the Trump stuff he could easily have just brushed it off and said "it's only 2021 and you're asking me about 2024? Who knows what'll happen? Trump might not even run, or he might do things differently if he does. I'm not going to make any judgements about this stuff now."
And that would have been it. Instead he leans in with his chin and makes an ass of himself for no particular reason and to no particular advantage.
Which earned him a good pasting from Trump in a released statement…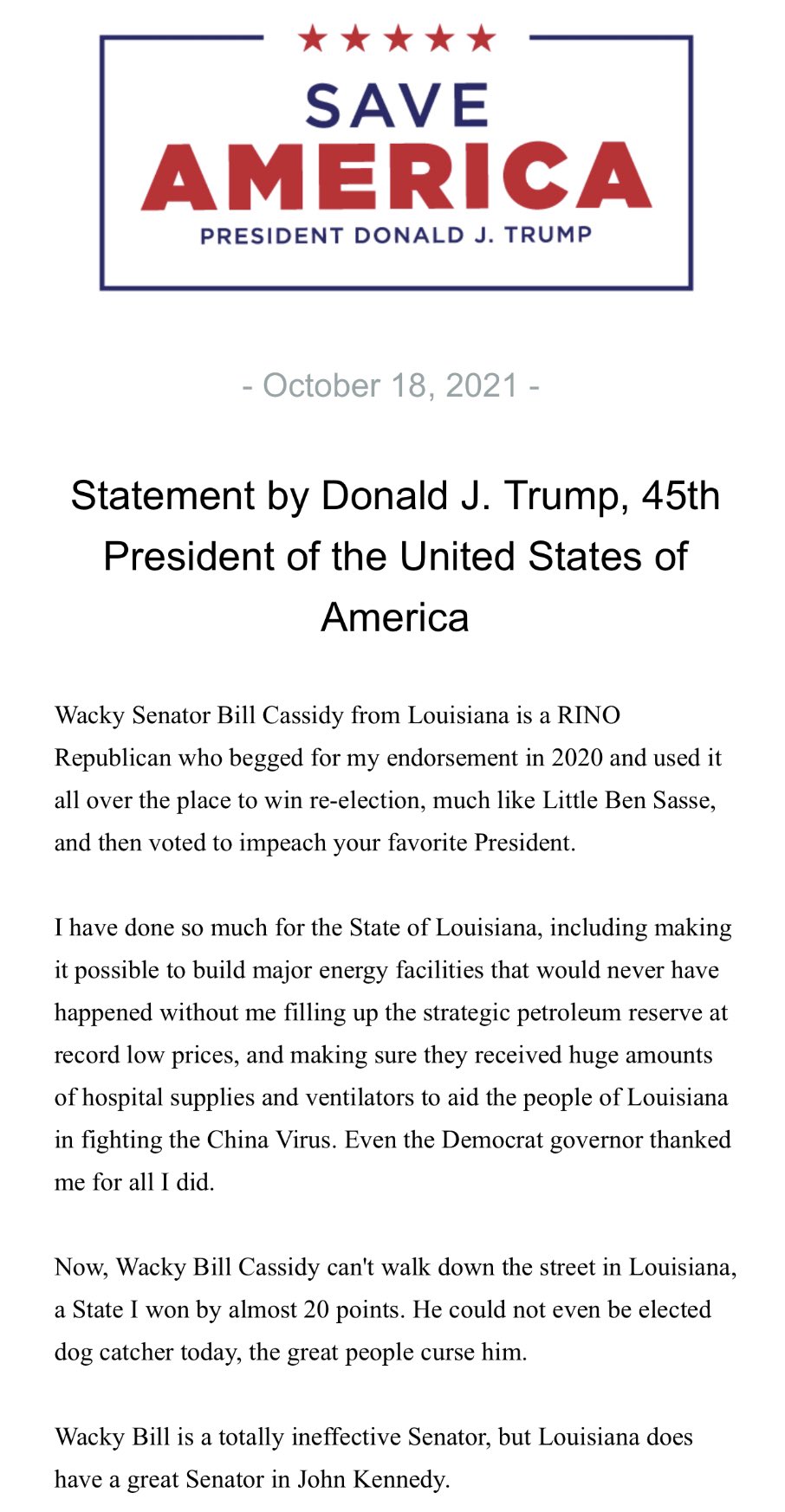 There was never any reason to believe that poking Trump would work out well for Cassidy. It didn't. He got clobbered, and now he's Wacky Bill.
Stupid. It's almost like he's addicted to losing.