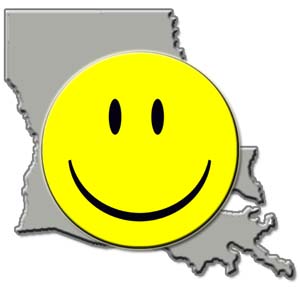 Maybe it's LSU Tiger football. Maybe it's boiled crawfish. Or deer hunting, or fishing off Delacroix. Maybe it's Friday lunch at Galatoire's, or Christmas lights in Natchitoches. Maybe it's bonfires on the levees, Jazz Fest or a Hays Town house.
Maybe it's Abita Purple Haze.
Maybe it's Buckwheat Zydeco, Kermit Ruffin or Tim McGraw. Maybe it's Cajun jokes. Or a beignet. Or a turducken.
Maybe it's all of it.
Whatever you define as happiness, a study by the University of Warwick in Britain and Hamilton College in the US done over several years and with 1.3 million people has found that Louisiana is the happiest state in the union. Hawaii, Florida, Tennessee and Arizona round out the top five. The researchers were surprised to find New York, New Jersey and Connecticut as the least happy states, though Louisianians in general probably wouldn't be so shocked.
Of the top 10 states, six are in the deep south – Louisiana, Florida, Tennessee, Mississippi, South Carolina and Alabama. Texas ranks 16th. California ranks 46th, Massachusetts 43rd.
So, how did the study reach its conclusions?
The lead researcher on the study, Professor Andrew Oswald from the University of Warwick said:

"The beauty of our statistical method is that we are able to look below the surface of American life — to identify the deep patterns in people's underlying happiness from Alabama to Wyoming. This type of study has been done for a few European countries but it is new to the United States. We are the first to be able to do this calculation — partly because we are fortunate enough to have a random anonymized sample of 1.3 million Americans."

"The state-by-state pattern seems interesting in itself. But it also matters scientifically. We wanted to study whether people's feelings of satisfaction with their own lives are reliable, that is, whether they match up to reality — of sunshine hours, congestion, air quality, etc — in their own state. And they do match. When human beings give you an answer on a numerical scale about how satisfied they are with their lives, it is best to pay attention. Their answers are reliable. This suggests that life-satisfaction survey data might be very useful for governments to use in the design of economic and social policies."
Advertisement
Advertisement