Election Scoreboard  as of 2/26/2010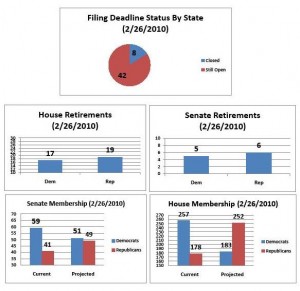 Latest News – Filing Deadlines
This past week, candidate filing closed in Ohio and North Carolina, with little in the way of surprises. In fact, incumbents in both states, with one exception, sought re-election. Furthermore, in Ohio, three GOP congressmen were re-elected without Democratic opposition, meaning that so far, the new House of Representatives is guaranteed to have 10 Republicans and 2 Democrats. 
While 8 states (including Ohio and North Carolina) have seen their filing deadlines pass so far, March promises to be a busy month, with 15 additional states' having candidate filing come to a close. This means that by March 31, we will know all possible candidates in 223 of 435 House races and in 16 of 36 Senate races. It also means that with the sheer volume of filing deadlines coming up, we should expect to see more last minute retirements next month.
Latest News – Upcoming Primaries/Special Elections
So far, only Illinois has had its primaries. Next week, Texas will have its party primaries with runoffs, if necessary, on April 13. Beyond that, there will be no other statewide primaries after Texas until May 4. However, while the 10 states' holding primaries in May are worth watching, there are also three upcoming special Congressional elections scheduled in April and May which will test the extent of the "Obama plunge" . All three vacant House seats were held by Democrats, and in two of those races (in Pennsylvania and Hawaii) the Republicans have strong challengers.
Latest News – Indiana
 While there is still no Democratic nominee for Evan Bayh's Senate seat , the plot thickened this week, as Rep Brad Ellsworth's attempt to become the Democratic nominee got complicated when another Democratic Congressman named Baron Hill indicated that he was interested in Bayh's seat as well. What makes this story interesting is that both men represent competitive districts that dislodged its Republican incumbents in the Democratic wave of 2006. And in the case of Rep. Ellsworth, he is already off the ballot for his old House seat, and his replacement was the only Democrat who filed.
John is a political consultant and blogger with JMC Enterprises with expertise in poll sample development and analysis, development of targeted voter files for phone canvassing or mail outs, campaign strategy and demographic consulting, among other things. See his site at WinWithJMC.com for more information.
Advertisement
Advertisement