UPDATE, 8:45 a.m. (April 21, 2010): It's possible we may have found out who "D-Bloc" is.
If you'll recall, "D-Bloc" is the lead blogger on the Iron Rail Book Collective's web site. He's the guy who has bragged about vandalizing banks in the French Quarter and he was the guy who boasted on Gambit Weekly's Blog Of New Orleans that on April 9 the protest went well because:
Tons of direct confrontation. New Orleans bared its teeth and snarled, and the rich plutocrats shat themselves in fear.
Also in the same comment section, D-Bloc posted a few days later, when the blogosphere began to pick up the story of the attack on Allee Bautsch and Joe Brown, that:
Look, some flea-bitten right-wing blog is linking! FYI, any out-of-town republicans reading this, I'm just sorry y'all weren't at the corner of Royal & Canal Saturday night.
For those who aren't aware, on the corner of Royal and Canal Streets on the night of April 10, eight people were shot in a senseless act of violence unrelated to the Allee Bautsch case.
Originally, we found a MySpace page which looked like it might belong to the D-Bloc in question. That wasn't the guy, so we've taken that report down. With a reasonably high degree of confidence we think "D-Bloc" is someone named Dylan Barr.
The evidence that this guy is the one we're looking for is piling up fast, and we're going to have an entire post on him shortly.
UPDATE, 7:35 p.m.: Not a lot of developments today, but we are reliably informed by very well-placed sources that the official investigation does, in fact, have as part of its focus the angle of the protest and its organizers. Furthermore, the YouTube videos that Daniel Mauch made private (isn't it just a little ironic that an anarcho-communist who wants to destroy the concept of private property is engaged in attempting to deny the public the use of his intellectual property?) have been captured and downloaded and are in the possession of the authorities. This is how online casino such as cool cat casino works from usa coolcat casino website.
This is not to say that an arrest is imminent. But while the political angle to the attack is being downplayed by official channels, it is without question a major part of the investigation, which is heating up.
UPDATE, 10:55 p.m.: Louisiana Gov. Bobby Jindal, Allee Bautsch's boss, gave WWL-TV in New Orleans a no-comment comment this evening…
Gov. Bobby Jindal said Monday he isn't going to comment further on the investigation into the recent French Quarter attack that left his chief fundraiser and her boyfriend injured.

Allee Bautsch, 25, suffered a broken leg, and her boyfriend suffered a broken jaw, nose and concussion.

When asked about the incident on Monday, Jindal said the couple is now recovering at home after receiving "serious" injuries.

"We're going to refrain from commenting on it. We certainly keep her in our thoughts and prayers," Jindal said. "I know she appreciates many people asked about her. She is home, which is a positive step."
The rest of the WWL report is an embarrassing rehash of the dinosaur media whitewash we've grown very irritated with while this case has stagnated. We could say more about the asinine treatment this case has received by the recently-exposed cowards and frauds in the state's newspapers and other "traditional" media, but our readers already know our position on the subject.
Meanwhile, Jindal spokesman Kyle Plotkin gave us this statement in response to a question about the potential role of the Louisiana State Police in this investigation:
"State Police has been in regular communications with the NOPD to get updates on the investigation. While the NOPD is the lead investigative agency, State Police detectives are supporting the NOPD's efforts."
UPDATE, 4:40 p.m.: From a high-res version of Jack A. Neal's photo of the scene of the April 9 beating of Joe Brown and Allee Bautsch comes this close-up of Allee.
Still think she was smiling on the scene?
Still think so?
LOOK AT IT.
UPDATE, 4:20 p.m.: New Orleans CityBusiness actually had a reporter on the scene of the Brennan's protest, and he shot a good five minutes of video of it.
See just below: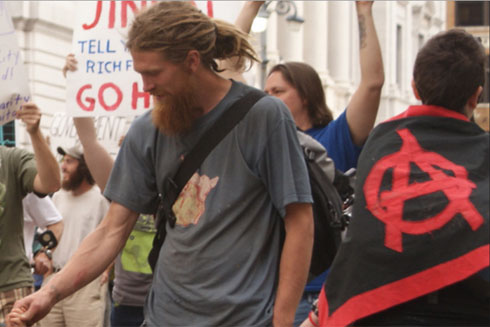 UPDATE, 3:20 p.m.: We've got so much information coming in on this story now, it's hard to keep track of it all. So rather than craft some sort of elegant narrative of this thing, we'll stick to bullet points.
– Nobody from the New Orleans Police Department talked to Allee Bautsch at any length until Thursday of last week.
– The picture at left, of which we now have several shots, is of an individual who, if he isn't the prime suspect in the beating of Allee Bautsch and Joe Brown, sure ought to be. Bautsch told me via e-mail this morning that the suspect she and Joe Brown described to the police "looked exactly like that, and so did the rest of them (with different color hair)." She took pains to say that she can't make a positive identification of this man as one of her attackers, but he fits the description they gave to the New Orleans police. This is someone who needs to be questioned about the attack; there are two YouTube videos still available on which he appears.
The first one is of the protest as it marched from Lafayette Park to the Hilton.
And the second one is of the protestors as they marched to Brennan's.
He was on the scene, he was part of the protest and the victims say he looks "exactly" like one of the assailants, right down to what he was wearing.
– Hayride contributor Walter Abbott writes on Lincoln Parish News Online that the police didn't arrive on the scene of the Brennan's protest until 9:30 on the night of April 9. Security for the event appears to have been dangerously thin. Video shot by the protestors and since taken down showed one NOPD officer at the scene shooing protestors away. Within an hour and a half or so, Allee Bautsch and Joe Brown were hit. Abbott's update has another attendee at the fundraiser describing the crowd at the Brennan's protest as "unruly" and "were crowded up against the front door of the restaurant." The protestors were also asking to be let in so as to use the bathroom; we understand that one female protestor was allowed to do so but not without a Brennan's employee escort.
– Bautsch had accompanied a Brennan's employee outside of the restaurant while the protest was going on, and at that time the Brennan's employee had told the protestors that all three of the governors had left and there were no elected officials still in the restaurant to hear their complaints. The significance of this is the protestors got a look at Allee Bautsch in advance of her leaving the restaurant, which she and Joe Brown did through the front door. The fact that she was with the Brennan's employee as that announcement was made to the demonstrators would have given the impression she was in a position beyond just that of an attendee at the fundraiser; since we know that Louisiana GOP chairman Roger Villere was chased into a cab by protestors an hour or so before Bautsch and Brown left the restaurant, one could well make an inference that some of those demonstrators were bent on attacking people in charge of that fundraiser.
– We've been trying to contact Sgt. Nick Gernon, the detective on the case, for a couple of days. Hopefully we'll get in touch with him today and a report on that conversation will be forthcoming if it turns up any news. We've been told Gernon is first-rate. His normal caseload, though, usually involves crackheads and drug-related crime in the 8th District; whether that would put him in a position to have the contacts for this case is a question that remains to be answered.
– As of now, it does not appear that the Jindal administration has asked the Louisiana State Police to get involved in this investigation. This has created something of a stir, in that we're told the state troopers want in on it big-time. The practice of downgrading cases by the NOPD to make the crime statistics look better is something many law enforcement officials statewide are extremely unhappy about and have been for a long time; that it almost assuredly happened in the case of the governor's chief fundraiser has the LSP very uncomfortable, to put it charitably. The reader is free to form his/her opinion as to whether the state police should have already been on the case.
– We're told that a couple of busboys from the Royal House Oyster Bar, which overlooks the scene, were overheard saying they saw the entire attack on April 9. Hopefully we're not getting this information in advance of the NOPD; if we are, maybe we can pass that along to Sgt. Gernon.
We expect to have another update on this later today, as there are lots of balls still in the air here. But so far, it is of major concern here that unless some added priority is added to this case either by the political officials involved or the law enforcement agencies who are or could be involved, the trail will go cold. And it is unacceptable to think that a member of a sitting governor's staff (campaign or otherwise) could be put in the hospital less than two blocks from a major fundraiser and the assailants not found; this is an outrage and a scandal which will only grow until some measure of progress is made on delivering justice for Allee Bautsch and Joe Brown.
UPDATE, 11:45 p.m.: Friday, Allee Bautsch's mother Della Berning appeared by phone on Fox News to speak about the events of last weekend on behalf of Allee and her boyfriend.
Video of that interview follows:
Earlier today, Yahoo! News posted a story with another interview with Ms. Berning in which her confirmation of a political cause for the attack on her daughter and her boyfriend is more explicit:
Contrary to our initial report, the NOPD is now saying that it does not know whether or not the attacks were politically motivated and the police report lists the motive as unknown. However, Allee Bautsch's mother, Della Berning, has now joined a friend of Bautsch's in telling Yahoo! News that, contrary to what Brown initially told police, Bautsch and Brown do believe that the attackers were a group of political protesters who followed them after they left the event. Their recollection is not conclusive, of course, and they admit to having no knowledge of the attackers' underlying motivations.

According to Berning, Bautsch and Brown are recovering from their injuries and the trauma of the attack, and so are not speaking directly to the media. However, the couple authorized her to come forward with their account of the attack. Berning told Yahoo! News that she reconfirmed with her daughter each detail of the account she offered via email and phone.

For the most part, the police report and Berning's account of the assault on Bautsch and Brown line up. Bautsch and Brown attended a Republican Party fundraiser that coincided with the Southern Republican Leadership Conference that happened in New Orleans that week. The event drew protesters, some of whom remained after it concluded.
And a little more:
The police report and the subsequent account of the attack that Bautsch and Brown gave to Bautsch's mother mainly differ on the question of whether the attackers were from the group protesting the fundraiser. According to the police report, Brown told them that he "was unsure if the attackers were protestors." Berning says her daughter and Brown believe that they were.

Berning explained that on the night of the attack, because of the furious nature of the assault and the late night, the two didn't want to say for certain that they knew the identity of the attackers. "You don't want to say something like that to the police" and get someone in trouble with the law, she explained, "unless you're absolutely sure."

But while they don't claim certainty, Bautsch and Brown believe the attackers did come from the group of protesters. Berning said the two felt followed immediately after leaving the restaurant where the protesters were, and the attackers looked like some they had seen in front of the restaurant.
But while the Yahoo! News story appears to grudgingly admit the obvious, that the protestors at Brennan's produced the attack, reporter Bret Michael Dykes still manages to inject an obnoxious and insulting paragraph toward the end of the piece:
Of course, even if Bautsch and Brown's recollection is correct and the attackers did come from the group protesting the event, they can't know for sure what their motives were. Their account of the non-political nature of the verbal assault matches the one Brown gave police and the homophobic, misogynistic nature of the insults would be unusual coming the kind of person one might expect to protest a Republican fundraiser.
So anarchist thugs who attack people on the streets for their political beliefs are still morally superior because only Republicans are homophobes and misogynists? Seriously? This actually made it into a story Yahoo ran on their site?
(Hat tip: Pat Dollard)
UPDATE, 1:15 p.m.: The Times-Picayune has a story today which sheds some light on why the entire weekend passed without any news of the beating of Joe Brown and Allee Bautsch coming to light on the police blotter. It seems that the incident might have fallen initially into a rather dishonest practice of which some have accused the New Orleans Police; namely, that of "downgrading" criminal incidents so as to massage crime statistics and make the city look safer:
But the sequence of the NOPD's response to an attack that left Bautsch with a broken leg and Brown with a fractured jaw and nose, raises questions about why the department didn't deal with the incident as an assault from the get-go. Subsequent police statements and reports about the incident note that officers did respond to the scene, calling an ambulance to take Bautsch and Brown to the hospital.

NOPD spokesman Bob Young said the explanation is simple: The responding officer didn't know the extent of the couple's injuries. That officer knew the couple needed help and was told that Brown had been in a fight, but concentrated on getting them medical assistance, he said.

If the officer had known how badly they were hurt, the case would have been reclassified immediately as some kind of battery, Young said.

That would have allowed police to begin their investigation more quickly — for example, rounding up potential witnesses at the scene on a night when the area was crowded with French Quarter Fest revelers.

Police realized the seriousness of the pair's injuries the next day, when Baustch called and said her purse was missing, Young said. An officer went to the hospital to take a report on the missing purse and learned both Bautsch, 25, and Brown, 29, had suffered significant injuries, he said.

That officer notified a supervisor, who assigned Sgt. Nicholas Gernon to the case, Young said. Gernon wrote in his initial incident report that he was assigned the case at about 4:30 p.m. on Monday.

Peter Scharf, a criminologist with Tulane University, said the incident is just one case, but merits further review to see if it is an example of so-called downgrading — or classifying a crime as minor so that it isn't counted in crime statistics.

"Was it sound judgment, getting it right after the dust settles, or was it another case of trying to fix something?" Scharf asked.

Police documents showing the list of crimes in the French Quarter each weekend are typically sprinkled with the signal numbers that indicate beatings: "35" for simple battery, or "103F" for a fight, often with addresses near watering holes on Bourbon Street. In all such cases, officers write reports.

Young noted that the likely alternative assessment of the officer on scene — if he hadn't concluded it was merely a medical call — would have been to categorize the incident as a fight. Fights are not included in "uniform crime reports," or the tally of serious crime, such as assaults, that are released publicly by the department each quarter and given to the FBI.

After his initial investigation, Gernon concluded that both Brown and Bautsch were victims of second-degree battery, which would fit the FBI's definition of an assault that should be reported to the public. The detective, along with 8th District Lt. Eddie Selby, interviewed Brown on Monday evening at Oschner Hospital. They did not immediately interview Bautsch because she was on pain medication.
Whether the case can be determined as a "downgrade" or just an initial mistake is for the reader to decide; either someone at a desk in the NOPD thought they could get away with pushing the statistics or the officer on the scene botched things badly; either way it would have been highly preferable to have begun the criminal investigation sooner than Monday afternoon.
Thankfully there is an internet trail leading to the organizers of the protest so that they can be questioned and mined for leads in the case. That trail is a bit colder since some of those organizers have taken down portions of that presence. The fact that the Times-Picayune still seems utterly incurious about the most obvious persons of interest in the case given reporting this blog and others have done is, however, disheartening:
Monday was also the day news reports and blogs began chattering about the attack, sometimes laden with the juicy possibility the attackers were anti-Republican protesters.

The initial incident report does not resolve the question of whether Bautsch and Brown were attacked by protesters, who had picketed the restaurant they were in earlier that night.
UPDATE, 11:00 p.m.: When we were first starting to research who these Iron Rail Collective folks were, we were really trying to get some names more than anything else, and to hopefully figure out what the relationship was between the Iron Rail Gang and the protest that, as it turned out, produced not just the attack on Allee Bautsch and Joe Brown but also the attempted attack on Louisiana Republican Party Chairman Roger Villere as he tried to exit Brennan's Restaurant out of the back door last Friday night.
So when we went to the "About" page on the Iron Rail website, we skimmed over the third paragraph, which reads:
Our lending library is one of the largest collectively-run radical libraries in the country. The Iron Rail was the first library in metro New Orleans to re-open after the disastrous failure of the government levees in 2005, and for several months were the only functioning library in the city. In 2009, we were invited to be the official bookseller for the Family Violence Prevention Fund's 5th annual National Conference on Health and Domestic Violence. We were super-duper stoked about this opportunity and we did a great job, because we're awesome.
The emphasis on the part you see in bold is ours.
So, what's the Family Violence Prevention Fund? Well, it's one of your standard-issue leftist non-governmental organizations. We say that because they say they advance a cause – the prevention of domestic violence – that nobody could possibly disagree with, and yet on their website one will find a grab-bag of hard-left advocacy.
Like what?
How about banning of guns, chatting up unions about making employers put domestic abuse prevention programs in collective bargaining contracts and granting asylum to women on the basis of domestic abuse in the home country.
FVPF is also covered in George Soros' fingerprints. The organization's President is Esta Soler, whose bio says:
She has been a consultant and advisor to numerous public and private agencies, including the Centers for Disease Control and Prevention, the Soros Justice Fellowship Program, the Ford Foundation/Harvard University Innovations in American Government initiative, and the Aspen Institute. She was a member of the Violence Against Women National Advisory Council when it was co-chaired by Health & Human Services Secretary Donna Shalala and Attorney General Janet Reno.
And on the FVPF's Board of Directors is Ellen Friedman, who is a vice president at the Tides Foundation, an outfit partially funded by Soros and whose board chairman is Wade Rathke of SEIU and ACORN fame.
So that's who the Family Violence Prevention Fund is. Their 5th annual National Conference on Health and Domestic Violence was held in New Orleans. It says on the Conference's web site that:
The Conference is primarily funded by the Administration for Children and Families, Department of Health and Human Services.
ACF's staff bio page is a mixed bag with some people who actually look like professionals in the field of social work and others whose backgrounds are not so appetizing. Its Deputy Assistant Secretary for Policy, Mark Greenberg, is a veteran of the Soros-funded/John Podesta-led Center For American Progress.
The fact that the Iron Rail Book Collective was the "official bookseller" for that FVPF conference in New Orleans probably bears further research. The obvious question one would imagine is whether that title afforded to the Iron Rail Gang came with a grant or fees from the conference – because if in fact that did happen it would signify taxpayer funds indirectly making their way to an anarchist commune which brags about vandalizing banks in the French Quarter, holding book-study groups to teach The Coming Insurrection and organizing demonstrations which turn violent against people they don't agree with politically.
And that would be worse than the idea that an outfit tied into George Soros would be directly providing funds to just such an anarchist commune.
UPDATE, 4:17 p.m.: Hayride contributor Walter Abbott has an update up at his Lincoln Parish News Online blog which is worth passing along:
In an interview this afternoon, Louisiana GOP Chair Roger Villere, Jr. told Lincoln Parish News Online he and several others were pursued by protesters last Friday night after a political fundraiser, but managed to get into a cab and avoid the mob. "We started to leave out the front door after the event, but the protesters had us blocked – there were six of us in our group – so we went out through the kitchen," Villere said. Once they got outside, the protesters spotted them and began to pursue them, but they managed to get into a cab and avoid confrontation.
Abbott also reports that Villere thinks "professional agitators" infiltrated the protest. The chairman might be right. Whether this is relevant or not you can decide for yourself, but it just so happened that Amnesty International held their Annual General Meeting in New Orleans last weekend, and there were protestors at SRLC holding Amnesty International signs in front of the Hilton throughout the conference. None of these guys looked much like the violent type, though it was somewhat interesting to see an African-American individual wearing a Che Guevara t-shirt out there on Friday.
A copy of the police report was posted today as well, and you can see it here. Most of what's in there has already been reported here and elsewhere.
UPDATE, 2:08 p.m. We're linked from Yahoo News, whose report contains an account from a friend of Allee Bautsch and Joe Brown which might be of interest:
The friend, who declined to be named because the attackers are still at large, described the group who descended on Bautsch and Brown as "some weird Bobby Jindal protesters" there in opposition to the state's governor. The friend confirmed the earlier reports that Bautsch "got caught in the middle" of the altercation as she tried to break it up. Bautsch's friend also reported that she's in "loads of pain" with "rods in her leg and ankle," but that she was also "released yesterday from the hospital and is resting at her home in Baton Rouge."
But the Yahoo News story also has a resurfacing of NOPD Public Information Officer Bob Young, the source of blogger Pat Dollard's report confirming a political motive to the attack yesterday who seems to be in a rather regretful and disquieted mood:
Bob Young, though confirming that the question of political motivation is a part of the investigation, is denying Dollard's report that he said the attacks were of a "political nature" to Politico's Ben Smith and saying Dollard's account of what he said is "completely incorrect."
Dollard, as of this writing, has not weighed in about the Ben Smith entry with Young's denial. But on his site today, he does have this:
UPDATE: I just had another very interesting conversation with Governor Jindal's press secretary Kyle Plotkin. He was friendly and helpful, up to the point where I began pressing him with questions as to how he knew that neither Allee or Joe had been wearing Sarah Palin pins. Was he there? Did they tell him? He refused to say how he knew, and in fact refused to answer any questions about the incident whatsoever, except to very emphatically repeat, about a dozen times, "They were NOT wearing Palin pins!" , especially after I told him about Rantburg's post of today, citing an unnamed witness who absolutely contradicted the Governor's position about the pins. He also asked me for information as to how to get to the Rantburg post, and I gave it to him…

Why all this obsession with denial about the pins, is beyond me. I can only speculate that Governor Jindal is quite passionate about the truth, and/or quite passionate about the fuse of the powder keg of this country not being lit in his state, at least not at a time when front line elements of the warring parties are still co-mingling in the French Quarter.
It should be noted that the "Rantburg" post is a re-hash of our initial report about the Palin pin issue. We have a source who says the couple were wearing Palin pins, and Jindal's spokesman Kyle Plotkin denies – pretty vigorously, as it happens – that they did. We're prepared to go with Plotkin's account, since the photo of the incident doesn't show them. Subsequent disclosures about the incident, including the Fox News interview with Allee Bautsch's mother which we've summarized below and Human Events' Connie Hair has transcribed in full, substantiate the underlying meaning behind the "Palin pin" issue, namely that the attackers identified Bautsch and Brown as attendees at the Brennan's fundraiser and descended upon them for that reason. The Palin pin is a relatively inconsequential detail, in our view.
To add to Dollard's last bit we can offer the fact that on two occasions while conversing with Plotkin we asked him if he could offer a description of the nature of the Brennan's protest. On both occasions he did not respond to the questions. While it is without question proper for the Jindal administration to proceed with caution on so politically charged a story and unlike others in the conservative blogosphere we don't have a problem with a muted public persona by the administration until such time as individuals involved are found, it's a choice which has not gone unnoticed.
At this point we'll repeat, though, that fundamentally while this is a political attack and a political issue, it's not a left-vs-right affair – or shouldn't be. It seems nearly inconceivable to us that the mainstream left should want to be protective of an anarchist commune which by a wealth of information appears to have incited violence against the mainstream right, but the direction this story continues to move in suggests that is indeed what is happening to a noticeable extent. The mere fact that the Iron Rail Gang was able to recruit supposedly mainstream Democrats to their SRLC protest at the Hilton was disturbing enough.
UPDATE, 12:40 p.m.: Fox News has finally picked up the story. Megyn Kelly just did an interview with Allee Bautsch's mother Della Berning, in which several pieces of information came out.
Ms. Berning did NOT want to discuss the political nature of the attack, though she de-emphasized rather than disputed the political angle. She did, however, confirm that from the time Brown and Bautsch left Brennan's they were subjected to insults by a group of people who were lingering around, and as they turned the corner onto St. Louis Street and entered an area a little darker and more secluded than Royal Street where Brennan's is, they were attacked.
She also said, without going into specifics of what was said, that "it was all about money."
Allee Bautsch has seven screws in her leg and five surgical scars. She didn't just fall down, she was stomped on.
Ms. Berning also said something we'd like to emphasize. She didn't want to talk about politics; she noted that what's important is finding out who did this. That is what we're most interested in as well. We think, based on all the research and reporting we've done, that the answer to this crime is to be found in the people who were protesting at that Brennan's event, and we want to shine light on the organizers of that protest in an effort to force evidence to the surface.
This isn't a left-right thing, at its core, unless members of an anarchist commune can be accurately described as members of the mainstream left in America. Frankly, we think anarcho-communists ought to be just as despised by Democrats as Republicans; white supremacist groups are, after all. If you think Republicans are worse company than people like the Iron Rail Gang, then you're part of the problem.
UPDATE, 11:05 p.m.: A frequent reader and usually reliable source to the Hayride passes along a possible explanation of how the attack happened (and this substantially fits with what we've been told by a couple of other people we've talked to on background):
You might be interested in a comment that showed up under the Times-Picayune's last article which contained that photo of the crime scene. A commenter who calls himself lernedlesson and who is usually in the know posted that he heard from a co-worker who knows Joe Brown and has talked to him since the incident. Brown confirmed that it was a political attack and that he thought the culprits had been at the protest. There were five of them, and when they started trash-talking to the couple he told her to run for the car. She was attacked by one of them and the other four went after him.
Sure enough, we went to the Times-Picayune story and found this:
Posted by lernedlesson
April 15, 2010, 9:38PM
Yes, there is more to this story. A co-worker, who went to college with the boyfriend, was relating what he was told when he talked to him. It WAS political, as the attackers were recognized as protesters at the fund-raising event, and there were 5 attackers, not 3. The couple realized they were being stalked after being berated for their political affliations and support of Jindal. The bf told the gf to run for their car; 4 of the attackers lit into the bf, beating him to the point of concussion; and the last tracked down the gf. She broke her leg when he bashed her to the ground.
We would prefer to have more on this, and the principals involved aren't talking so far. Can't blame them. As said above, however, the basic points of this account do seem to square with what we've had on this story, with the exception of the troublesome business of the Sarah Palin pins our first source gave us. The fact that this one purports to have come from Joe Brown, while our first source represented an account from Allee Bautsch, is a little bit helpful.
Take this for what it's worth.
UPDATE, 5:10 p.m.: From one of our readers, a New Orleans-area attorney who had posted a link to this article on Gov. Bobby Jindal's Facebook page last night, comes a rather interesting phone message (watch the profanity on the back end)…
A lot to unpack here, but let's just say the caller seems to be either quite forceful in his speculation or possessed with some knowledge of the attack. Our reader decided to call us at the same time he notified the police.
UPDATE, 3:30 p.m.: Hooray! The Times-Picayune has noticed the story again:
There have been no news updates since New Orleans police issued a press release Tuesday asking for the public's help in finding suspects who participated in a French Quarter fight Friday that led to the injury of a campaign aide to Gov. Bobby Jindal, as well as the aide's boyfriend. But someone identifying himself as Jack A. Neal, has published a photo on the governor's Facebook page showing the couple talking with police shortly after the attack.
The Picayune goes on to say…virtually nothing other than what they've already reported. And no byline is given for their article. Given the hard-hitting investigative journalism involved in reading Facebook pages and government news releases while ignoring the wealth of research and story leads the New Media has been producing for them since Monday, that's not much of a surprise.
For earlier updates on this story, feel free to use the links below…
The Brennan's Beatdown – Original Story
The Brennan's Beatdown – Initial Reactions
The Brennan's Beatdown – Official Denials
The Brennan's Beatdown – Tuesday Morning Tales
The Brennan's Beatdown – The Police Speak
The Brennan's Beatdown – Draining The Swamp
The Brennan's Beatdown – A Cast Of Characters
The Brennan's Beatdown – A Bit Of Clarity
The Brennan's Beatdown – Illumination By Video
The Brennan's Beatdown – Unsung Victims
The Brennan's Beatdown – Daniel Mauch
The Brennan's Beatdown – A Photo From The Scene
The Brennan's Beatdown – Going Dark
The Brennan's Beatdown – Follow-Ups And New Video