Rasmussen's new presidential approval ratings are out, and President Obama continues to drift southward. The poll indicates that while 24 percent of the American people still strongly support Obama, 44 percent strongly disapprove of his performance. That makes for an Approval Index of minus-20, a number not seen since May 26, when it was minus-22. In late March, as Congress passed his Obamacare proposals amid a great deal of opposition from the American people, the president spent three days in the minus-20 range.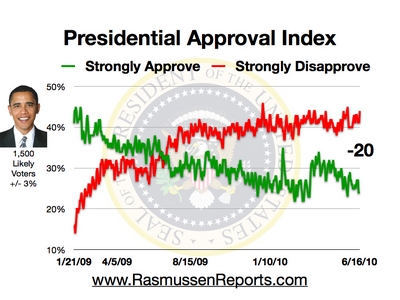 Most significant about today's poll is Obama's overall approval rating. Add strong approval and mild approval together Obama reaches only 42 percent, the lowest figure yet recorded for this president. He's still holding on to about half of his base, but the rest of the country is turning against the president.
Forty-eight percent (48%) of Democrats Strongly Approve while 75% of Republicans Strongly Disapprove. Among those not affiliated with either major party, 12% Strongly Approve and 52% Strongly Disapprove.
Rasmussen noted that the results of the tracking poll do not yet take into consideration Obama's Gulf Oil Spill speech of last night; as the poll numbers constitute a three-day rolling average, it will likely be Friday before the bump, if any, from the speech will appear. It will also be interesting to see if the speech moved the opinions of the American people on the president's performance on the spill; only 30 percent rated him good or excellent in the current Rasmussen survey, while 45 percent gave him poor marks. He's also running into a strong headwind on the Obamoratorium; 57 percent say they support increased offshore drilling.
Rasmussen's polling also indicates a 46-36 lead for Republicans in the generic congressional ballot, a 10-point spread tying the largest lead ever recorded by Rasmussen for the GOP.
Advertisement
Advertisement