"The evil that men do lives after them; The good is oft interred with their bones."—from William Shakespeare's Julius Caesar.
It's hard to know what good might be interred in the remains of Huey Long beneath his effigy on the grounds of the Louisiana Capitol, but the evil is pretty easy to spot.
It's still making rounds at the Capitol Huey built and was gunned down in nearly eighty years ago and it's still paying out big dividends to descendants of the Kingfish and his lackeys.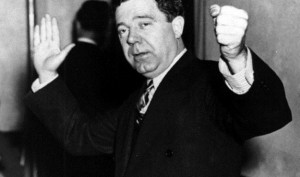 Visiting tourists who might take interest in Louisiana's own Caesar needn't bother looking for the bullet holes in the Capitol walls—they were filled in a few years back.
There isn't really much of interest in the display case that sits in the hallway in which he was assassinated, either.
They would do better to ask lobbyist Ty Bromell for a copy of a document he recently distributed to lawmakers leading them to reject a resolution in a meeting of the House Judiciary Committee.
The fact-sheets—devoid of many facts—are a testament that even though Long is long dead, the political corruption he cultivated while plodding the gumbo mud of Louisiana is alive and well.
It might well be immortal.
The resolution shares Huey's fate, both being killed in cold blood at the Capitol. If it would have lived it might have meant an investigation of oil leases from the Long-era that continue to direct royalty money—hundreds of millions of dollars over the years—from Louisiana coffers to a corporation started in 1934.
With all that money at stake, it was a prime candidate for assassination and had to be taken out.
The Win or Lose Oil Corporation went out of business in 1951, but as much as $881 million has gushed into bank accounts of the well-connected from a single oil lease, thanks to shenanigans hatched in Baton Rouge over 70 years ago that Huey's political predecessors perpetuate to this day.
Huey was a U.S. Senator with his eyes set on the presidency when he, Gov. O.K. Allen, later governor but then state Sen. James A. Noe and New Orleans businessman Seymour Weiss created Win or Lose.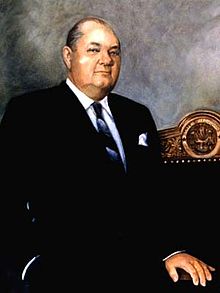 After Long and Allen—dead of a brain hemorrhage a year after Huey's death—were gone, Noe became governor and gave businessman W.T. Burton an oil lease, State Lease 340, for half-a-million acres off the Louisiana cost. It was later sold to Texaco.
Terms stipulated that the state would get 12.5 percent of the royalties(these are generally set today at 20 to 25 percent) and Burton got the rest, which was returned to Win or Lose in interest surrendered to the company.
The money from the lease granted by Noe ended up in his pocket and members of the Long and Allen family.
The tradition continues to this day, as the three families have reportedly been raking in cash from Lease 340 for generations. The lease was never given an expiration date, so the cash will keep a-gushin' as long as the wells keep a-pumpin'.
The state has never tried to modify the contract and moves to look into the questionable practices that has piped hundreds of millions in royalty money from the public to the privileged few have been blunted through the efforts of people like Bromell.
Bromell, working on behalf of  people he calls "friends," was able to convince lawmakers that there is nothing to see here. He wasn't paid to do so, but it's always nice to have friends.
If he had been paid to lobby on his pals' behalf, he would have to tell us who his buddies are. He didn't so he doesn't.
Again, nothing to see here.
Multiple lawsuits have been filed to no avail and attorney generals have nearly gone blind looking into the matter in vain to find a solitary flaw—according to Bromell's handouts—but every thing is on the up-and-up. Move along.
Only  that's not the way it's remembered by veteran newspaperman Bob Barton, a former state representative from Bossier City, who spent years investigating the oil lease.
From a Lee Zurik Fox 8 New Orleans piece:
He says the lobbyist's information is not factually correct. Barton says many of the lawsuits referenced in the document never looked into the money going to descendants of the three former governors.

"I don't know of anyone else who actually looked into it in an official capacity, in a public capacity," Barton said.

Barton says he only knows of one legal opinion issued by someone with the state attorney general, the one we showed him where Edward Gay concluded in 1941 that the lease "was obtained through a conspiracy to defraud the state of Louisiana."
Well, it's always good to keep the corruption in the family, as Zurik points out:
State Senator Gary Smith from St. Charles Parish has been busy in Baton Rouge, trying to balance the budget. But sources say he found time to urge his colleagues on the House Judiciary Committee to vote down the House resolution related to the oil leases.

Sen. Smith happens to be married to Huey Long's great granddaughter — that would make her former Senator Russell Long's granddaughter. Remember, while alive, Russell Long made more than $600,000 a year off  Win or Lose oil and gas royalties.
Not mentioned in this article is that back in February Gov. Bobby Jindal appointed Jack Lawton to the LSU board. Lawson is a descendant of Burton —the guy that the oil lease was created for way back in 1936.
Amazing isn't it. After all these years those connected to Win or Lose are still winning and the rest of us are still losing.  Thanks, Huey.