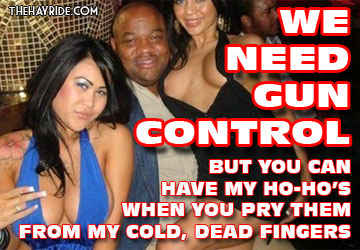 So after last week's firestorm surrounding the Jovon Belcher murder-suicide, Bill O'Reilly asked Jason Whitlock, the rotund retard columnist from the Kansas City Star whose piece using the Belcher case as a pretext for gun-grabbing ignited the Bob Costas Sunday Night Football controversy, to come on his show for a back-and-forth.
This was Whitlock's response. After bragging that he was the "toast of right-wing America" in 2007 for having said that the murderers of Washington Redskins safety Sean Taylor were akin to the "Black KKK," he moaned about the reaction to his Belcher piece, which he said was "harmless," among the same people…
But it appears I was summoned to testify before Speaker of The Big House Bill O'Reilly, the FOX News entertainer. O'Reilly is fixated on the mistake I made on the Tom Joyner show. O'Reilly spent part of his Tuesday show telling his viewers that I was afraid to come on "The Factor" and discuss my views on the NRA, the Second Amendment and gun culture.

I'm a grown-ass man and it's 2012. I don't have to shuffle off to the Big House when summoned. O'Reilly is not Boehner, Pelosi or Obama. He's a TV entertainer who has spent the weeks after the election crying about the end of "white establishment" America, the end of the days when an upstanding white man felt entitled to summon whomever he wanted whenever he wanted to the Big House to dance.

I don't dance.
In other words, Whitlock, who can't make a statement of substance without having to walk it back (see his stupid tweets about Jeremy Lin and most recently his clownish equation of the NRA with the KKK when in fact the latter was a big proponent of gun control as a method of preventing southern blacks from being able to defend themselves from the Klan), is afraid that O'Reilly would absolutely eviscerate him on the most-watched program on cable TV.
Bob Costas, who parroted Whitlock's moronic Belcher column, managed to survive his O'Reilly appearance although he didn't exactly distinguish himself. Costas has a lot more experience in the television interview format than Whitlock does, though.
You'd think a columnist like Whitlock who does TV spots from time to time would see O'Reilly as a great opportunity to increase his exposure and visibility. Instead, he saw the likelihood he'd be exposed as a mental midget.
So he demurs, and then writes up some braggadocious Malcolm X impersonation to cover his cowardice. That didn't exactly make the situation go away…
And the fact that Whitlock is incapable of analyzing anything outside of the prism of race means he'd get both barrels from O'Reilly. What's particularly amusing is his whining that people don't appreciate his KKK references – when actually, it's pretty obvious that the Klan is Whitlock's universal bogeyman for comparison to anything he doesn't like. He made something of a name for himself by saying the gangsta culture in the black community was like the Klan, though it's pretty clear the only thing the two have in common is intimidation of black people. The NRA doesn't even have that shred of analogy.
It doesn't make you thought-provoking or compelling when you compare everything to the Klan. It makes you an ignorant hack and your material tired and boring.
Jason Whitlock is a joke. More than that, he's a coward. And that's a poor trait in someone who purports to be a hard-hitting columnist tackling social issues – inside or outside the sports world – with a fondness for "provocative analogies."