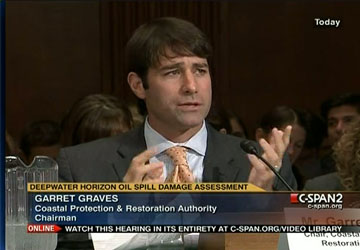 That's the rumor running around political circles amid the news that Graves quit his job as head of Louisiana's coastal restoration agency earlier today. The Baton Rouge Business Report offered a few particulars…
Gov. Bobby Jindal announced late today that Garret Graves is leaving his position as chair of the Coastal Protection and Restoration Authority, a role he held for six years. In announcing Graves' departure, a statement from the governor's office notes that Graves "began one of the most significant streamlining efforts in the history of the state's coastal program. He led Louisiana's efforts to improve hurricane protection and coastal restoration following hurricanes Katrina and Rita and helped coordinate the state's response and recovery to hurricanes Gustav, Ike, Isaac" as well as tropical storms, the BP oil spill and historic high water levels on the Mississippi and Atchafalaya rivers. The governor appointed Jerome Zeringue to replace Graves, whose last day is Feb. 17.
Graves has been one of the more interesting of Jindal's staff for a while, in that he's one of the few people you'll find in a job like he's had who doesn't cop to the easy "global warming is what's causing our coastline to shrink" narrative. Instead, Graves has put his finger on something else – and something honest. Namely, that the major problem with Louisiana's coastal erosion is that the Army Corps of Engineers leveed the Mississippi River all the way to its mouth, and because it did so the silt the river would have otherwise deposited in the marshes south of New Orleans with the spring floods every year isn't getting deposited in the marshes. And therefore there is no rebuilding of the land to balance the action of the Gulf of Mexico through storms or even normal wave action.
Proof of this can be found in the fact the Atchafalaya River delta is actually growing; the Atchafalaya isn't leveed all the way to its mouth.
Graves often points this out and has built a coastal master plan based on such facts – a plan which holds the potential, should it be funded sufficiently and followed, to actually halt and reverse the effects of coastal erosion.
It makes him, as we said above, an interesting figure. And since his background is more political than scientific – which isn't a slam on his expertise in his current job; he learned about Louisiana's coastal issues as a staffer to John Breaux, Billy Tauzin and a committee David Vitter served on in the Senate. That made him an expert not so much on the science of coastal issues, but the policy of dealing with them and how said policy is made. In fact, Graves developed a reputation on Capitol Hill as a whiz-kid when it came to things like getting appropriations dollars for the coast, which was one reason why he was considered a great hire by Jindal for the coastal restoration job despite a rather untraditional background for it (Graves didn't even last a semester at Rhodes College before spitting out the academic bit and joining the working world as a gopher on the Hill due to some connections with Tauzin, and then moving up due to the aptitude he showed as a staffer).
And that's why Graves was known, in his current job, for actually accomplishing things rather than wasting money on new studies to build on top of the mountains of studies that have been done since the 1960's…
"After years of repetitive studies from the federal government, wasteful spending, bureaucracy and red tape, Garret helped transform the state's coastal restoration and hurricane protection program into national models," said Gov. Bobby Jindal in a news release announcing the resignation. "Because of Garret'™s work, we'™ve built and improved more miles of levees and restored more acres of Louisiana's coast than ever before.

In his role as chairman of the authority, Graves oversaw the 2012 comprehensive rewrite of the state's coastal Master Plan, which includes a list of dozens of restoration and levee projects that total a $50 billion investment over 50 years.

He also represented Louisianians in negotiations with public agencies and BP after the company's 2010 oil spill in the Gulf of Mexico. More recently, Graves clashed publicly with members of the east bank levee authority over the agency's decision to sue 97 oil, gas and pipeline companies to demand they restore damage caused to wetlands or pay damages.
Graves' work in the aftermath of the BP spill really put him on the map, as he buffaloed the oil company into paying for a host of coastal restoration projects – specifically sand berms built in an effort to restore barrier islands – under the ambit of protecting the marshes from the oil spill when in fact they were part of the state's plans to fight erosion all along. Those berms were assaulted by the academics and the Jindal detractors, particularly on the Left, but three years later those berms became the islands Graves argued for.
Graves hasn't come out and mentioned running for Congress, but the political consultants are talking about him as a candidate – and particularly given his connection to Jindal, the scuttlebutt is that Graves would be the candidate of the "Jindal faction," complete with Jindal's political guru Timmy Teepell as Graves' guru. With his family connections in the engineering and industrial construction business in Baton Rouge, plus the Jindal connections (which do have value in Baton Rouge though they've proven less valuable elsewhere in the state as state senator and 2013 congressional candidate Neil Riser can attest), Graves could be the heavy hitter the 6th District race has yet to develop.
This is all speculation, mind you, and there is nothing concrete to go with it as yet.  But it's what the politicos are talking about, and the 6th District field has been considered as so wide open that even Edwin Edwards is actually polling the district in preparation for potentially even running for the seat.
In other words, somebody beyond Paul Dietzel, Dan Claitor and Cassie Felder is going to get in. There is no particular reason why Graves couldn't.
But this is what Graves told the Times-Picayune…
"When I took the job, my wife and I had an agreement that it would be for two years. It'™s been six years," he said. Now he plans to take some time to consider "nine or ten" options, including creating his own not-for-profit organization that would focus on educating state and local leaders on coastal issues.

"It would not be an income-producing deal," he said. "It would be a way of staying involved in this stuff. I don't think I could step away."
Now that he's a free agent of sorts it will be interesting to see what becomes of Graves, just as he's been interesting to watch so far.