While New Orleans Mayor Mitch Landrieu sets out to put unarmed officers on the streets of the city, known as "NOLA Patrol," the Big Easy is not getting any safer. In fact, violent crime is on the upswing, according to crime states chronicled by NOLA.com.
The murder rate has fallen to a record low for the city, with 39.6 murders per 100,000 residents in 2014. And Landrieu couldn't be more proud, touting that success on Twitter.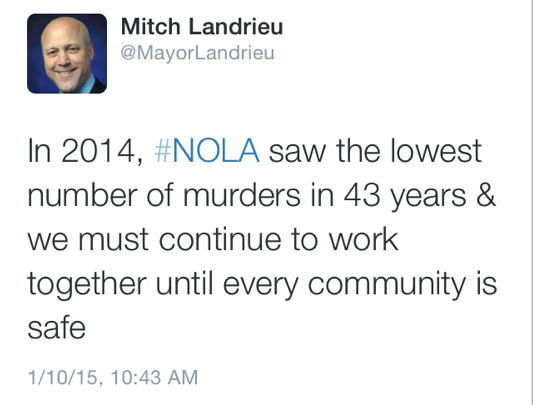 But, almost 40 murders per $100,000 people is nothing to be proud of. The national murder rate average in 2013 was 11 murders per 100,000, that puts New Orleans way, way above the national average.
One topic Landrieu is not talking about is the violent crime rate, which is spiraling out of control in the city.
The New Orleans Police Department (NOPD) has not yet released the fourth quarter crime statistics for rapes, robberies and assaults in the city, but based on the first three quarters of 2014 alone, the stats surpassed crime stats from the entire year of 2010, which means the city has gotten progressively more dangerous under Landrieu.
In the first three quarters of 2014, there was a 24 percent increase in crimes against people and a 13 percent increase in property crimes.
Meanwhile, the city has major shortcomings when it comes to NOPD officers.
In 2014, Gov. Bobby Jindal allocated tons of Louisiana State Police to New Orleans, at the request of Landrieu, after the Bourbon Street shootings received national attention.
However, now the state police are out of the city and Landrieu is busy spending money to create and pay the unarmed NOLA Patrol.
Advertisement
Advertisement