The Grammy's were such a bore last night. With the exception of Lady Gaga's marvelous tribute to David Bowie and Alice Cooper's more-than-metal tribute to Motorhead's Lemmy Kilmister, the show was a non-event.
Even Adele's anticipated performance failed, not because of her, but because of a mixture of bad lighting and technical problems.
But if anyone really put on a show last night and reminded us why there are actually still sexist people in the world, it was Taylor Swift.
Swift use to be the outsider. She use to be a country singer. She use to be the somewhat dorky girl who could sing and play a guitar. She use to the down-to-earth chick from Nashville.
Not anymore, and last night proved it.
Swift has become the pop-star that everyone once loved her for not being: A pretentious, self-obsessed, phony-to-the-core, douche bag.
Take for instance every time Swift was in a category last night. The camera would show all five (or four) nominees just as the presenters announced the winner. For every award that Swift didn't win, the camera would show her jumping up and down and screaming for the other person in the category who did win the award.
She's like that annoying girl in high school who tries to pretend like she's not impacted something, so she overcompensates by acting as if she doesn't care at all.
It's the 'making-it-all-about-you-all-the-time' syndrome that engulfs Hollywood's biggest names.
Like when Ed Sheeran (whom she is friends with and loves to tell us every five seconds) won for his song "Thinking Out Loud" over Swift's "Blank Space." She went totally over-the-top bat-shit.
You could cut the phoniness in Swift's reaction with a machete. It's pathetic and nearly uncomfortable to watch.
And this wasn't an isolated incident. Swift made these kind of obviously fake reactions (to cover up the fact that she's secretly ticked she didn't win) either three or four times during the award show.
How much do we need to know that you, Taylor Swift, THE Taylor Swift, the country-girl-gone-pop, the female comparison to Michael Jackson, is happy for another person because you're basically Mother Teresa.
That's the problem with it. It's the idea that women do these things for the camera just to come off to the world like they are wonderful, loving human beings when they're actually divas behind the scenes.
Except it's no women, it's just Swift doing this kind of stuff, giving all female singers a bad rep.
Swift knew she would have a camera constantly on her the entire night, so she planned ahead and made sure that while that camera was on her, she reacted to other people's wins with more excitement than the winner.
Doing things for the cameras. That's the kind of cliches we except from Kim Kardashian, but not Taylor Swift.
Then came her acceptance speech for her Album of the Year win for "1989," her transitional record from country to pop stardom. To say it doesn't turn non-sexist people into sexists would be an understatement. It actually makes you kind of hate Swift and all of her success because it is so downright annoying.
In the beginning of the speech, everyone is thinking 'Okay, this is typical Taylor rambling. Thanking the fans, the collaborators. It's her usual acceptance speech.'
Then comes the moment that she has had planned for weeks, and it began with the phrase "As the first woman to win Album of the Year at the Grammys twice….."
Way to be subtle about that. Totally not pretentious. Unlike men, though, who we are allowed to call pretentious for those kinds of statements, we're not allowed to call women pretentious, because you know, it's sexist!
Swift was in full pre-planned Anne Hathaway mode. Remember when Hathaway literally planned all of her acceptance speeches for her wins for 'Les Miserables?'
The pretentiousness of those speeches (where she seriously memorized famous quotes and then recited them when she won) hurt her so much, she's been trying to make a comeback ever since.
Hathaway's speeches were before the radical feminists started turning every little thing female celebrities do into a sexism and feminism issue though. So had she done what she did now, there would have been leftist writers writing left and right about how no one should be criticizing her for planning out a speech because she's a woman and "men do it all the time," even though no man does that.
Swift, though, knows exactly what she is doing.
After she drops it on everyone that she, Taylor Swift, is the only female in history to win Album of the Year twice, she turns her entire acceptance speech into a phony 'girl power' statement that's actually all about herself.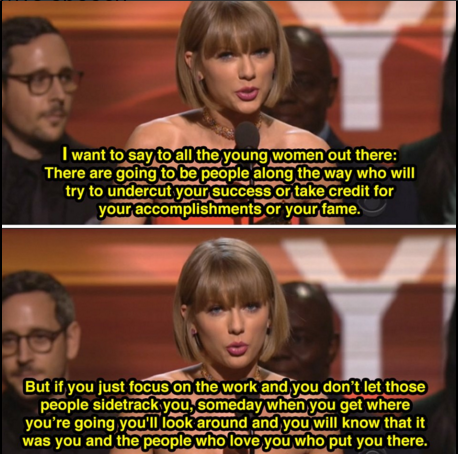 Of course, Swift is making a jab at Kanye West who released a song last week in which he claims to have made Swift famous because he infamously stole the mic from her at the MTV Video Music Awards years ago.
The issue with Swift and others (Beyonce) is that they are not Princess Diana.
When powerful, incredible women did great things for the world, ie Princess Di, they did not do what they were doing knowing that they would get a write-up in New York Magazine about how incredible they were.
There was a risk to what women like Diana did. She actually helped people, without making it all about herself all the time and with the risk-factor of being ridiculed.
Nowadays, we have drama queens like Taylor Swift off making an angry acceptance speeches that are designed to look like 'female empowerment' chants, but they're actually all about her and her fight with other celebrities.
So Swift's real message to young women: 'When a man attacks you, take the bait and attack him publicly without naming his name so that you can't be accused of actually attacking him.'
Not to mention, Swift knew that the very next day (even within hours) of giving the speech, she would be heralded by Time Magazine, the Hollywood Reporter, the Daily Beast and the Los Angeles Times for making an "empowering" speech about sexism in the music industry.
Yet, there's nothing empowering about it at all. It's all about a pretentious celebrity fighting with another pretentious celebrity in a very passive aggressive way. Nothing to it. No substance.
There's no risk in making a speech like the one Swift made because the feminists will quickly come around and defend every single word you said and if anyone says anything about it (or comments on Swift's appearance) they'll immediately scream 'Sexism!'
Women like Taylor Swift are the reason sexism lives on. The minute she makes a speech taking the bait on Kanye West's diss, how could you not think 'Wow, this girl is dumb and pretentious. What an ungrateful elitists.'
Then, you quickly realize, wait, that's just Taylor Swift. Not everyone is as snobbish as she is.