One thing we've heard quite a bit in the last couple of weeks since the end of the 2016 election cycle in Louisiana is a bittersweet sentiment about state representative Mike Johnson becoming Congressman-elect Mike Johnson. Not that anyone on the Republican side is unhappy to see Johnson elected to Congress – he seems destined to become a very popular, well-respected and ultimately powerful force on Capitol Hill – but that losing a man of his talents in a state legislature not particularly overflowing with bright conservatives is a bit of a privation.
He's leaving some major shoes to fill, even after only a short time as a member of the Louisiana House of Representatives.
So replacing Johnson – the special election for the District 8 seat he's vacating is set for late March 8 – will be a process most of Republican Louisiana will watch closely as it unfolds in Bossier Parish.
First, let's set the stage for the campaign which is about to unfold. This is as hard-core a conservative Republican district as can be. It voted…
– for Donald Trump over Hillary Clinton by a 72-24 margin
– for John Kennedy over Foster Campbell, 78-22
– for David Vitter over John Bel Edwards, 66-34
– for Bill Cassidy over Mary Landrieu, 76-24
– for Mitt Romney over Barack Obama, 74-25
– and for Johnson over Marshall Jones in the 4th District congressional runoff, 79-21
Johnson won his state legislative district in the LA-4 primary in November, with 38 percent. Trey Baucum was next with 19 percent, Jones was in 3rd with 18 percent and Oliver Jenkins was fourth with 17 percent.
We currently have two candidates in the race to replace Johnson as of this morning, with the likelihood of at least one more.
The first candidate in the race is Bossier City businessman and firefighter Michael "Duke" Lowrie, who has made a name for himself as an outspoken conservative both locally and on social media. It's the latter which has gotten him the most attention – and perhaps not in the best light.
This was a post on Lowrie's Facebook last November, and since he announced for the seat the media picked up on it and are in the process of making him a star…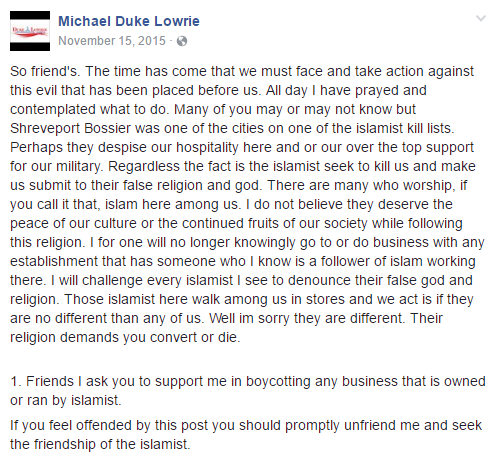 Some of this is defensible and at some point it's worth it to have an intelligent discussion about what limits America should place on the amount of tolerance we have for alien and hostile cultures. Recent events in Columbus, Ohio, for example, should make us take a look at whether bringing in Somalis in large numbers without taking pains to insure they assimilate rather than build hardened cultural enclaves assisted by widespread attachments to the public dole – which is what has happened throughout Europe, to devastating effect.
The sentiment, that Americans and the West should rightfully resist those who clearly want a clash of civilizations with us, is not illegitimate.
That said, there is no way to know without extensive research that just because someone may be Muslim that person is an Islamist – and it is grossly unfair and unsupportable to boycott all Muslim-owned businesses. Which is how Lowrie's rather clumsily-worded Facebook message has been interpreted.
Here was Lowrie's announcement video…
His camp has had to do a lot of policing on its Facebook page, because virtually every time that video has been shared, the comments are full of Democrats and others trolling Lowrie with accusations of bigotry, racism, fascism, Islamophobia and everything else under the sun they can throw at him. You can see something of a black hat being foisted on Lowrie, which perhaps fits – after all, the same people attempted to make Johnson the face of intolerance and bigotry in the state because he was outspoken as a pro-life advocate and unapologetically stood against gay marriage. It didn't really work with Johnson because he came off as congenial and gentlemanly in advocating his positions, but the more combative Lowrie could serve as a better lightning rod for lefty outrage.
Second up is Robbie Gatti, the brother of state senator Ryan Gatti – a Republican who is likely to be in the crosshairs of every business trade group and conservative organization in the state as an incumbent they'd like to remove. Gatti the state senator achieved an amazingly low 22 percent score from LABI in 2016; that's almost unheard of for a Republican and it's well worse than Shreveport's black Democrat senator Gregory Tarver (37) or another black Democrat senator, Rick Gallot from Ruston (32). It's even worse than Baton Rouge's mayor-elect Sharon Weston Broome (30). On the Louisiana Family Forum's scorecard Gatti fared a little better with a 78 percent rating, which tied him for 18th-best – but Tarver was the only North Louisiana senator ranking worse.
In other words, you can look at Ryan Gatti's voting record and come to an easy conclusion that he's as much of a "RINO" as it's possible to elect in that part of the state.
But is it fair to paint Robbie, who has not yet announced his campaign but has been widely expected to do so soon, with the same brush as Ryan? Well, this isn't good…

Giving office space to Edwards' campaign isn't going to look all that good to the deeply conservative voters in District 8. And the fact that Ryan Gatti gave $100,000 to a PAC dedicated to Johnson's primary opponent Oliver Jenkins likely means the new congressman is going to do everything he can to keep another Gatti out of that seat – and with only 17 percent going for Jenkins despite all that Gatti money backing him, one would surmise not only that Robbie has an uphill fight but that the voters may be rather sour on Ryan when he's up for re-election in 2019.
What's more, Robbie was an associate pastor at First Baptist Church in Bossier City, and was reportedly asked to leave over the congressional election – word is he and his brother were so ugly toward Johnson's campaign that it threatened to tear the congregation apart, and when they were asked to leave it alone they refused. The general wisdom surrounding the race was that Jones' best opportunity to win was for the Republicans to beat each other up so badly in the primary that their voters wouldn't coalesce around Jones' opponent – if that sounds like the 2015 gubernatorial race Robbie Gatti gave in-kind donations to the Democrat candidate in, you are indeed paying attention.
Which brings us to the third Republican candidate in the race (to date there are no Democrats, and it's a decent bet there won't be any), a Bossier Parish Police Juror named Doug Rimmer who might position himself as a happy medium between the shaky Republican Gatti and the over-the-top "right-winger" Lowrie…
Bossier Parish police juror Douglas Rimmer announced Wednesday that he will be running for U.S. Congressman-elect Mike Johnson's recently vacated District 8 seat in the Louisiana House of Representatives.

In his announcement made in the Bossier Parish Police Jury chambers, the 68-year-old Republican and current district 8 juror said he will bring his conservative Christian values along with the experience he's gained working as a member of the Bossier Parish Police Jury to Baton Rouge.

"I have worked hard to earn a reputation as an elected official who talks straight and fights for conservative principles every day," he said. "I am a problem solver who works to find effective solutions and then builds consensus among stakeholders and colleagues to pass an implement good ideas."
Rimmer's benefit, or perhaps it's a curse, is the lack of a significant paper trail. He's a past president of the Bossier Parish police jury (he served in that capacity in 2014) and in two terms on that body he doesn't seem to have generated any particular drama or controversy. That's either the sign of a competent public servant or someone who doesn't fight particularly hard on principle; in today's Trumpian politics what used to be an asset is now the sign of suspicion.
That said, Rimmer has held himself out as a "full-spectrum conservative;" his son, a gastroenterologist, has made donations to Mike Huckabee and Bill Cassidy in federal races and also donated to Henry Burns in last year's Senate race against Ryan Gatti.
This threesome shouldn't be seen as the full field in the race. There might well be another one or two candidates, including a Democrat – but that's not assured given the Gattis' associations. But as is, and with the composition of the district as one of the state's most conservative, it could be a very interesting snapshot of where Louisiana's Republican voters are in the wake of the 2016 elections.