Update: The first court appearance for the civil case against Byron Cook is set for Wednesday morning. Amy Hedtke's attorney hopes for a temporary court order to cover the special session to guarantee Cook follows the Open Meetings Act.
Original: There are few activists known as widely around Texas as Amy Hedtke. From her knee-high red, white, and blue boots to telling city council members to "go [expletive] themselves as they do their constituents" she is has made quite the reputation. Some love her bravery and frankness, and some hate her dress and attitude. Whether you're a fan or critic, her latest act is likely to draw crowds of both. Amy Hedtke is suing State Representative Byron Cook of Corsicana, Texas.
Rep. Byron Cook is chairman of the State Affairs committee in the Texas House of Representatives and has been for several sessions. On March 22nd of this year, Amy Hedtke was in attendance during the committee meeting as a concerned citizen and activist. Several bills were being heard that day including HB 200, a bill that would ban a type of partial birth abortion. Hedtke was there to testify on the bill and encourage them to pass HB 948, a bill to completely ban abortion. There is normally a live stream of the committee hearing that is archived, but they can be unreliable. This was true for the day before this hearing.
As a modern activist, Hedtke often uses live streams to keep an independent record of hearings and events and to give other vantage points than the stagnant official stream. According to Hedtke she has recorded dozens of committee hearings and hundreds of other political meetings over the years using livestreams. She was actively recording using Ustream before the days of Facebook live.
According to the Open Meetings Act the state law of Texas "A person in attendance may record all or any part of an open meeting of a governmental body by means of a recorder, video camera, or other means of aural or visual reproduction."
It goes on to call this a "right" of those in attendance:
"A rule adopted under Subsection may not prevent or unreasonably impair a person from exercising a right granted under Subsection."
On this day at the Capitol though Chairman Byron Cook had signs placed at the entrance of the committee prohibiting recording unless you possessed Capitol Media credentials.
The signage did not proclaim the committee meeting to be a closed meeting.
According to Hedtke, she decided to record anyway because she was "very familiar with the Texas Open Meetings Act" and regardless of signage she "chose to exercise rights affirmed in state law."
Hedtke had been recording outside the committee room and continued to do so upon entering. The meeting was not in order at this time and Hedtke made her way around the room to film the signs. As she was filming the final sign she was told by a committee staffer that she must stop recording. Hedtke responded she had the right to record under state law. The staffer then claimed House Rules take precedent over state law. Hedtke replied, "I'm ready to let you push that," then she sat down in the back of the room and continued recording.
Over the next 45 minutes, Hedtke was approached by another staffer again demanding she stop recording. She continued recording, and when Byron Cook called the meeting to order he repeated the language on the signs. The Sergeant-At-Arms, David Sauceda, approached Hedtke and again demanded she stop recording. She read directly from the state law and from the video it appears the officer was reading from her screen along with her. When Hedtke refused again Sauceda had two officers grab and physically dragged her out of the room and out of the Texas Capitol.
Hedtke was charged with criminal trespassing and resisting arrest. She was released after nine hours. The resisting arrest charges were dropped due to lack of probable cause and the criminal trespassing hearing is scheduled for July 10th.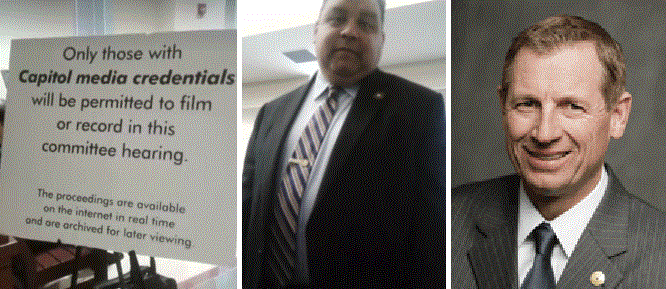 Following this event Norred Law, PLLC has taken up Amy Hedtke's case and filed a law suit naming State Representative Byron Cook, Sergeant-At-Arms David Sauceda, and Director of the Texas Department of Public Safety, Steve McCraw, as defendants all in their official capacity.
Hedtke is seeking a temporary injunction upon Cook before the start of the Texas Special Session to require obedience to the Open Meetings Act. Cook is expected to use Section 11 of Article 3 in his defense.
"Each House may determine the rules of its own proceedings, punish members for disorderly conduct, and, with the consent of two-thirds, expel a member, but not a second time for the same offense."
The Open Meetings Act gives no special dispensation for the Texas legislature, but rather specifically mentions them as being subject to the law. The court may not just be deciding this case, but create a precedent for the entire Open Meetings Act to be thrown out, an act Byron Cook actually voted to pass.
No reason was given to Hedtke on why only credentialed press would be allowed to record the open committee hearing. Perhaps Texans will learn the reason in court.
Byron Cook is also currently being sued by Prestonwood Baptist Church Executive Pastor Mike Buster and is a lead witness in a case against fellow Republican Texas Attorney General Ken Paxton.
Norred Law, PLLC has taken on the case as a White Hat case and funds are being raised to cover cost using FundedJustice.com.