Magical Winter Lights is the largest lantern festival and holiday celebration in America and is open on Christmas and New Year's Day, through January 2. Its two locations in Houston and Dallas feature different themed attractions, offer live musical performance, food, carnival rides, and a Chinese acrobatic performance.

At the Gulf Greyhound Park in Houston, visitors can walk through a Magical Wonderland, a Mystical Forest, and The Lone Star State:
At the Lone Star Park in Dallas-Fort Worth, visitors can walk through the Magical Wonderland, the Lone Star State, Dinosaur Land, Mystery of the East, and Christmas Candy Land.

It takes roughly 2 hours to walk through the lantern exhibits and watch the Chinese acrobatic performance. Spending another hour allows visitors to participate in a full-service carnival, musical performances, vendor shops, and eat at a food court.
Visitors can have their photos taken with "Ice Sisters" and Santa and watch Chinese elves dance: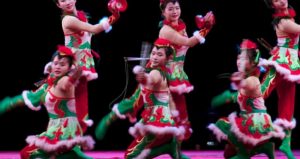 There are two acrobatic shows every night at the festival, which is included in the admission price. Acrobatic performance times are: Sun.-Thurs. 6:30-8:30 PM and Fri.-Sat.  7-9 PM.
Tickets can be purchased online and discounted tickets are available at local Walmart stores.

Advertisement
Advertisement