Thanks to the use of social media, more information as become available about Google's involvement with Clinton Election and Foundation, the Democratic National Committee (DNC), Fusion GPS and the fake Russian dossier, and the common denominator, the Seattle-based law firm, Perkins Coie. Images of documents have been compiled by @almostjingo outlining conspiracy at the highest levels of government.
The plot involves numerous parties involved in the Clinton-Fusion GPS 2016  Election scandal, including Google and its law firm, Perkins Coie, and CrowdStrike, the "cybersecurity" company in which Google invested $100 million– owned by a Russian.
Of roughly 16 Twitter posts, the first includes a letter from the Federal Trade Commission (FTC) setting the timeframe. Google was known to be represented by Perkins Coie in 2010.
📍(1) "O, what a tangled web we weave when first we practise to deceive" the story of Google, Perkins Coie, CrowdStrike, Fusion GPS, Clinton, Soros and many other players. To begin, Google has been a client of #PerkinsCoie for quite a long time.. pic.twitter.com/EJuDlvbHPM

— Rosie Memos (@almostjingo) December 20, 2017
Google was one of the largest corporate contributors to the Clinton Campaign and its former executives played major roles in her campaign. Google also donated roughly $10 million to the Clinton Foundation.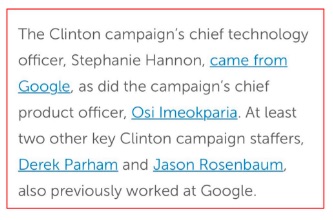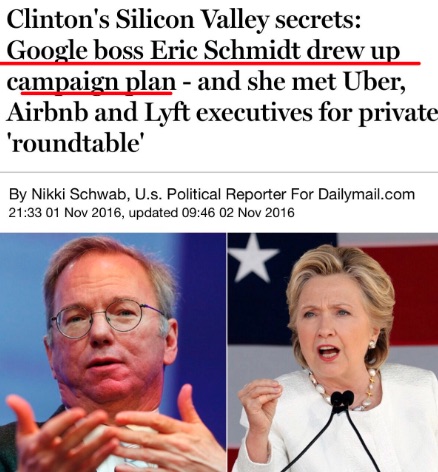 (2) #Google has a very close relationship with Clinton, it goes all the way back to her days as Secretary of State. Not only did they donate heavily to her campaign they also support the Clinton Foundation. In fact the boss even made her campaign plan. pic.twitter.com/rNSjI6NlxE

— Rosie memos (@almostjingo) December 20, 2017
In 2016 Google, and its law firm, Perkins Coie, developed an algorithmic tool "to drive voter turnout" for Democrats in 2016.
(3) During the campaign Google and Perkins Coie just happened to partner together to release a tool designated to drive voter turnout. "Partnering" seems like a strange term considering they have long worked together. pic.twitter.com/D9b2if1h2S

— Rosie memos (@almostjingo) December 20, 2017
Google also invested $100 million in the cyber-security company, CrowdStrike, which later worked with FusionGPS prior to the DNC's announcement that "Russian hackers" were involved in the 2016 Election.
(4) Oh and Google also decided to venture into cyber-security, they invested $100 million into a little company called #Crowdstrike pic.twitter.com/h4A9F1GfkM

— Rosie memos (@almostjingo) December 20, 2017
After the DNC was hacked by Debbie Wasserman-Schultz's Pakistani employee of nine years, DNC officials didn't call the FBI. They instead held an emergency meeting with Perkins Coie who then contacted CrowdStrike, which blamed Russia for hacking its servers.
(5) Then a funny thing happened in April when #DNC noticed the servers had been penetrated they didn't call the FBI they had an emergency meeting of course and in that meeting was none other than Sussman from #PerkinsCoie and he took control. pic.twitter.com/XrONH6g4bg

— Rosie memos (@almostjingo) December 20, 2017
(6) Four days later, what did Sussman do? He called #Crowdstrike why not enlist the help of a company owned by your longtime client Google. pic.twitter.com/EnNi1Ug75U

— Rosie memos (@almostjingo) December 20, 2017
Perkins Coie consulted with Fusion GPS to create the "Russian dossier," which was a completely false report.
(7) Guess what else happened in April? #PerkinsCoie lawyer retained #FusionGPS who, as we know provided us with the #TrumpDossier pic.twitter.com/3KM10oVsrV

— Rosie memos (@almostjingo) December 20, 2017
In other words, #RussiaGate was a $26 million endeavor contrived by the Democrats to create false documents to divert attention away from the truth that their own employee sold national security secrets and committed treason. Documents point to the DNC covering it up at the highest levels. Worse still at least four people are connected to the conspiracy died under mysterious circumstances (or were murdered).
(8) So #PerkinsCoie who Democrats paid just over $26 million to in 2016, just happen to have hired the two most infamous companies that are responsible for #RussiaGate without either of them would there be any "proof" of "Russian interference" pic.twitter.com/YyH5v48Rgy

— Rosie memos (@almostjingo) December 20, 2017
As a side note, Perkins Coie also defended Amazon, Facebook, Starbucks, and Barack Obama over lawsuits related to his alleged faked birth certificate. More recently, it's come out that Amazon's highest executives, along with many others in Silicon Valley, are implicated in a major sex-trafficking scandal.
(9) #FunFact Perkins Coie also represents Amazon, Starbucks and Facebook and Obama, who they defended during all pre-election lawsuits about his birth certificate. pic.twitter.com/MlGLTxrWGi

— Rosie memos (@almostjingo) December 20, 2017
Another more significant side note is the connection between Perkins Coie and George Soros.
(10) Oh and what would any story be without the one and only #Soros apparently #PerkinsCoie works with him day-to-day in fact if you look at addresses to many super PAC's and organizations you may not see his name but you'll see the address of Perkins Coie🧠👀 pic.twitter.com/JA2Wjt2S1X

— Rosie Memos (@almostjingo) December 20, 2017
And, Perkins Coie led the class action lawsuit against Sheriff Joe Arpaio for "discriminatory policing."
(11) For extra credit: Guess what firm went after @RealSheriffJoe ?? If you guessed #PerkinsCoie you win!! 🤦🏼‍♀️ pic.twitter.com/yzmHRssLMw

— Rosie Memos (@almostjingo) December 20, 2017
In light of all of these political connections and alleged violations of campaign finance laws, Perkins Coie was able to avoid being charged by the FCC primarily because one of its former attorneys was the FCC Commissioner. 
(12) You might be wondering how all this money from Democrats makes it to #PerkinsCoie without raising any red flags with the #FEC ?!? Ah well, the commissioner is a former lawyer there as part of their Political Law Group 🔎💩 pic.twitter.com/7EZH35D4CL

— Rosie Memos (@almostjingo) December 20, 2017
Obama was not only connected to the law firm but also to the original source of CrowdStrike's funding via his Secretary of the Treasury, Timothy Geithner's Warburg Pincus, not to mention Google Capital (now called, CapitalG). 
(14) Per the guidance of @Imperator_Rex3 the original lump sum of financing to kick off #Crowdstrike came from Warburg Pincus aka Timothy Geithner. pic.twitter.com/Ov6QZIE8AV

— Rosie memos (@almostjingo) December 20, 2017
Perkins Coie is known to have offshore accounts and Eric Schmidt, who left his position as Google's Board Chairman in January 2018, has been allegedly listed as a "human rights abuser."
Advertisement
Advertisement