To find out if your data was "improperly shared" by Facebook with Cambridge Analytica, Facebook users can click on a link posted at the top of each user's news feed.
Cambridge Analytica allegedly misused user data obtained through a third-party quiz app. The company, which worked with President Donald Trump's 2016 election campaign, reportedly used that information to build psychological profiles used to target voters with ads, ABC News reported.
According to chief technology officer Mike Schroepfer, Facebook estimates that Cambridge Analytica's practices impacted 87 million users, mostly in the United States. Cambridge Analytica has repeatedly denied any wrongdoing and said in a statement that it only had access to the data of 30 million users.
But it's not just the U.S. that was affected. News website Quartz reported that it obtained documents from 2013 claiming that Cambridge Analytica's predecessor SCL (Strategic Communications Laboratories) helped rebrand a candidate in a national election in the Philippines. In fact, the now suspended Cambridge Analytica chief executive Alexander Nix visited the Philippines in 2015 for a "research trip."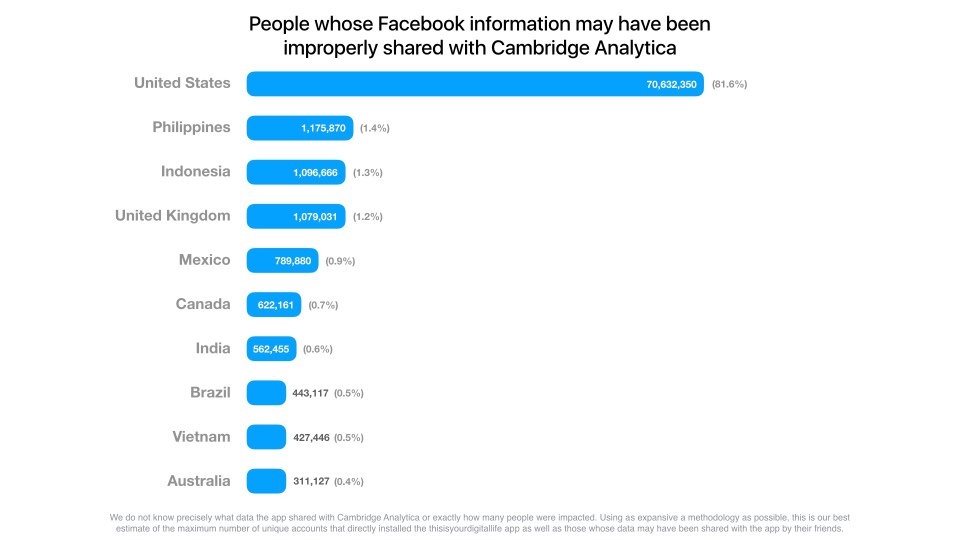 If Facebook users' data was not accessed by Cambridge Analytica, Facebook is providing a way to find out which third-party apps were authorized to access user information and instructions on how to de-authorize apps.
Facebook is also limiting what information is shared with third parties through Facebook events, groups and pages. It's also updating login, search and account recovery procedures related to third-party apps.
A full list of changes can be found on Facebook's website.
Created in 2013, Cambridge Analytica markets states that it provides a source of consumer research, targeted advertising and other data-related services to both political and corporate clients.
Advertisement
Advertisement