We've left the controversy between Louisiana Attorney General Jeff Landry and Gov. John Bel Edwards on the subject of the state's all-but-moribund death penalty alone so far, but that has to change after a letter Landry launched in Edwards' direction this morning put the governor to the question he really doesn't seem to want to answer.
Here's the letter…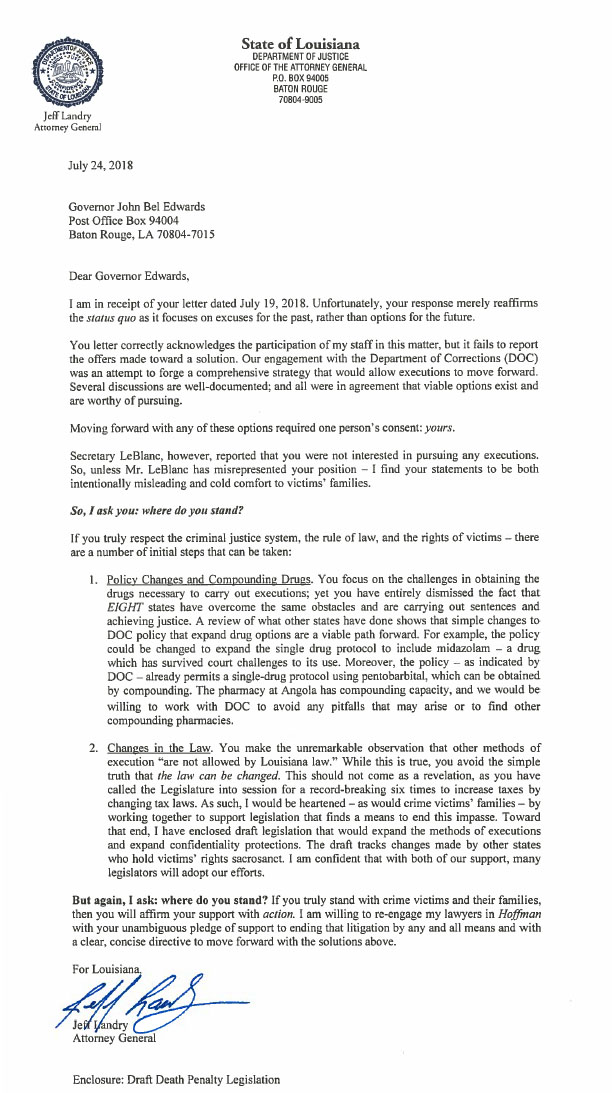 By now our readers know the story about this controversy, right? It began when, amid a lawsuit challenging the Louisiana protocol for executions via lethal injections, the state Department of Corrections petitioned the court for a year-long stay of executions. Landry then pulled his office out of that lawsuit, in which he was defending the state, and pinned the blame for the problem on Edwards.
DOC's, and Edwards', position is that the pharmaceutical companies involved in the manufacture and sale of pentobarbital, midazolam and hydromorphone, which are the drugs the state's execution protocol calls for in order to carry out lethal injections, won't sell them to Louisiana's corrections department anymore.
This doesn't seem to matter a whole lot, since Louisiana hasn't been able to execute anybody since 2010 and there is now a backlog of more than 70 murderers soaking up taxpayer resources waiting for their sentences to be carried out. Landry's point is that Edwards is making a lot of excuses for why the state can't exercise the will of the voters and jurors, who put the death penalty law in place and applied it to the inhabitants of Death Row as punishment for their crimes, and isn't particularly interested in allowing Edwards to wiggle off the hook on this question.
And Landry, though he's unquestionably correct to demand that Edwards either tell the public he opposes the death penalty or stop making those excuses and do the work necessary to make the death penalty viable in Louisiana again, has been put through the media ringer for engaging this battle. Things have become laughable – so much so that over the weekend the New Orleans Times-Picayune's "conservative" columnist Tim Morris dropped the hammer on Landry for his part in the fight, only to find himself forced by the paper's readers to admit that he's really not all that conservative and to deny that a pro-death penalty stance is a conservative one anyway (by quoting George Will, whose irrelevance to conservatism is more than a decade in the making) just a day later.
Morris protests a bit too much, as his soft position on capital punishment is hardly the only gripe that paper's conservative readers have with him (his obsession with bashing Entergy for hiring people as props at New Orleans City Council meetings, after decades of left-wing organizations doing the same thing, is a good example of why nobody should take him seriously). But it's fair to say that while coming down on the side of capital punishment for the worst imaginable crimes is a conservative position it isn't an exclusive litmus test for conservatism; one can be conservative, perhaps of the small-government/libertarian variety, and oppose it.
But this isn't really about that, is it? What's true is Louisiana's voters in poll after poll and in election after election make it known they want to have the death penalty available in the state's judicial arsenal, regardless of the efforts of anti-death penalty leftists in and out of black robes who have thwarted that wish, and it's also true that Louisiana jurors are willing to use the death penalty as a sentence in the worst murder cases.
Those anti-death penalty types who have successfully prevented an execution since 2010 have not changed this fact. And as Landry says, there are eight states who have figured out how to continue executions despite the same problems Louisiana has.
So this is about John Bel Edwards, and his silence on the issue.
You're the governor of the state, John Bel. Don't tell us "I can't." Either tell the truth and say "I don't want to" and give the voters fair notice that you're on the minority side of the issue, or get off your rear end and find a way to carry out the will of the people – as expressed in the law – like you promised to do when you got yourself elected. We wouldn't have had this problem if David Vitter was the governor, and we for damned sure shouldn't have it with you.