The Pope holds an office that is traditionally the pinnacle symbol of Catholicism on this mortal plane. Catholics are to look up to this man as a holy channel through which a divine influence flows. However, this role is that of a messenger, rather than of commander, for that role remains with the almighty alone. Thus, whenever Catholics suspect something has gone awry in their lead messenger, they have historically shown the courage to profess it.
Pope Francis will likely go down as one that did not hesitate to press the envelope. He has repeatedly displayed his purpose to transform the Church to cater towards 21st century liberalism. In the wake of this great shift, whether it is consciously on the mind or festering in the subconscious of devout Catholics, a question of Catholic identity has emerged. How may Catholic values can be changed, altered or discarded within the faith while at the same time remaining the definitive title of Catholicism?
According to recent polls, the Pope may be advancing his agenda too far for continued support among U.S. adults, and Catholics in general.
Since January of this year, Francis' favorability rating has been in free fall. Such a radical drop in favorability from U.S. adults has not occurred since the Pew Research Center's recording dating back to 1987.
U.S. adults in general are perhaps a bit more suspect to criticism, for his position is likely not seen with the same eminence from the greater populace as it is seen by Catholics alone. However, isolating the views of Catholics shows the same downward trend of the Pope's favorability.
His net favorability has dropped from +75 percent among U.S. Catholics in January to +52 in September. Thus, a drop in favorability of -23 percent has occurred in just nine months. His drop in favorability among Catholics is even more pronounced whenever respondents are asked about how he is handling certain aspects of his job.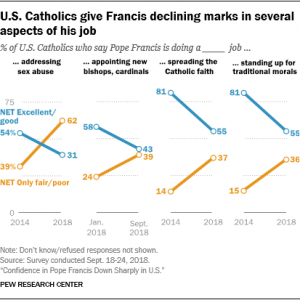 Among the most pronounced here is the latest sex scandal, where U.S. Catholics are increasingly disproving of how he has handled the situation. Only 31 percent of U.S. Catholics view his addressment of sex abuse positively, while 62 percent, or twice as many respondents, view it negatively. It is perhaps this issue that has ushered forth the great decline in the Pope's overall favorability.
Every category of respondents voiced a punctuated decline in approval on the Pope's handling of sex abuse from January to September of this year. If Francis does not address this issue adequately in the coming months, it is possible that this may be what acts as the great splinter which divides the Pope from his base.
Catholics have stomached many transformative steps the Pope has taken in the last four years. Some have likely done so gladly, while others perhaps more reluctantly. What is to become of the Catholic church is directly attached to the reign of Francis, and whether or not it will persist through this great rift four years into his papacy.