It puzzled us greatly when reports from the U.S.-Mexico border at San Ysidro of the Border Patrol using tear gas on rioters connected with the infamous migrant caravan from Central America who took to pelting American law enforcement agents with rocks and other projectiles generated such consternation on the Left.
It puzzled us greatly because such incidents are and have been exceedingly common. In fact, the Obama administration used tear gas some EIGHTY times on lawless migrants attempting to storm our border during the former president's time in office, and we weren't aware of any great outrage on the Left when that happened. In fact, those incidents were barely reported at all.
Until this week, of course, when conservative media outlets, whose reporters and editors were as puzzled as we are about the outrage, assisted the public with its recollections. Breitbart…
Under the Obama Administration, U.S. Customs and Border Protection (CBP) law enforcement officials, including Border Patrol agents, utilized tear gas against migrants at or near the border at least 80 times between FY2012 and early FY2017.
CBP officials reported the use of tear gas and pepper spray to push back "assaultive" caravan migrants attempting to enter the U.S. illegally on Sunday. The agency began using these particular sprays during the Obama administration in 2010.

Breitbart News confirmed the CBP began using tear gas (2-chlorobenzylidene malononitrile – CS) in 2010, though the available usage data initiates in FY2012.

…

"CBP takes Sunday's employment of use-of-force very seriously. CBP reviews and evaluates all uses of force incidents to ensure compliance with policy," a CBP spokesman told Breitbart News in response to an inquiry. "Over 1,000 individuals who were part of the so-called caravan attempted to cross illegally into the U.S. by breaching sections of the fence and using vehicle lanes in and near the San Ysidro Port of Entry. This group ignored law enforcement agencies in Mexico and assaulted U.S. Federal Officers and Agents assigned to respond to the situation in San Diego."

"As a response to the assaults and to defuse this dangerous situation, trained CBP personnel employed less-lethal devices to stop the actions of assaultive individuals attempting to break into the U.S.," the spokesman continued. "CBP has been preparing for weeks for events like the one on Sunday. We have seen the use of violence by members of this so-called caravan who have attacked law enforcement personnel in Guatemala, Mexico and now the U.S. CBP will consider using all approved and available resources to protect travelers, caravan members, and our agents and officers."
When 1,000 people attempt a human-wave attack in order to breach our border, a highly dangerous action which could be a cover for much more than mere illegal entry (terrorism, for example, or drug or sex trafficking), it seems bizarre that the outrage would be directed at the Border Patrol for using whatever nonlethal means it deems necessary to repel that attempted breach. In fact, short of causing death or permanent injury it would seem such means might best be judged by how successfully they convinced the attackers never to try something so stupid again, and the more unpleasant those means might be – again, short of causing death or permanent injury – the better.
That's the perspective of people who believe America has the right to control its border, and who see migrants seeking to breach it as trespassers at minimum and potential national security threats just as likely.
It seems the American Left does not share such beliefs. Here, for example, is one such individual…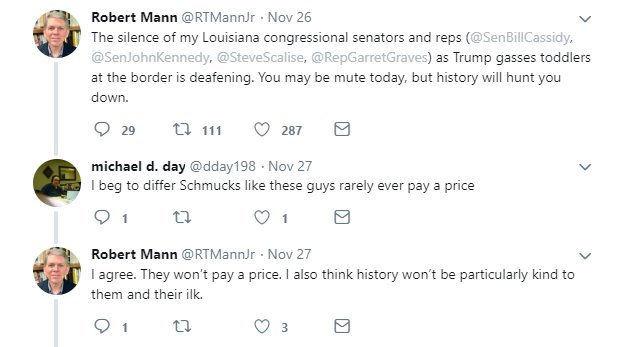 That would be LSU professor, former Louisiana Democrat Party spin doctor and fired Times-Picayune columnist Bob Mann, who spent his Monday railing about tear gas on the border circa 2018.
But Mann attracted the attention of Sen. Bill Cassidy's press secretary Ty Bofferding and communications director Matt Wolking, who were – as we are – puzzled by Mann's outrage.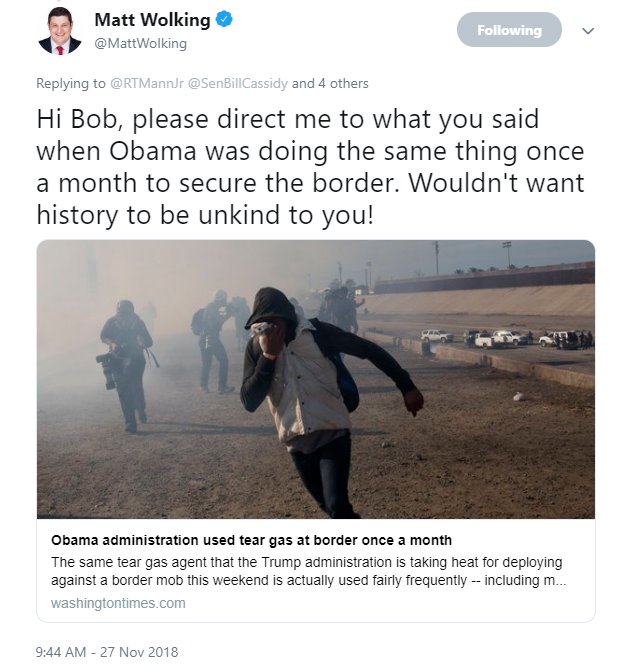 Whereupon Wolking was blocked by Mann on Twitter.

And then…
Bob Mann's silence is deafening. Here's a story about mute @RTMannJr in three parts via @mattwolking pic.twitter.com/8pmAOuvDRB

— Ty Bofferding (@TyBofferding) November 28, 2018
Whereupon this occurred…
I too have been blocked by Mute Mann pic.twitter.com/te2EHlOJ1I

— Ty Bofferding (@TyBofferding) November 28, 2018
It seems that Mann is satisfied to leave many of us puzzled by his outrage, and would like to be left alone in venting his spleen.
Which is fine. At least he is no longer doing it within the pages of Louisiana's once-principal newspaper.
Advertisement
Advertisement