AUSTIN —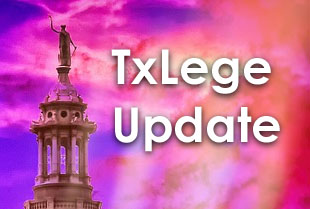 With the deadline to file bills having passed on Friday, on Monday at least one Texas legislator pledged to put a deadline of another kind on the ballot.
HJR 98 (that's a House joint resolution — if approved by the Legislature and signed by the Governor it goes to the ballot as a referendum), filed by Republican Rep. Kyle Biedermann, would limit legislative terms to all or part of six terms. Terms served before 2021 would be exempted, thereby grandfathering current legislators.
The bill also puts a 12-year cap on the total number of years served in a non-judicial office, appointed or elected. Terms in the Legislature are two-year.
The bill was referred to the House State Affairs committee. The issue of term limits does not appear on a list of priorities of either party or the Governor, but at least one active grassroots advocacy organization was present for a press conference hosted by the newly formed group Term Limits Texas: the Fredericksburg Tea Party. The bill's primary supporter, businessman Mickey Dunn, gave opening remarks before introducing Biedermann.
"Our nation's first president George Washington chose not to seek a third term," Biedermann said, "… Some politicans tend to believe that they're indispensable. But I'm here to say that if term limits were good enough for George Washington then they're good enough for the state of Texas."
Biedermann pointed out that while some polls indicate 80 percent support of term limits, the concept has never been brought up for a full House floor votes. Texas, Biedermann also pointed out, is one of 14 states without some form of term limits. Fifteen states have legislator term limits.
Critics argue that there is a term-limitation process in place: the voters. But with a handful of supporters (Biedermann, along with Rep. Lyle Larson, Briscoe Cain, and Steve Toth) at the time of the press conference, it may be an uphill climb before both sides receive a full hearing. Similar bills were filed by Rep. Mike Lang and Sen. Pat Fallon. All supporters of the concept are Republicans.
Watch the press conference here:
https://www.facebook.com/fredericksburg.teaparty/videos/2191366364514065
Advertisement
Advertisement