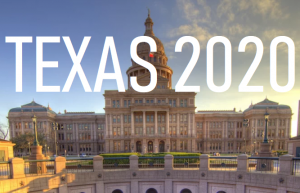 Among his many credits, Republican Party of Texas Chairman James Dickey is, without any doubt, a political survivor.
But now Dickey may face his most spirited challenge yet from a well-recognized national figure.
Lt. Col. Allen West, a former Florida Congressman and sought-after public speaker who moved to Texas to work with a conservative think-tank, announced he is exploring a run for Texas GOP party chair. West made his video announcement Wednesday evening after teasing a major announcement for several weeks and hinting that he may seek a U.S. Senate seat, a Congressional district, or the state party chairmanship.
Republican Party of Texas delegates in May 2020 are set to select the new chairman. Dickey took the reins in 2017 after former Chairman Tom Mechler resigned the post to tend to family matters, besting opponent Rick Figueroa by one vote on the State Republican Executive Committee. Dickey faced an uphill battle for his full term, where he prevailed against Cindy Asche 65-35% as delegates made their choices during the 2018 convention.
Dickey has made several reforms during his chairmanship, including a full salary for the chairman and a robust defense of a list of platform-inspired legislative priorities. Dickey launched several initiatives to bring the grassroots in to the legislative process and interact with elected officials. Dickey announced his re-election bid the same day West made his video.
West, who warned against turning this race into a civil war between Republicans, said he believes he can use his influence to build a slate of "constitutional conservative" candidates at all levels. As a black conservative, West referenced Civil War Reconstruction, emancipation, and civil rights, promising to continue in that tradition of increasing human freedom. He noted he would not be the first black chairman: that title belongs to the venerable Norris Wright Cuny, who held the post during Reconstruction.
West represented Florida's 22nd Congressional District from 2011-13. After redistricting, West lost in another district to Democrat Patrick Murphy in one of the most-watched races in 2014. West has worked for two think-tanks in Texas and was appointed by Lt. Gov. Dan Patrick to the state's Sunset Advisory Commission.
"It's here in Texas that the American character is defined and recognized," West said, via his announcement video. "It is here in Texas that we will make our stand."
Dickey comes from a background of grassroots activism, having led TEA party groups in North Texas before moving to the Austin area to work closer to his insurance company partners and colleagues. Shortly after moving to Austin, Dickey became Chairman of the Travis County Republican Party, which he won without contest, famously lost by a fluke, and was months later re-elected.
"We must not be distracted, we cannot take our eye off the ball, we must win in November of 2020, and every fiber of my being is dedicated to delivering Republican victories in Texas next year," Dickey said in his re-election statement via Facebook.
Disclosure: This writer previously worked under Dickey as Communications Director for the Travis County Republican Party.