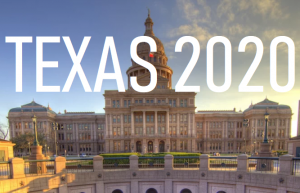 Promising to be an "LBJ candidate" for Texas Senate, a longtime state Senator threw his hat in the ring on Monday.
Sen. Royce West, a fixture in the Texas Senate, joins Houston City Council member Amanda Edwards, congressional candidate M.J. Hegar, former Houston congressman and gubernatorial contender Chris Bell, and former Lieutenant Governor candidate Michael Cooper, in the 2020 Democratic primary, among some also-rans.
The winner of the primary will likely face U.S. Sen. John Cornyn, the Republican incumbent with a $20 million war chest. Like West, Cornyn was first elected to his current position in 2002.
Edwards was the latest to join the crowded field last week.
West's entry was the one Team Cornyn was waiting for. On Sunday, the campaign posted a video tied to the attack site RoyceWestFacts.com, highlighting his F-rating with the National Rifle Association and support of abortion along with former Senate colleague Wendy Davis. (Davis tardily announced her run against U.S. Rep. Chip Roy on Monday as well.)
From the hip: As it happens, Lyndon Baines Johnson was the last Texas Democrat elected to the U.S. Senate. West, though popular with Dallas residents and one of the more congenial Democrats in the Senate, must prove that his values are not out of step with the average Texan — this is not a district race but a statewide race. West's entry is significant because of his weight-class: as a long-time Texas state Senator he greatly reduces any incentive for Beto O'Rourke or Julian Castro jumping into the race in the event of continued anemic performance on the presidential stage (though both have declined to run for the U.S. Senate seat). He also takes some wind out of the sails of Edwards, who placed a large premium on her racial identity as a black American in her initial campaign announcement. West's entry to the race also draws voters from the North Texas and the Dallas-Fort Worth area, changing the landscape significantly. In short: West will be the one to beat in the Democratic Primary.