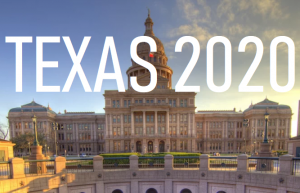 While we have ascertained the two recent Congressional exits from Texas are still safe for Republicans, the latest is a different case entirely.
U.S. Rep. Will Hurd, who has represented a large portion of southwest Texas and the border region since 2015, announced he will not be seeking re-election on Thursday. Hurd, of the 23rd Congressional District of Texas, is in the very definition of a swing district — one in which he beat his latest Democratic opponent, Gina Ortiz Jones, by around half a percentage point. In his first race, he beat a popular Texas Legislature fixture, state Rep. Pete Gallego, by around 3 percentage points.
Democrats and Republicans have represented TX-23 over the past two decades (since the parties re-aligned), but it has been a see-saw. As such, Hurd has been careful to walk a centrist line: FreedomWorks listed him the fifth most liberal Republican in the House, he maintains a 28% on Conservative Review's Liberty Score, but National Review's editor tweeted yesterday Hurd was "a principled conservative." Regardless of his political evaluation, Hurd has kept bipartisanism alive in his district, famously driving back to Capitol Hill with geographically close colleague Rep. Beto O'Rourke as snowstorms brought air traffic to a halt. O'Rourke, prior to Hurd's announcement, told the Texas Tribune he would be interested in endorsing Hurd for re-election depending on who the Democratic nominee ended up being.
Hurd, a former CIA cyber-operative and the sole remaining black Republican in the U.S. House (his father is African-American, his mother Caucassian), has taken many stands against President Donald Trump, joining Democrats and some Republicans in demanding Trump's tax information and in condemning certain Twitter posts as racist. He opposes the border wall.
While typically a safe caucus vote — Ortiz Jones claimed in campaign ads that Hurd voted with President Trump and Republicans "95% of the time" — Hurd would often break ranks with leadership, particularly when voting against the ACA repeal act in 2017 (when the Republicans still held a House majority) citing fears that those with pre-existing conditions would lose coverage.
Despite his atypical posturing among GOP colleagues, Hurd easily beat his last Primary opponent, small-town dentist and eccentrically conservative firebrand Alma Arredondo-Lynch, 80-20%.
From the hip: If anyone reading this can tell me a little something about Brewster, Crane, Crockett, Culberson, Dimmit, Edwards, Frio, Hudspeth, Jeff Davis, Kinney, Loving, Maverick, Medina, Pecos, Presidio, Reagan, Reeves, Schleicher, Sutton, Terrell, Upton, Uvalde, Val Verde, Ward, Winkler, and Zavala counties, then the reader understands southwest Texas is a different place than the rest of the Lone Star State.
Though the district contains portions of Bexar County (excluding San Antonio), El Paso County (excluding El Paso city), and largely rural La Salle County (Hurd is from Helotes, roughly in the San Antonio area), the largely Hispanic voters in the district have entirely different priorities than your average Texas voter. They voted for Hillary Clinton in 2016 and Mitt Romney in 2012, each time by around 3 percentage points. They work hard, maintain a slower pace of life, and have more in common with the American Southwest than, say, the more Southern culture of the East Texas Pineywoods, but are every bit as hospitable. They may identify with conservatism but they're going to have very different viewpoints on border security as they live it on a daily basis.
Unmarried and with no kids and with a lot of energy, Hurd was able to keep up the pace of five district offices hundreds of miles apart as well as his D.C. duties. He has been known to host town halls as Dairy Queens for lack of other venues in the small towns with dot the region. It's a hard job representing a third of the border area and a large fraction of Texas.
The next Republican nominee doesn't have to be a moderate to win nor does he or she have to be an skilled tight rope walker — it has been held by a wide range of candidates from varying political persuasions. FiveThirtyEight notes the district is around 3 percent more Republican than the average U.S. congressional jurisdiction.
The next nominee of either party must have the energy to invest in taking regular pulses of this large district. Maintaining an image of independence and strength will be key to winning their hearts. Being white, black, or Hispanic isn't as important as having some semblance of a varied cultural background (Beto — need we say more?).  Campaigning on economic improvement will be major. Knowing the turf is indispensable in keeping up with their changing moods among so many scattered communities.