There's an "expose'" of sorts at the Democrat smear organ site Bayou Brief entitled "Pharmland: Why A Louisiana Congressman Is At The Center Of The Opioid Epidemic," and it is precisely what you'd expect it to be if you're familiar with its left-wing propagandist author. That would be one Lamar White, who made himself a national figure of sorts when he published, several years ago, a smear of Steve Scalise as a white supremacist.
The clickbaity accusation White makes in the piece, which also smears GOP donor and Shreveport pharmaceutical wholesaler Paul Dickson as a criminal, is that two pharmacies Ralph Abraham owns distributed some 1.5 million doses of opioids despite serving a pair of tiny communities…
Over the course of seven years, from 2006 to 2012, two pharmacies in rural northeast Louisiana, owned by Republican gubernatorial candidate and U.S. Rep. Ralph Abraham, Clinic Pharmacy of Mangham and Adams Clinic Pharmacy of Winnsboro, doled out 1,478,236 doses of powerful opioids, according to a Drug Enforcement Administration database recently published by the Washington Post.

The pharmacies are 12.5 miles away from one another, and the two communities have a combined population of approximately 6,000 people. Despite the surge in opioid prescriptions, the region's population has actually decreased during the previous twenty years.
That sounds really bad, doesn't it? Especially when it gets tweeted around by Democrat congressmen…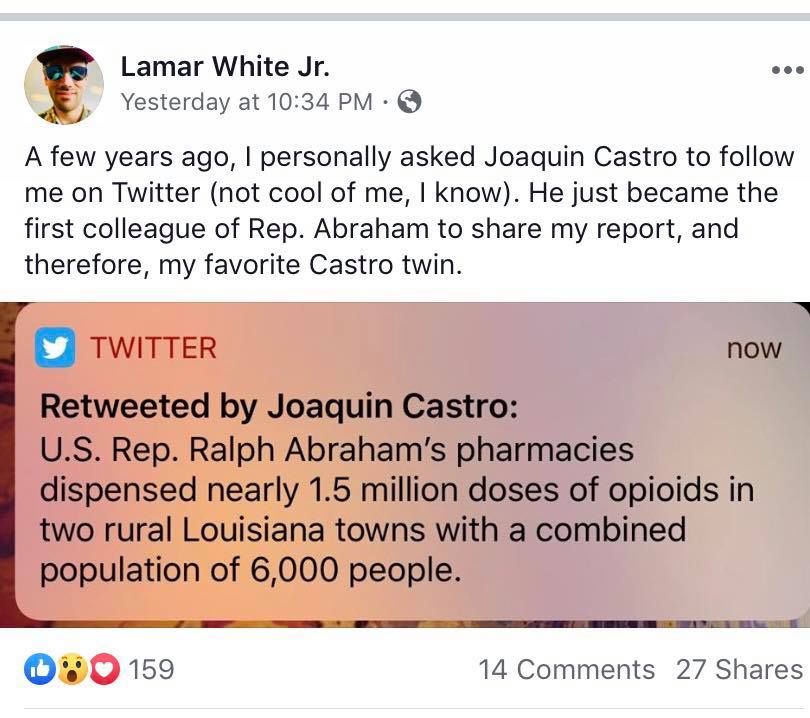 But when you do the math the accusation comes down to earth, with a thud.
That 1,478,236 figure is over seven years, meaning we're talking about 211,177 doses per year distributed by Abraham's two pharmacies. Divide that into 12 months, and you get 17,598 doses distributed per month.
We're talking about "doses" of pharmaceuticals, which we'll take to mean pills. How many pills to a bottle that these pharmacies are supplying to patients? Generally speaking, the number is 60 or 120.
Let's go with 60 pills, or doses, a bottle. That would come out to 293 prescriptions for opioids filled per month at Abraham's two pharmacies, or just under five per day at each location.
This is a scandal?
What's more of a scandal is Lamar White's outright mendacity in attempting to limit the service area of Abraham's two pharmacies to the populations of Mangham (pop. 600) and Winnsboro (pop. 5,000) to say Abraham is pushing millions of pills on 6,000 people.
Mangham is in Richland Parish and Winnsboro is in Franklin Parish. Both parishes have populations of about 20,000, meaning combined they're about 40,000 people. That's the service area of Abraham's two pharmacies, not the two towns proper. Meaning that White has magnified this "crisis" by a factor of seven, which is a level of irresponsibility nobody should ever tolerate from a "news" source.
White's attempt to smear Abraham as a pill-pusher responsible for the opioid epidemic in North Louisiana ran into some pretty immediate trouble when he tried to promote it on his Facebook page. A Louisiana pharmacist named T.J. Woodard, who knows a lot more about this subject than White does, gave him a lesson he won't soon forget. Here's a taste…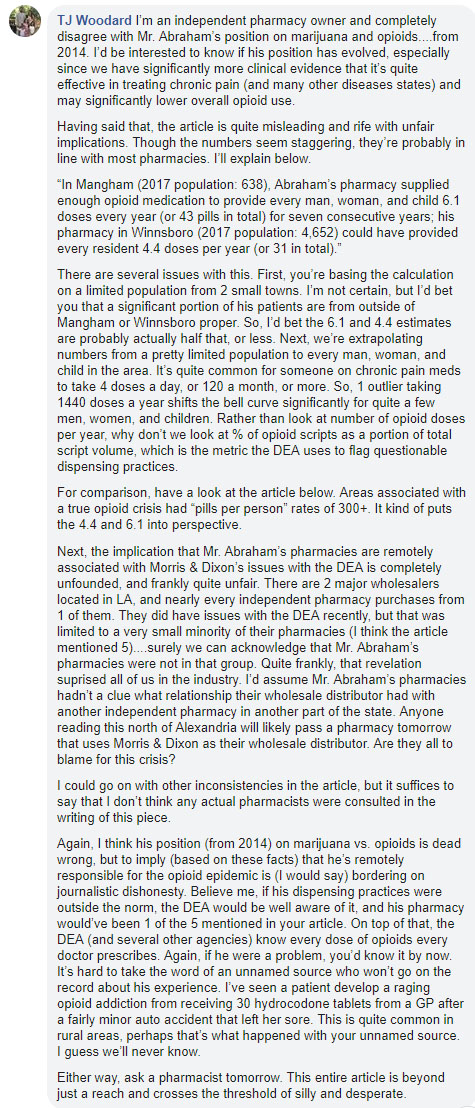 Woodard's referenced article can be found here. It's the Washington Post piece that White used as the jumping-off point for his smear of Abraham as a pill-pusher (which he punctuated with pull-quotes of lyrics from the old Steppenwolf song "The Pusher" – in case you don't quite get how perjorative and defamatory this piece was intended to be). What you get from reading that article is that when you compare these scary numbers from Abraham's pharmacies with others you realize there is nothing here even close to the real opioid epidemic.
We wouldn't be surprised to see Abraham sue White over the article. Whether he could win that suit or not is questionable, though it isn't hard to see the malice White's piece is dripping with. What we find interesting about this is the timing – White dropped a post accusing Abraham of using his pharmacies to addict the heart of his congressional district to drugs essentially on the same day Chad Scott, the longtime friend of the governor's brother, was convicted on seven counts relating to a federal investigation of a steal-and-deal ring involving a DEA task force operating largely out of Tangipahoa Parish.
We wonder whether this thing wasn't in the can already as a distraction from the Chad Scott thing, in the Democrats' knowledge that Scott's court cases were going to come up sooner or later during the campaign. If that's what happened, it's certainly a clever dodge.
But if this is the "dirt" the Democrats have on Abraham – that he only gave $300,000 to St. Jude and that a couple of pharmacies he owns dispensed a rather ordinary amount of opioid painkillers – then Ralph Abraham might be the most boring gubernatorial candidate in modern Louisiana history.
It's the effort, and the strain, which stands out here far more than any real scandal. But that isn't atypical of White's attempts at journalistic smears.
Advertisement
Advertisement