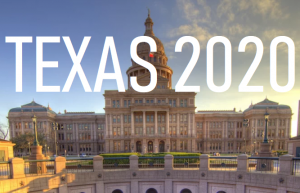 At Tuesday's inaugural redistricting hearing, Texas State Demographer Lloyd Potter said based on estimates Texas can expect to add three new Congressional seats.
California and Minnesota, by comparison, may lose one each, he said.
The Texas House officially kicked off the decennial redistricting process ahead of the 2021 session on Tuesday, as the Committee on Redistricting held its first meeting to a packed meeting room and heard many voices in addition to a demographer's report.
But it wasn't the long-expected growth of Texas that a crowd was present to cheer. Who controls this process depends on the outcome of the 2020 elections — a fact that is foremost on the minds of a Democratic political machine fearful that recent redistricting reforms could end decades of synthetic favor for liberal and minority candidates (see analysis below).
Back to the committee meeting itself: Some preliminary work comes well-before the elections as the Texas Legislature will have a two-to-five-month window to draft new jurisdiction maps. For starters, this was one out of 28 hearings to be held around the Lone Star State to gauge voter opinion.
Legislators on the committee were given population estimates and other demographic information to provide a rough draft of what to expect in 2021. According to a chart, the estimated population of Texas will rise to 27,419,612. That amounts to a 14% increase since the last census — the fastest growth in the nation.
Ideal state House of Representatives districts will be comprised of 182,797 residents among the 150 seats.
It's mostly public opinion and guesswork for now, but the clock starts ticking on April 1, 2020: that's the beginning of an eight-month window of time the U.S. Census bureau has to finalize its population count and related demographic reports to the President and Congress. State officials are mandated receive data by March 31, 2021 — which would be in the middle of the 87th Legislature unless the data are sent early. The Legislature is scheduled to end in late May unless a special session is immediately called.
Several voices raised at the meeting called for an independent non-partisan redistricting committee — a plan that has been implemented in some states but has never gained traction in Texas. An independent committee is typically chosen by a panel of state auditors or other internal watchdogs.
Other voices decried gerrymandering, which is as old as the republic while the goal of fairer districts is never far from voters' minds. Calls for greater transparency in the process were also a common theme. Still others, including the presence of several House Democrats not on the committee (again, see analysis below), called for stronger representation for racial minority groups.
There were also the usual anecdotal reports of neighborhoods split between two Congressional districts and historic communities divided among jurisdictional lines.
Texas Legislative Council Director of Research Karen White updated the committee on software available to legislators that represents a leap ahead from the last round of redistricting considerations. Red Apple software updates will allow members of the Legislature to draft maps and share them to colleagues discreetly.
Analysis: While there was nothing entirely unexpected at this hearing in terms of information, what was surprising was the number of observers of an otherwise arcane and eye-glazing process.
As the Texas House held its hearing, other states are also in the beginning of their processes, including but not limited to North Carolina and Virginia. A quick look through Twitter posts showed greater interest in these states, especially from the Left. According to a recent Politico article, Democrats are laser-focused on certain "redistricting battlegrounds" and are spending money on not only state-level legislative victories but also judicial races and pushes to create independent non-partisan redistricting committees.
"Republicans who were involved in the 2010 redistricting fight say they've been taken aback by the Democrats' newfound focus on state legislative contests," the Politico article stated. Republican State Leadership Committee President Austin Chambers called this development "serious as a heart attack."
Yet it is the Democrats who see the writing on the wall. The biggest political story of 2020 was not an ill-advised Trump tweet but the end of federal judges being able to micromanage Southern state redistricting. See our previous coverage here. The media is beginning to refer to this as "fewer safeguards for Texas voters of color."
While it's looking like another Republican decade in Texas, Democrats — if they expect to remain in power in Congress — have no choice but to win big in several states and gain local control over the map-drawing process. This means we can expect to see more involvement in redistricting fights over the next two to three years than in recent history.
Advertisement
Advertisement