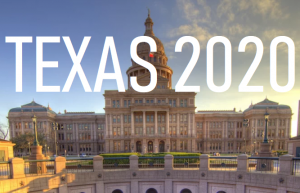 While CNN was airing the Democratic Presidential Debate in Ohio, Republican Party of Texas Chairman James Dickey said there is no path forward for national Democrats without flipping Texas.
That is one reason why Dickey said he is introducing the Red Alert plan to expand on Texas's base of Republican support for candidates "from the White House to the courthouse."
"As you all well know, the 2020 election will bring new challenges because we're seeing Democrat excitement at all time highs. We must rise to meet these challenges by working harder than ever to engage more volunteers, register more voters, and assist new candidates," Dickey said, at a meeting of the Travis County Republican Party in Austin Tuesday evening.
Speaking in his official capacity (Dickey is being opposed by former Florida Congressman Allen West for the state chairmanship), Dickey boasted the party's strongest points: No statewide Democrats having been elected in 12 election years, a majority Republican Congressional delegation, and comfortable leads in both chambers of the Texas Legislature among them.
But the temptation for Republicans and conservative independents to get too comfortable (or discouraged) is real. Dickey gave one prime example: Texas's Republican advantage for presidential nominees is also down from 23% during George W. Bush's re-election run to just 9 percent during Donald Trump's 2016 bid.
Contributing to this downward trend, Dickey noted, is the increased presence of national Democratic operatives in Texas, particularly in large urban areas. Liberal strategists are cognizant of the fact that it will take, of the 270 electoral votes necessary to secure the presidency, electoral votes from Texas to win. Trump won 306 electoral votes on election night 2016, with Texas contributing all of its 38 votes (Texas is a winner-take-all state) to Trump. In that same scenario, and without Texas, the Democrat nominee is two electoral votes short of the 270 threshold.
"They can't get there without Texas," Dickey said, of Democratic hopes of taking back the White House. "That's why the Democrats have made it clear that they are working extremely hard to target Texas's 38 electoral votes."
We will review the other points of Dickey's Red Alert plan — the stern warnings as well as the glimmers of hope for Texas Republicans — in forthcoming articles this week.
All graphics courtesy of James Dickey. To see his entire slideshow visit bit.ly/RedAlertTexas.
Advertisement
Advertisement