Ja'Marr Chase did things at the wide receiver position last year that no LSU player has ever achieved. His exploits truly matched the number on the jersey.
Now he'll be continuing a recent Tiger tradition by donning the coveted No. 7 next year in his junior and presumably final season in Baton Rouge.
"Ja'Marr is a tremendous football player from the great state of Louisiana that represents our football program with great character and integrity," Orgeron said. "(His parents) Jimmy and Toleah have done a great job of raising him and he has worked extremely hard on and off the field to develop as a player, while also becoming an outstanding leader for our team. He's very deserving of having the opportunity to be the next LSU player to wear number 7. I know he will do a great job of representing that number and all of those who have worn the number 7 before him."
Some of the previous Tigers to wear No. 7 are Patrick Peterson, who started the tradition, Tyrann Mathieu, Leonard Fournette, DJ Chark Jr, and Grant Delpit.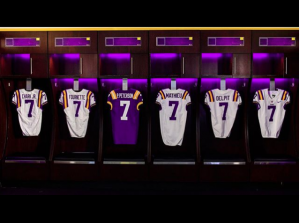 Ali Highsmith, although he came before the tradition officially started, also wore the number as a linebacker during his tenure, including the 2007 national championship season.
Weeks before the announcement, perhaps even the day after the national championship victory over Clemson, speculation was running rampant in regards to who would be awarded the jersey. Many thought it would be generational cornerback Derek Stingley, since the No. 1 seemed to fit Chase so well. Other more "outside-the-box" fans thought the team might award it to 346-pound nose tackle Tyler Shelvin.
Can you picture that No. 7 stretched on such a man?
But after all the meaningless and fun talk that is all fans can do to fill up the off-season, it was Chase who emerged. He will attempt to become the third back-to-back Biletnikoff Award winner, following Justin Blackmon of Oklahoma State (2010, 11) and Michael Crabtree (2007, 08). Only one other LSU Tiger has captured the award–Josh Reed back in 2001.
Chase enters his junior season with 107 career receptions for 2,093 yards and 23 touchdowns, 20 of those coming last season. He will debut his new number when the Tigers open spring drills on Saturday.
"This was a tough decision for me," Chase said. "I've been thinking about this for a couple of weeks. I look at No. 7 as a competitive number. I think the No. 7 at LSU is a challenge. There's a lot of things that go on in the year when you have 7 on, a lot of critics, a lot of people, a lot of expectations from 7, and I want to have that challenge upon me."
Fine and respectful words from a young man trying to honor his predecessors. But even Chase must know the truth. He may end up being the best of them all.