…as there is no one better qualified to be the Number Two man on the least-capable presidential ticket in American history. We're all for Biden-Gillum 2020.
You'll remember Andrew Gillum as the crooked mayor of Tallahassee who rode a mountain of cash from George Soros and his allies into the 2018 Florida gubernatorial race, was hyped as The Next Big Thing in Sunshine State politics and then promptly got himself hammered by Ron DeSantis in the general election.
Somehow, like Beto O'Rourke, that loss propelled Gillum into the national conversation and there have been lots of conversations about him as a potential VP pick. Back in October it was put out there that Liz Warren might pick him should she win the nomination, and just a couple of weeks ago TMZ interviewed Gillum and asked him about a potential No. 2 role on a Democrat ticket. Gillum downplayed the possibility.
Why would he do that? Well, we have a better indication of that this morning. Candace Owens, the Turning Point USA activist and black conservative star, exploded onto social media with a police report which would in all likelihood finish Gillum's political career – or, at least, if he was a Republican it surely would.
As a Democrat, it might even make him more qualified to be on the presidential ticket.
The two images constituting the report are must-see's…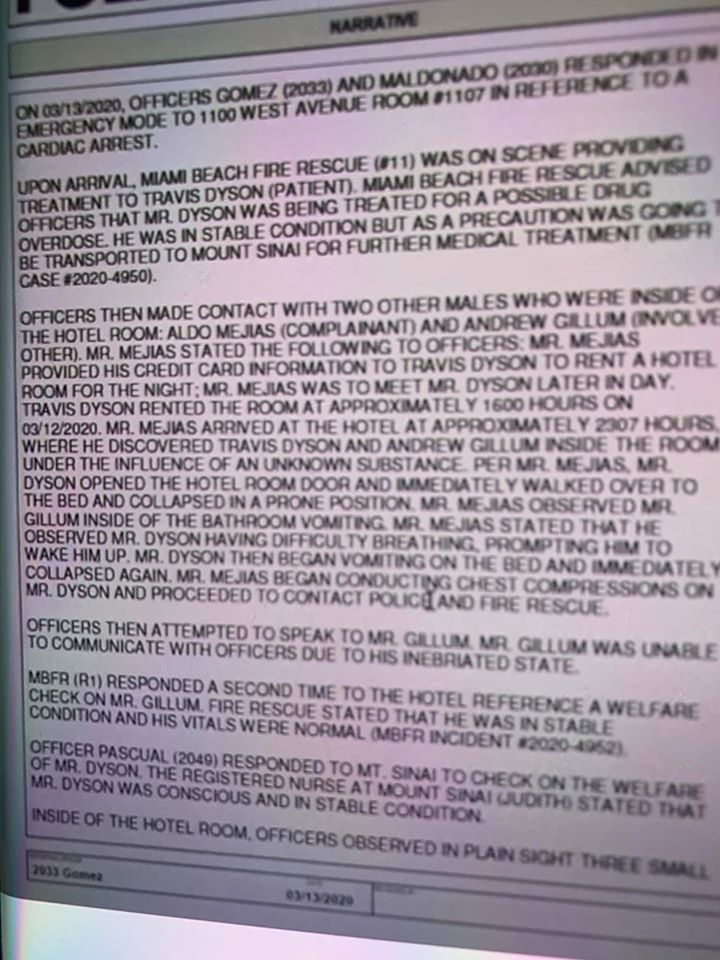 In case these don't show up as readable on your device, essentially the police report says that Miami Beach Fire Rescue had been called to a hotel room in that city to handle a cardiac arrest from a drug overdose, and they were attempting to resuscitate someone named Travis Dyson when the cops got there. Dyson survived, and he was taken to Mt. Sinai Hospital there.
But there were two other men in the hotel room. One named Aldo Mejias, and the other named Andrew Gillum.
Mejias told the police he rented the hotel room, apparently over the phone with a credit card, and when he got there Dyson and Gillum were already there, and not in good shape. Gillum was in the bathroom puking his guts out and Dyson was on the bed struggling to breathe. That prompted Mejias to call 911, while attempting to do mouth-to-mouth on Dyson.
When the cops got there, they found Gillum completely noncommunicative. He was stoned out of his mind.
Then the cops found three plastic baggies with rocks of crystal meth on the bed and floor of the hotel room.
And Gillum was sent home rather than arrested. Don't try that stunt at home, folks, as it won't likely go as well for you.
As we said, if Andrew Gillum was a Republican you can bet there would be zero chance of his continuing a political career. But as a Democrat? This merely makes him colorful.
Owens said she heard that when the cops showed up they found everybody naked, which would be an indication this was a gay sex thing as well as a crystal meth drug thing. How charming.
All we know is this makes us want Gillum as the VP pick more than anybody. Joe Biden doesn't really need crystal meth to be so out of it he can't answer questions from the police; if Gillum does, that just means he's trying to fit in.
Advertisement
Advertisement