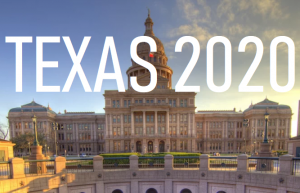 It's Super Tuesday, and The Hayride has identified several races to keep an eye on tonight as the numbers roll in.
The spotlight will be on Texas Congressional districts this evening with several retiring reps leaving open-seat races to be decided.
Texas Legislative seat races will be less contentious as in previous years due to a lack of concentrated anti-incumbent efforts from movement conservatives, but there are a couple that may produce some surprising results.
Below are our top eight races to watch:
CD 11 — Mike Conway (R) open seat with 10 Republican contenders, two Libertarians, an independent, and a sole uncontested Democrat. But all eyes will be on who makes the runoff for who will very likely succeed Conway on Capitol Hill.
CD 12 — Kay Granger (R), running for her 13th term, is opposed by Republican Chris Putnam. During this campaign, Granger's conservative credentials have been questioned more than in recent memory, featuring many attack ads and I-support-Donald-Trump affirmations. If Putnam, a city councilman from a Fort Worth suburb can pull this one off against a long-time incumbent in a solidly Republican district, this will foreshadow an anti-incumbent trend that may carry over into November.
CD 13 — The Mac Thornberry (R) open seat has attracted another Republican free-for-all including 15 candidates. Conservative credentials have been key for this deeply red district, all vying for making the runoff. Six GOP candidates have emerged as the media's focus, however there are also three Democrats vying for a shot at this largely rural West Texas district.
CD 17 — The Bill Flores (R) open seat, which has attracted 11 Republican candidates and three Democrats. A runoff is practically unavoidable as endorsements are split among several candidates in this district that covers three distinct metro areas. The Hayride has devoted much coverage to this race after former U.S. Rep. Pete Sessions (who previously represented Dallas) jumped into the race.
CD 22 — Pete Olson (R) open seat. This is another race The Hayride has covered in-depth, especially has the Texas House District 28 special election provided us somewhat of a test case for growing and changing Fort Bend County, a suburban outgrowth of the Houston metro. The celebrity factor in this race is Pierce Bush, a grandson of George H.W. Bush, who entered the race, which shook up this 15-candidate GOP primary. Five Democratic candidates are hoping the demographics have shifted in the district enough to flip it.
HD 2 — Rep. Dan Flynn (R), a longtime House Chairman, is facing a three-way race including former opponent Bryan Slaton and challenger Dwayne Collins, a tea party leader. A runoff is likely, as Slaton won 48.3% of the vote to Flynn's 51.7% in 2018. Collins, who is running an active campaign, will surely spark a runoff.
HD 27 — A five-way GOP race to replace freshman Democrat Vikki Goodwin and take back the West Austin Republican stronghold has attracted the most interest in typically blue Travis County. Up until early voting, the GOP candidates have abided by a pact to not disparage one another but to keep the focus on Goodwin. Watch this race to see who makes the runoff, and whether former Austin City Council member and conservative firebrand Don Zimmerman makes it against some heavily endorsed opponents.
HD 59 — Rep. J.D. Sheffield (R), like Flynn, is a modest Republican fixture in the Texas House and is facing a challenge. But unlike Flynn, his two challengers do not seem as well-backed or experienced. Watch this race to see if there is an anti-incumbent wave also affecting Flynn' chances.
Honorable mentions: Gov. Greg Abbott has visited Reps. Briscoe Cain and Jared Patterson to help shore up votes, but either are expected to win over their respective Republican challengers. There may be something brewing behind the scenes in HDs 106 and 128 but we cannot put that on our list at this time.
On the Democratic primary side, longtime Rep. Harold Dutton of Houston has three primary challengers including a Houston City Councilman in HD 142.
HD 92 is also worth watching as three Republicans attempt to replace exiting Rep. Jonathan Stickland.
Ballotpedia identified the following Democratic races as battlegrounds for the party: HD 26, HD 66, HD 76, HD 100, HD 108, HD 121, HD 134, HD 138, HD 142, and HD 148. Keep tabs on who wins these going forward into the November general.
Advertisement
Advertisement