UPDATES: Two longtime Republican Texas House incumbents lost by large margins, while Democrat House incumbents were among the tightest races of the evening. A Congressional race teeters by three votes. See italics below.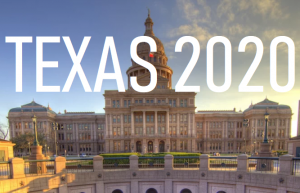 It's 10 p.m. And we can read the tea leaves on several of the Texas runoff races, plus one special election to fill a vacant Senate seat that has consequences up and down the ballot.
These are elections that have been delayed for over four months — many of the primary contests having been decided in early March before official reactions to COVID-19 postponed these now-elongated struggles. A couple are surprises, most are comfortably predictable leads, and a few portend challenges for the other party come November. Below is our rundown of the highlights from runoff night in Texas.
U.S. Senate
Hegar v. West: The big draw this election was on the Democratic side, with a marquee fight between MJ Hegar and Royce West. With rural counties still submitting their results, it appears Hegar is besting West, a longtime state Senator, by a respectable lead. Hegar became something of a Democrat darling in her run against Congressman John Carter (see Imam vs. Mann below), mustering some help from some Hollywood friends who financed a memorable video ad in what almost looked like a shadow campaign. The winner will go on to challenge ranking Republican U.S. Sen. John Cornyn in November. Hegar wins.
U.S. Congress
Imam v. Mann: Democrat Donna Imam pulled out ahead of Christine Eady Mann, each of whom were hoping to unseat Congressman Carter (see Hegar v. West above) in November. By the time of writing, Imam was ahead of Mann by around 10 percent. Carter, often accused of being furniture in the U.S. Capitol and not engaging the grassroots enough, escaped Hegar's challenge by a narrow-enough lead in 2018, which proved the seat is vulnerable in a rapidly growing area north of Austin and south of the growing Waco-Temple-Belton corridor along Interstate 35 in Central Texas. But without Hegar's phenom-power, they may be in for a surprise as the district is still quite conservative. Imam wins.
Gonzales v. Reyes: This ended up being the tightest contest of the evening, with Gonzales ahead by THREE votes, 12,346 to 12,339. A recount is likely in this Republican runoff for CD 23.
Texas Senate
Zimmerman v. The World (Special Election): It was an uphill battle from the beginning for former Austin City Council member Don Zimmerman who carried the Republican banner in a seat recently vacated by now-former Sen. Kirk Watson (D-Austin). The U.S. Senate race drew Democrat voters to the polls in a nearly 5:1 ratio in the Austin area as national interest groups bankrolled candidates in hopes of upsetting high-ranking Republican U.S. Senator John Cornyn in November. But Zimmerman maintained a double-digit showing the evening, fueled by a lot of goodwill generated by his run for Texas HD 47 (in which he failed to make the runoff by one vote). It may be enough to pull down former Travis County Judge Sarah Eckhart from the 50%-plus-1 needed to win outright, who is right on the bubble according to early voting data. There are three other conservative-ish candidates also contributing to the gravitational pull. It appears Eckhardt and Texas Rep. Eddie Rodriguez, the two Democrats, will go loggerheads into a runoff in late September — assuming Eckhardt doesn't pull off an immediate win later tonight. Rodriguez, a longtime Rep and capitol staffer, put the race on the map with half a million in television advertising and Zimmerman raised eyebrows with a "Keep Texas Open" platform criticizing Eckhardt and his former City Council peers for their heavy-handed, business-killing response to COVID-19. Eckhardt and Rodriguez headed to runoff.
Lucio v. Barrera: Democrat Eddie Lucio Jr. faced significant blow-back by woke activists concerned he is not pro-choice enough (Lucio is modestly pro-life) and sides with Republican Senate leadership too often. After a brief scare, it seems he is now comfortably returning to his long-held Senate seat against Progressive-liberal standard-bearer Sara Stapleton Barrera. Lucio wins.
Texas House
Flynn v. Slaton: Recurring conservative challenger Bryan Slaton is ahead of a Texas House fixture, the socially conservative but Speaker-friendly Rep. Dan Flynn, by the latest available results. Flynn had held the seat since 2002 and has faced Slaton the last two elections after a spate of being unopposed. The winner will likely face a cake walk to the House in November. Slaton wins — 61-40%.
Sheffield v. Slawson: Longtime centrist Republican Rep. J.D. Sheffield is facing defeat by double digits at the hands of conservative challenger Shelby Slawson. Slawson is leading with 61% with the latest available numbers and has been b acked by conservative advocacy groups. The district is reliably Republican and Slawson will likely trounce the Democratic nominee. Slawson wins — 62-39%.
Berry v. Fleck: See the Zimmerman Senate entry above. Attorney and conservative activist Jennifer Fleck led a five-candidate field in March with runner-up Justin Berry, an Austin Police Officer, a distant second ahead of Zimmerman by a vote. But early voting seems to have shored up significant support for Berry, who garnered the endorsement of Gov. Greg Abbott and squared off against protesters in early June. Whoever wins has a fight on their hands against the uber-liberal Austin establishment, which flipped the House district in 2018 with the victory of Democratic Rep. Vikki Goodwin. Expect this race to become a high-profile fight going into November. Berry wins 55-45, though Team Fleck remains skeptical due to irregularities in election night reporting.
Eastman v. Shaw: Democrat Rep. Anna Eastman, originally favored to win after edging out the field in the primary, is trailing Penny Shaw but just barely. This may be a long night for North Houston Dems. Shaw wins, 51-49%.
Dutton v. Davis: Longtime Democrat Harold Dutton is hanging on to his seat by a comfy five percentage  points over a challenger, Jerry Davis, a former Houston Council member who called Dutton's legislative record into question. Dutton wins, 52-48%.
Birabil v. Crockett: Democrat Rep. Lorraine Birabil was in a see-saw battle with newcomer Jasmine Crockett by up to six percentage points at some points and behind her a few points at others, enjoying one of the more fragile leads of the night. No Republican challenger, so we'll likely see Birabil in the House if the numbers hold up. Crockett wins, 50.4 to 49.6%, a difference of under 100 votes.
Everything else is either not a surprise or is relatively comfortable — though anything's possible at this hour. If you want to to stay up late, view the Texas Secretary of State's election results at https://results.texas-election.com/races.