…but that doesn't change the fact that the demand for it is valid. Because failure is exactly what we've seen with John Bel Edwards' COVID policy, and now that he's dragged Louisiana back to Phase 2 and destroyed Christmas just in time for the state's small businesses to be destroyed along with it, at some point people need to see this for what it is.
Let's understand that COVID-19 is a coronavirus. Everybody is ultimately going to get it. Once a virus has spread throughout a community it is impossible to contain. The time for the virus to have been stopped was when it was tearing through Wuhan, but the communist Chinese government deliberately allowed it to spread worldwide out of that city, most notably to Milan, because the Chinese didn't want to bear the economic burden of the pandemic alone.
By the time that virus got to America there was no stopping the spread. Any attempt to do so was destined to end in failure.
And once the spread can't be stopped, particularly of a virus which generally only kills a small subset of the population who can be protected, the only course of action available which has any chance of effectiveness is (1) treatment and (2) herd immunity.
John Bel Edwards has proven this. He's proven it by failing at trying to do everything else. Edwards has wasted time, effort and money in trying to lock Louisiana down in order to stop the spread, and he's wasted the liberty of Louisiana's people by attempting to enforce mask mandates across the state.
None of it has worked. He might tell you it's worked, but he's lying.
There is no statistically-relevant correlation between his restrictions and mandates and the spread of the virus. The virus is going to spread until Louisiana reaches herd immunity, and nothing can be done about that.
Nothing could ever have been done about that.
But that hasn't stopped Edwards from scolding the people of the state for not listening to him about masks and shutdowns. Every time there is a surge in case counts he pops off at one of his interminable press conferences blaming Louisianans for living their lives, as though it's our fault his policies, which we never voted for, don't work to stop the spread of something which cannot be stopped.
Yesterday morning there was an AP article in which Edwards essentially admitted the people of Louisiana are no longer buying his demands and that he can't effectively enforce them. That might have been the truest thing he's said since he got into politics. Internationally it's becoming recognized even by the public health bureaucrats that lockdowns do more harm than good.
But yesterday afternoon Dr. Joseph Kanter, reacting to news that there are now 1,200 people in Louisiana hospitals who are positive with COVID, said "this is just the beginning, because we haven't hit capacity yet."
Except when nearly twice that many people were in Louisiana hospitals having tested positive for COVID, Louisiana wasn't at capacity. And there is no reason to believe the current surge of case counts will match either the first or second wave of COVID cases that Edwards' shutdowns failed to stop.
But that didn't put a dent in Edwards' ranting about the lack of performance by the people of Louisiana in obeying his edicts…
Monday, Governor John Bel Edwards issued a text statement, saying " Don't be fooled by today's Covid case count – our test numbers are down due to the holiday weekend. We're still in a pandemic and everyone needs to be careful.

Last week, Kanter said, they're starting to see trends in hospitals that they wanted to avoid.

"I've heard that people have to wait a long time to get a bed when they get admitted from the emergency department. I know one hospital had to use recliners in the E.R. to let people wait while a bed opened up" said Kanter.

As we head into the Christmas holiday, Kanter says he's hoping we don't go back to where we were.

"We know very well what trajectory we're on because we were on a similar trajectory a few months ago" said Kanter.
At what point is Edwards going to be held to account not for our performance, but for his performance? He's trying to control the movements and activities of 4.6 million people, only a small fraction of whom even voted for him much less agreed to have their lives restricted by his edicts which are highly questionable under the law, and by his own metrics it isn't working.
It isn't even working within his administration. The picture just below comes from the Instagram of Joy Browning, wife of Louisiana's state fire marshal. It seems the Brownings threw a Thanksgiving bash at False River at which there were people from multiple households invited, and as you can see nobody was wearing a mask.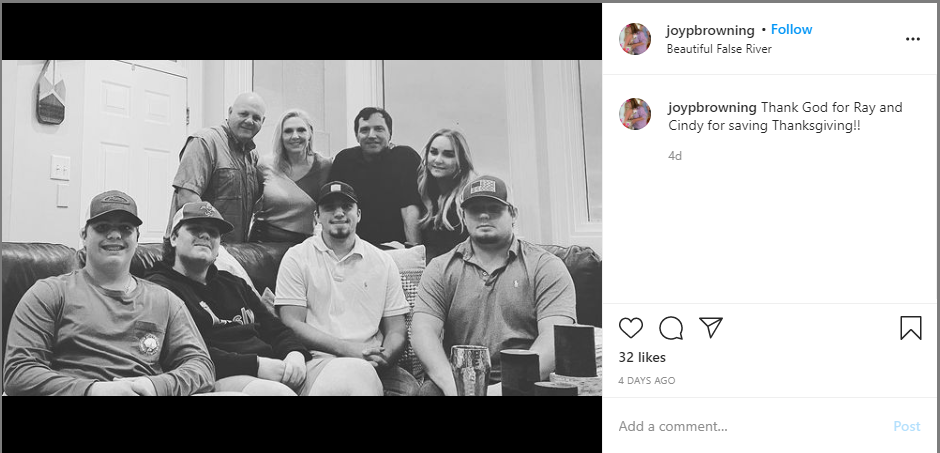 Good for the Brownings. Except when Butch Browning now goes around to punish bars and restaurants as part of Edwards' Phase 2 restrictions, there will be a distinct Gavin Newsom vibe palpable.
Of course, all this is certainly working to ruin Louisiana's economy. The state is awash in unemployment claims, so many that the Louisiana Workforce Commission is now claiming fraudulent claims are the reason the numbers have spiked. That's probably true, but unemployment pays next to nothing compared to a job – so even if the claims are fraudulent we're still surrounded with broke people who can't make ends meet and are resorting to criminal behavior. Baton Rouge is now one of the 10 most dangerous cities in America. New Orleans isn't far behind. Every city in Louisiana is in a state of decline. Oil and gas in the state is dead; so is the hospitality industry. Things are so bad that last Tuesday, two days before Thanksgiving, at the New Orleans airport, every eatery in the facility had closed by 7 p.m. Even casinos in the state are hemorrhaging money despite being largely given carte blanche to operate as they see fit. People without disposable income don't gamble unless they're addicts.
And now we know something that people in south Louisiana have known for quite some time, which is that COVID was here a lot earlier than anybody thought.
The new coronavirus infected people in the U.S. in mid-December 2019, a few weeks before it was officially identified in China and about a month earlier than public health authorities found the first U.S. case, according to a government study published Monday.

The findings significantly strengthen evidence suggesting the virus was spreading around the world well before public health authorities and researchers became aware, upending initial thinking about how early and quickly it emerged.

Scientists at the U.S. Centers for Disease Control and Prevention found evidence of infection in 106 of 7,389 blood donations collected by the American Red Cross from residents in nine states across the U.S., according to the study published online in the journal Clinical Infectious Diseases.

The scientists based their study on blood samples that the American Red Cross collected between Dec. 13 and Jan. 17 and later sent to the CDC for testing to see if any had antibodies to the new coronavirus, which is named SARS-CoV-2.
There was something going around, particularly in New Orleans, last November and December which was not the flu but felt like it to people who suffered from it. It's entirely likely that was COVID. Did John Bel Edwards do anything about it then? Of course not. He wasn't proactive in the least.
Has he done anything about treating the virus? No. Even though there's a study out last week which says hydroxychloroquine, azithromycin and zinc reduce hospitalization in COVID patients by 84 percent, Edwards has taken no public steps to distribute that therapy to people who test positive for the virus. Why he wouldn't do that is a mystery – if you could scrub 5/6ths of those 1200 COVID-positive hospital patients by simply giving everyone testing positive the HCQ triple-remedy cocktail, you would be saving a fortune and there would be zero need to go back to Phase 2 or to have any restrictions at all. And yet we've seen a complete failure to even address treatment of the virus by this administration.
You would have thought with the $3 billion in federal dollars Edwards had brought in and spent on COVID, some of that money might have gone into a protocol for at-risk patients who tested positive. Give them HCQ, Z-Pack and zinc in a package with instructions on how to use them, and see if that drains the number of hospitalizations. It couldn't harm anyone; HCQ has been prescribed by doctors for 75 years all over the world for other ailments. And HCQ is one of the cheapest drugs on the market. It costs a lot less than those COVID tests do. But to this day when you ask people on the street what the best treatment for COVID is, nobody has an idea beyond a few anecdotes. That is complete failure. Especially now that the election is over and there is no more reason to disparage HCQ along political lines.
What about vaccines? Vaccinations create herd immunity. Since we know the virus can't be stopped – Edwards' failure has proven that – then it would seem like herd immunity ought to be Louisiana's new goal.
The vaccines aren't all that expensive.
Moderna, a two-dose vaccine, recently announced each dose will go for around $32 to $37.

The Pfizer vaccine, also given in two doses, is expected to cost $19.50 a dose.

Each dose for Johnson & Johnson's two-dose vaccine will cost an estimated $10, and AstraZeneca's two-dose vaccine could be the cheapest at just $3 to $4 a dose.

Novavax's two-dose vaccine is estimated to be $16 a dose.
So call it $30 apiece. You could vaccinate the whole state of Louisiana for under $150 million. Louisiana has $16 billion budgeted for Medicaid in FY 2021.
Why isn't Edwards actively engaged in negotiations with these drug companies to get Louisiana to the front of the line for as many doses of vaccines as possible? Why is he hanging back and not pushing to get us past this nightmare? And why isn't the medical community in Louisiana speaking out about the failure to move on a vaccine?
He's fully wedded to a policy which is a proven failure, and he's doubling down on that failure by not engaging on the flip side of virus policy – namely, what do you do once people have contracted the virus.
At some point, it's time for the people of the state to start recognizing that he's a failure, to stop giving him credit for what he's done to fight the virus which has completely failed, and to start demanding the restoration of our constitutional freedoms. It's a reckoning long overdue.
Advertisement
Advertisement