Five days ago, Governor Rick Perry was denied federal funding for emergency relief efforts in tropical storm ravaged regions of North Texas (see my hayride article). 
Yesterday, Governor Bev Purdue's appeal for federal support for counties in North Carolina impacted by Tropical Storm Nicole was approved.

For purposes of comparison, here are the facts as reported by CNN and CBS:
Texas: Nearly 200 residences were destroyed.
Texas: 8 people were killed.
North Carolina: 60 residences were destroyed.
North Carolina: 8 people were killed
In both cases, intense flooding caused major damage to businesses, homes,  and infrastructure.  Governor Perry called for FEMA to commit $6.8 million to provide assistance.  In North Carolina, homeowners qualifying for FEMA aid can claim up to $240,000 in reparations. With 60 homes destroyed, if only 1/4 of that number qualify for the maximum amount of aid, the money contributed to North Carolina will be larger than Perry's request.  In Texas, Perry is asking that 13 counties be labeled as disaster areas, and in North Carolina, 21 counties were surveyed for damage with 6 being chosen to receive aid.  The counties experiencing the most devestating aftereffects from the storms are Tarrant County Texas and Bertie County North Carolina.
Here is what Governor Bev Purdue had to say:
In a time when the economy is down and our people are struggling, it's hard to see the light at the end of the tunnel after losses like these. Now families can take some hope from the fact that they will have help replacing some of those losses."
Unfortunately for citizens in Tarrant County Texas, there is no such hope, yet the economic situation is the same in both circumstances.  It seems to me as though the severity of conditions in both states are virtually identical.  Yet, North Carolina deserves federal aid and Texas does not?
This statement is FEMA's explanation of their decision-making:
FEMA says there is not a definitive threshold that qualifies states for federal disaster aid and that the federal government looks at factors such as the extent of damage to homes and infrastructure; the threat to public health; the impact or government's ability to function; and the level of insurance coverage.
So, what are are the real reasons behind these arbitrary decisions?  In making this assessment, it is necessary to look at the only perceivable differences between  Tarrant County Texas and Bertie County North Carolina, the counties hardest hit by the storms.
First, it is necessary to point out that Purdue is a Democrat and Perry a Republican.  The political ramifications of these decisions clearly play a huge role.  Rick Perry's entire re-election platform is based on opposition and criticism towards the Obama Administration.  Possibly some bad blood there?
Keeping on the political note, 4 out of the 5 House of Representative seats in North Carolina are up for grabs according to RCP averages.  Only 1 is likely Democrat and only 1 leans towards the GOP.  Texas seats are largely black and white according to the same data.  Most are either solidly Democrat or likely Republican, and only one seat in the entire state is labeled as a toss up.
The only other conceivable difference between the two counties is their demographic makeup. Here are the numbers:
 71.23% White, 12.80% Black or African American, 0.57% Native American, 3.64% Asian, 0.16% Pacific Islander, 9.09% from other races, and 2.51% from two or more races. 19.73% of the population were Hispanic or Latino of any race.
 36.30% White, 62.34% Black or African American, 0.44% Native American, 0.11% Asian, 0.01% Pacific Islander, 0.33% from other races, 0.48% from two or more races. 0.99% of the population were Hispanic or Latino of any race.
There has been much discussion over possible racial motivations behind the refusal of Perry's plea.  To be honest, there has been much discussion over the racial motivations of every administrative policy.  The numbers are the numbers.  These are the facts.  You can choose to believe FEMA's aid was given strictly for political reasons or strictly for racial reasons.  Either one of those arguments would be valid in as much as the arguments are supported by hard evidence.
However, one argument that cannot be made is an argument claiming that the disaster in North Carolina deserves federal assistance because its severity is greater than the disaster in Texas.  Again, the numbers are the numbers.  They do not lie.  The devastation on both fronts was significant.  Yet this significance was virtually identical in both cases.
However, while one can make the argument that these decisions were racially motivated or that they were politically motivated, it is not that simple.  Racism in this country is not used in the same ways it has been used historically.  In all but very rare situations, racism is not used simply for the sake of persecution.  Modern racism is based on incentive.  So, to single out the issue of race as the stand-alone determinant in policy-making is to ignore the larger issue that racial policy is merely a means to an end. For this reason, the more reasonable assessment of this situation lies not on the political or racial extreme, but somewhere in between the two. 
The decision to award aid to North Carolina and refuse it to Texas was arbitrary.  Of that, there is no question.  So, why was the decision arbitrarily made in favor of North Carolina? If there was a chance to help both communities (and there was) why was that option not taken?
The determinants behind these questions are both racial and political.  It is a mixture of the two.  It is a combination of modern racism and bad blood established through politics.  But the even larger issue here is not the reasoning behind this specific policy.  The big picture here is FEMA itself.  The government program is a political and racial machine.  It was established to aid Americans devastated by disaster, but the federal government has distorted this purpose in order to use FEMA as a political tool.
However, let us not make this judgement by laying the blame at the feet of the Obama Administration.  Partisanship placed aside, we must realize that Republicans and Democrats alike take advantage of this program in corrupt and self-serving ways.  The situation between FEMA, Texas, and North Carolina is an episodic case that can be contextualized to the underlying issue at hand, and unfortantely the underlying issue is not one that can be blamed on a specific individual but on the machine of career politicians in Washington.  Until the very psychological makeup of government officials is fundamentally changed, this abuse will continue.  Yet, to change this political persona, the entire system of politics as we know it must be changed as well, and that is an impossible task.
This denial is the second time since 2007 that Texas has been denied federal aid for disaster victims.  Rick Perry has appealed the decision by FEMA to deny his plea for assistance.  I think we all hope he is successful.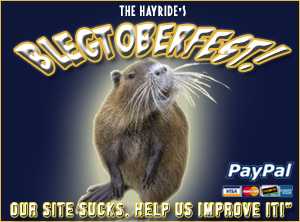 Advertisement
Advertisement