If you're like me, dog glitter and horse semen don't really factor much into your annual budget.
No matter, if you are paying federal income tax you are helping subsidize these industries, along with thousands of others pitching their products to foreign markets.
Your tax money is also paying for least one reality television show in India chronicling the drama-charged life of people who wear cotton—but can we ever really have too many?
All of this and other examples of the most egregious misuse of your tax money in the half-trillion 2012 farm bill through the Market Assistance Program (MAP) is outlined by a new report from Sen. Tom Coburn (R-Okla.) entitled  "Treasure Map: The Market Access Program's Bounty of Waste, Loot and Spoils plundered from Taxpayers."
Some of the multimillion-dollar companies receiving millions of dollars through MAP are businesses reporting combined sales of $2 billion including Welch, Sunkist and Blue Diamond.
And what have we gotten out of it? Well, nothing, according to the report.
"In all, this program has spent more than $2.1 billion since 1999, but its overall benefit to the economy is unclear. Despite the billions of dollars in taxpayer funds, little, if any, data exist to show how the program has had any significant impact on American agriculture's total share of global exports," Coburn writes.
Others companies getting handouts for overseas advertising are lesser known, for good reasons.
SUSTA, a Texas-based company that sales pet beauty products through its Espree line—including dog glitter spray with names like "Candy Cane Sparkle Spray" and "Twinkle Berry Sparkle Spray"—are in on the action, along with U.S. Livestock Genetics Export, Inc.—the, um, horse jizzum company.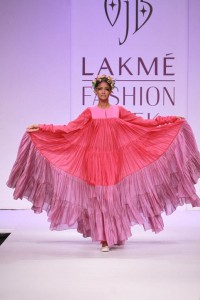 U.S. taxpayers are also helping fit the bill for a reality TV show filmed in India called "Let's Design," created by Cotton Council International (CCI) to promote cotton sales world-wide.
The show, which will soon release its fourth season, is apparently a big hit over in India. Who knew that wearing cotton had so much to do with falling in love, as explained in a promo for last season?
"Let's Design is back for a third season and this time it's all about falling in love. Play up the romance, with chic designs, flamboyant colours, romantic laces, cute frills and more. Just be 'Naturally in Love'."
That's really sweet, by not so much for U.S. taxpayers.  While there is $20 million in the farm bill going to CCI, India produces nearly twice the cotton as the United States.
So, your tax money is going to make a show about the wacky world of cotton fashion in a country where there is absolutely no market for U.S. cotton.
On the plus side, you will most likely will never have to watch it.