The decision last week by a bureaucrat at Louisiana's Department of Health and Hospitals made the decision to dump $8,000 worth of donated deer meat intended for use at the Shreveport/Bossier Rescue Mission, based on a peculiar interpretation of the state's Sanitary Code, has blown up into a full-scale scandal.
And now there are state legislators on the scene. In this case, Rep. Jeff Thompson is wading into the melee with guns blazing…
Louisiana State Representative Jeff Thompson (R-Bossier City) announced today the upcoming news conference to be held Monday, February 25, 2013 at 4 p.m., at the Shreveport/Bossier Rescue Mission to address the recent action by the Department of Health and Hospitals in destroying approximately 1,400 pounds of venison donated to feed the area homeless. The donations, a part of the Hunters for Hungry initiative to provide food to shelters for the homeless, are made by area hunters who contribute harvested deer for processing and service at the local rescue mission. Attending the press conference will be Louisiana Commissioner of Agriculture and Forestry, Dr. Mike Strain; Jimmy Anthony, Deputy Secretary of the Louisiana Department of Wildlife and Fisheries; representatives of the Louisiana Department of Health and Hospitals; Rev. Henry Martin with the Shreveport/Bossier Rescue Mission; as well as representatives of Hunters for the Hungry, and area legislators who have been instrumental in orchestrating discussions among the various state agencies which collectively oversee food safety and the program which promotes the donation of fresh locally harvested deer for homeless shelters and charities.

"I am pleased to be able to report at this time that steps have been taken to ensure that no similar actions of destruction of similarly donated food will occur again in Louisiana, and that appropriate revision of existing policies and law which ensure food safety are under review and will occur" commented Jeff Thompson of Bossier City.

A lengthy conference call this morning with all involved agencies was conducted and significant progress has been made in recognizing the shortcomings in execution of the existing procedures and of the need for modification of existing law and policies. . Announcements regarding steps to be taken and plans to assist the Rescue Mission replace the lost inventory will be made during the press conference. Agency representatives will be available for questions and comments on the events and plans for improvement. 
This amid a wealth of examples of the state's Department of Wildlife and Fisheries participating in the donation of deer meat to homeless shelters, including a quite recent one from near a Lake Charles casino. And there's a rediscovery of the fact that yes, venison can be served in not just homeless shelters but in restaurants as well. For example, it's on the menu at Twin Peaks in Baton Rouge…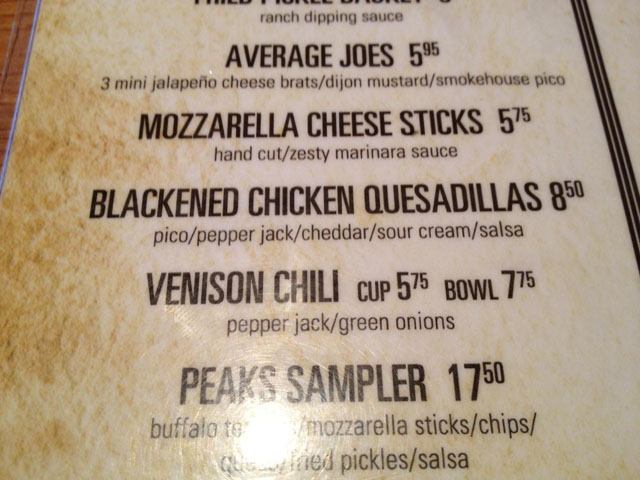 Hopefully in this afternoon's press conference we'll find out who decided to starve the homeless in Shreveport and there will be some consequences to this kind of bureaucratic overreach. As in, the state's budget gets trimmed to the tune of one less bureaucrat's salary.
But at least DHH is on notice that foolish actions like the one last week will set off a political thunderstorm. Maybe now they'll rein themselves in.
Advertisement
Advertisement