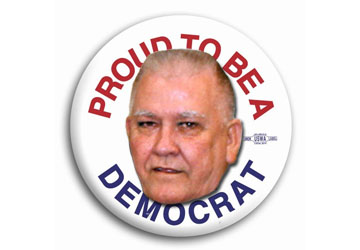 It's important for this to be understood, because Louisiana is going to take a PR hit thanks to the reptilian/shit-for-brains remark he was credited with making in a piece appearing Wednesday in the Tri-Parish Times about tomorrow's referendum in Lafourche Parish about redirecting library funds toward a new parish jail…
Toups served as the chair of the "New Jail Committee," established in 2011 to help secure funding for a new facility. He said the library's revenue is a logical choice.

"They've got too much money," Toups said. "We're giving the public the chance to raise the jail money without raising taxes. Any blind man can see that."

Aside from his point that the system collects too much money, Toups does not philosophically agree with the library's evolving role in the community.

"They're teaching Mexicans how to speak English," the council chairman said in reference to Biblioteca Hispana, a Hispanic-language segment of the Golden Meadow library branch. "Let that son of a bitch go back to Mexico. There's just so many things they're doing that I don't agree with. … Them junkies and hippies and food stamps (recipients) and all, they use the library to look at drugs and food stamps (on the Internet). I see them do it."
Funny that Toups should be running his mouth about "them junkies," since his son and grandson qualify for that designation…
The grandson of a Lafourche Parish councilman who championed a failed proposal for random drug testing of all Lafourche government employees was arrested Friday on drug charges.
Dillon Toups, 19, 1936 La. 654, and Lindel Toups Jr., 37, 139 Hyland Drive, the grandson and son of Councilman Lindel Toups, were arrested just after 2 a.m. in Gheens. Dillon, arrested after police spotted him with another person outside a closed bar, is charged with possession of methamphetamine and drug paraphernalia. Lindel Jr., who allegedly fled after driving past and spotting Dillon being questioned, is charged with making an illegal U-turn and aggravated flight from an officer.

The councilman, contacted for comment, said both men struggle with the temptation of illegal drugs.

"This is why I did the drug tests (proposal)," Toups said. "My son and my grandson had trouble with drugs. This is to help them. I'm not trying to hide anything. If I can get anyone help, that's what I want to do."
That was in 2009. Toups had proposed all parish employees get random drug tests, which Lafourche Parish President Charlotte Randolph (a Republican) vetoed on 4th Amendment grounds.
Toups also had backed the ubiquitous "pants on the ground" ordinance when it came to Lafourche Parish a few years back.
But he's a Democrat. And he's a white guy.
You will not hear that Lindel Toups is a Democrat from any other media source covering his "Let that son of a bitch go back to Mexico" remarks – not the Los Angeles Times, not the Lafayette Independent, not United Press International, not Fox 8 TV in New Orleans, not Esquire Magazine.
You're only going to hear it here.
You're welcome for that tidbit of information that some folks might find useful.