The results…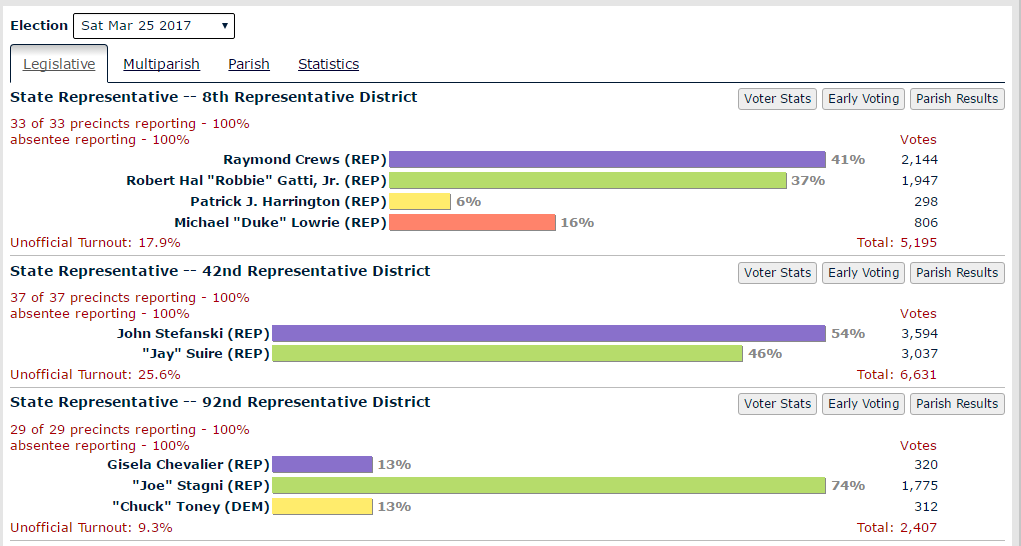 Chuck Toney never had much of a chance in the District 92 race, which was Tom Willmott's seat. Willmott was always known as one of the least conservative Republicans in the House, although in recent years his voting record had improved. But that Toney only received 13 percent of the vote in a district which twice voted for Barack Obama is a rough performance. Joe Stagni had the support of all the business groups who will be fighting Edwards in the legislative session coming up in a couple of weeks.
The Stefanski-Suire race in Crowley was, as we noted earlier this year, one of the best tests of the governor's popularity and influence. Suire's political consultant Jared Arcement is the guy who did Edwards' "David Vitter missed a vote to honor veterans because he was on the phone to hookers" ad back in 2015, and his employer is Glenn Armentor, one of the biggest trial lawyers in the state and an Edwards appointee to the LSU Board of Supervisors. Check out Suire's donor list and you'll find folks like Ravi Sangisetty and the Louisiana Association of Educators' Fund For Children And Public Education PAC in it – there is no question he was Edwards' candidate regardless of that "R" next to his name. Stefanski, pictured on the right in the photo above, who is much less well known but ran as an opponent of new taxes, won a surprisingly easy head-to-head race. That House seat was, until recently, occupied by a Democrat, Jack Montoucet, who last year had the worst score from LABI of anybody in the entire legislature.
And then there was the District 8 race, in which Gatti – who supplied Edwards with free office space in Shreveport for his gubernatorial campaign in 2015 and whose donor list was indicative much more of a Democrat than the Republican he claims to be – got just 37 percent against three far more conservative candidates and came in second to Raymond Crews (he's on the left in the photo above), who like Stefanski is less well known. There doesn't appear to be much hope for Gatti in a runoff with Crews, particularly as that race promises to be a referendum on Gatti's various negatives and his coziness (and that of his brother, state senator Ryan Gatti) with Edwards. One would think Gatti might concede the race, but so far we haven't seen evidence of that. Instead, he's congratulating Duke Lowrie and Patrick Harrington, who came in third and fourth, for the races they've run. Most people think Lowrie and Harrington will back Crews, though that isn't locked down as of now.
Crews is likely going to join Stagni and Stefanski in a House even more hostile to Edwards' agenda than it was last year, when his legislative agenda met with middling success at best.
With these results, it's becoming clear that Edwards can no longer pretend that either he or his agenda captures support from a majority of Louisiana's voters. He simply does not.